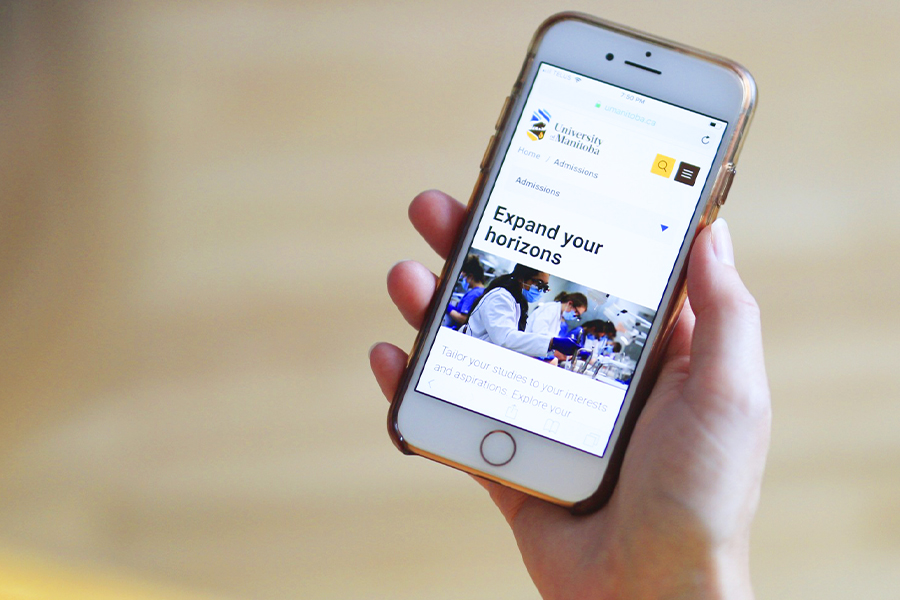 Get to know umanitoba.ca
New website launches new chapter in the university's digital communications
August 7, 2019 —
If you logged on to umanitoba.ca yesterday, you would be remiss for thinking it was still 2010.
That's when the university's website was last redesigned. Technology and the way we interact online has progressed considerably since then.
In today's world where everything is online, the university's website is our most important tool for communicating with students, faculty, alumni, donors and our broader community. A platform built in 2010 wasn't built to meet the changing needs of our audience.
Today, that's about to change.
DEFINING OUR DIGITAL FUTURE
In fall of 2017, a working group met to discuss their vision for a new umanitoba.ca – a website that would not only bring us up to speed and continually evolve, but also establish UM as a leader in accessibility and digital communication.
Led by project sponsor John Kearsey, Vice-President (External) and project executives Lori Yarchuk, Associate Vice-President, Marketing Communications and Mario Lebar, Chief Information Officer, this cross-functional team included representation from Faculty of Arts (Greg Bak), Centre for the Advancement of Teaching and Learning (Mark Torchia), Human Resources (Darlene Smith), Indigenous Engagement (Christine Cyr, Ruth Shead), IST (Adam Gerhard), Faculty of Kinesiology and Recreation Management (Doug Brown), Libraries (Lisa O'Hara), Marketing Communications Office (Paul Lacap), Rady Faculty of Health Sciences (Reg Urbanowski), Research and International (Jay Doering), Faculty of Science (Ben Li), Student Affairs (Jeff Adams), UMGSA (Carl Neumann, Ehsan Tahmasebian), and UMSU (Owen Black , Kyra Fanning, as of May 1, 2019).
Over the last year, more than 1,000 prospective and current students, as well as staff and faculty members, participated in workshops to explore possible website features, information architecture, wireframes, intranet and content lifecycle. Close to 700 provided further feedback through extensive online testing.
Indigenous stakeholders from across campus, as well as donors and alumni, also played a key role in discussions on discovery, design and development.
THE CHANGES YOU'LL SEE
A clear picture of our digital future began to emerge.
Our UM community told us that our new website needed to be:
User-centred, with improved navigation and search
Mobile-friendly
An accessible experience
Visually appealing with a common look and feel
Easy to update for content creators
Improved performance management and measurement capabilities
To deliver on all our priorities, the university partnered with Domain7, a digital design firm with extensive experience working in the higher education sector.
We also adopted a new content management system, Drupal, and will be parting ways with our current, outdated, platform RedDot. Drupal is popular in the higher education sector, widely used across the U15 and at top colleges in the U.S. It works with any modern browser, and allows authors to easily update content and configure their sites with additional functionality to meet specific requirements.
Drupal is also designed to support accessibility standards WCAG 2.0 and ATAG 2.0. Also, accessibility standards will be included in content guidelines to ensure everyone keeps accessibility top of mind when creating web content.
WHAT HAPPENS NOW
August 8, 2019 is the start of our new digital journey together. Today, the university launches phase one of the new site with top-level webpages aimed at guiding students, faculty and staff through the new academic year beginning this fall.
The remaining webpages will continue to migrate to the new site in stages, with faculty and department content moving over within the next 18 months.
"Congratulations to the Next Generation Web Experience board and project team, and to all of our community members who have been instrumental in this digital transformation," says Kearsey. "The results of your efforts are outstanding, greatly improving our website for the benefit of our entire community."
As with any exciting new venture, umanitoba.ca is a work in progress and will be updated continually with improvements based on feedback from our community.
Join us, as we welcome and embrace this new digital journey together.
We want to know what you think – please leave your first impressions of our new website in the comments below.
Frequently asked questions:
WHAT IS THE TRANSITION PROCESS FOR THE NEW WEBSITE?
The NGWE project contains five phases. We are currently in phase 3.

Our approach has been to focus on the university's strategic priorities, transitioning to the new website in a gradual staged approach.
On Thursday, August 8 we will reveal the first phase of the new site, reflecting a select number of top level pages.
Following this initial launch we will gradually migrate content in stages. Faculty and department web content will move to the new website over the next 18 months.
As we transition, RedDot and Drupal will run in tandem.
Following is a tentative release schedule with Release 1 being migrated in the fall of 2019. This is a draft schedule. The project team will work with each unit to refine the release migration plan.
RELEASE 1
Agriculture & Food Sciences
Architecture
Ancillary Services
External Relations
KinRec
Indigenous Engagement (o/s)
Grad Studies (o/s)
Student Affairs (o/s)
Release 2
Law
Health Sciences
Asper
Faculty of Music
School of Art
Social Work
Education
Extended Education
Research (o/s)
Release 3
Health Sciences
Arts
Engineering
The Centre
IST
RELEASE 4
Health Sciences
Arts
Colleges
Release 5
Health Sciences
Environment
Legal
Institutional Analysis
Release 6
Health Sciences
Human Resources
Administration
Overflow
Libraries
Research Centres
Science
DOES THE NGWE PROJECT INCLUDE INTRANET?
Much of the content currently published on umanitoba.ca is for an internal audience. To better meet the needs of all of our audiences, an Intranet solution is being explored as an initiative in parallel to the umanitoba.ca website.
HOW IS CONTENT FOR THE NEW WEBSITE BEING CREATED AND/OR MIGRATED?
The process for content creation and migration includes the NGWE project team, the Marketing Communications Office (MCO), Information Services and Technology (IST), our campus partners and –– for the Initial Site –– our partner vendor Domain7. After Initial Site launch, and for the duration of the site migration, content creators and quality assurance experts on a newly formed NGWE Site Migration team will be supporting new content creation and migration.
All content created for the website during the NGWE project will be reviewed within the Marketing Communications Office (MCO) and by the respective faculties and units before publication.
IF I'M A CONTENT CREATOR, HOW DOES THIS IMPACT MY WORK?
The new content management system, Drupal, is easy to use. The transition from Reddot to Drupal will simplify your web content updates and also make is easier for our students and researchers to access information. We ask for you to be patient and keep an open mind on how we can use these tools to best support learning and research as we develop the new content together.
WILL TRAINING BE PROVIDED?
Yes. The NGWE project team is currently developing a training strategy and plan.
WHO DO I ASK TO MAKE A CONTENT UPDATE?
Feel free to reach out to your contact in the Marketing Communications Office or the site migration team.
WHAT ABOUT TEMPLATES?
The new website is being built using a Design System that includes a large Component Library and guidelines around those components. There will be an ability for units to create pages that align with their specific content needs and priorities.
THE NEW WEBSITE IS SUPPOSED TO HAVE IMPROVED SEARCH FUNCTIONALITY BUT THE SEARCH ISN'T WORKING WELL. WHY ISN'T SEARCH IMPROVED?
The search functionality is currently based on Google Search tools which are continually crawling through the internet to find new content. A copy of this content is then saved and used for Search. It often takes a couple weeks for new content to be incorporated into search tools.
WHERE DID PEOPLE SEARCH AND RESEARCH EXPERTS SEARCH GO? WHY IS IT NO LONGER ON THE HEADER?
People Search and Research Experts Search has been moved to the Footer of the main page. This tool has been moved making it still accessible to those who need it while minimizing use by those accessing it to solicit staff and students.
HOW AM I SUPPORTED?
Questions, or Feedback: Connect with the project team through NGWE [at] umanitoba [dot] ca
Technical Issues with the Website: for example, error 404 page not found? Please contact the IST Service Desk to report the issue.