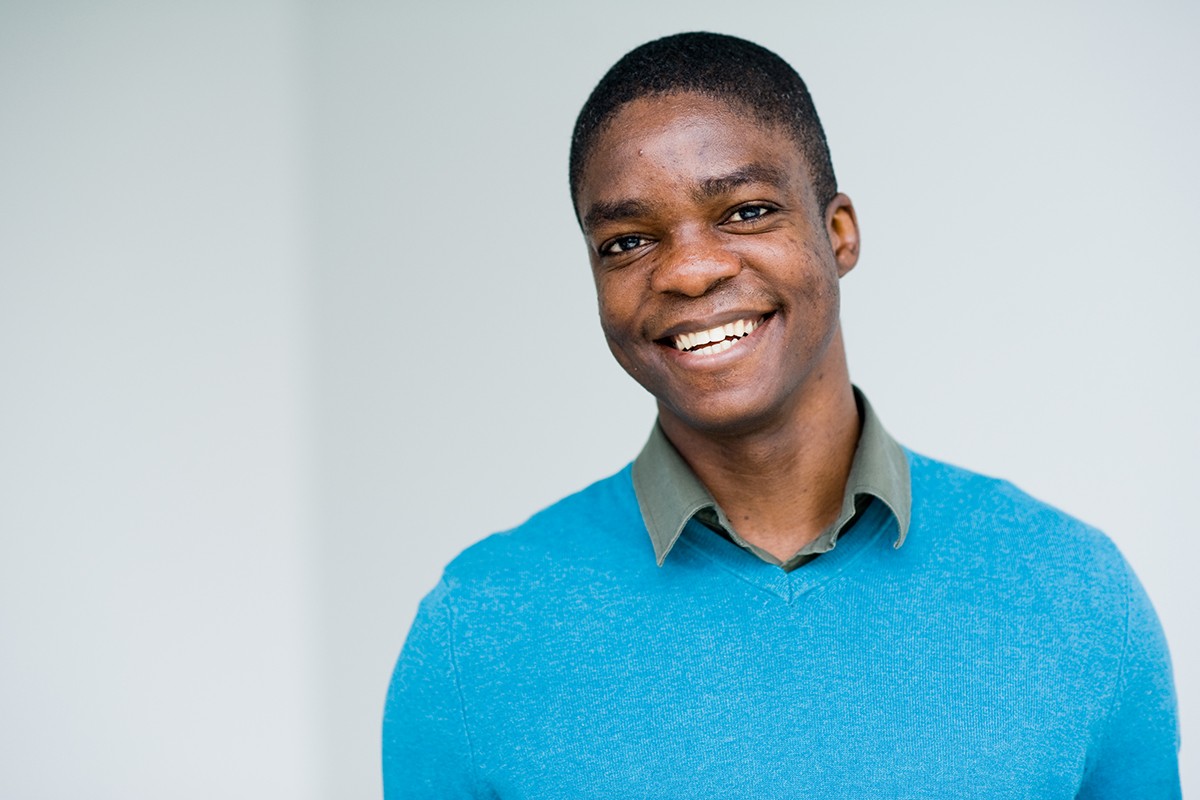 Get to know our 2015 Vanier Scholars
November 25, 2015 —
Chigbo Arthur Anyaduba grew up in the eastern part of Nigeria, where the effects of the Nigeria-Biafra War of 1967-70 are still being felt. However, much of what transpired during the war, and its after effects, have not been publicized. Despite this, stories, masquerades and festivals share memories of the war and its impact on the Igbo people. Growing up, Anyaduba grew fascinated by these atrocity stories and their representation, leading him to study the relationship between human rights and discourse. His doctoral research project, "Crime and Narrative: Representations of Genocide Atrocity in Africa," aligns with the University of Manitoba's strategic focus on human rights.
He is one of four U of M students who have received the 2015 Vanier Scholarship.
Anyaduba has an impressive record of academic achievement, articles in peer-reviewed publications and has given scholarly presentations both in Canada and in Nigeria. The multilingual, international student demonstrates leadership through mentoring and acting as a role model for other students.
Anyaduba spoke to UM Today about receiving the Vanier Scholarship.
UM Today: What do you like best about doing your PhD?
Arthur Anyaduba: Doing a PhD is an opportunity for me to broaden my knowledge and expertise on an aspect of human experience that has haunted me since childhood. Violence. A certain form of violence that targets groups of people. My research examines literatures that are written in response to genocidal violence. And what I love best about doing this kind of research – depressing when we remember that these experiences of atrocity happened to people and that many of these people touched the core of human suffering – is that it affords me the opportunity to ask deep, difficult, existential questions about our existence as humans, as well as affords me the chance to seek answers to some of these questions as best as I could. For me, a PhD is often a solitary experience, but a form of solitary embarkation or pilgrimage into that hell where we hope to emerge with perhaps helpful illuminations for some of life's troubles.
How did you feel when you found out you received the Vanier Scholarship?
To say that I was happy and excited will be an understatement. It wasn't unbelievable, but it was amazing to me. I felt honoured and grateful. I thought to myself, 'Oh goodness, your work's been made a whole lot easier now!'
Who was the first person you told after finding out you received the Vanier Scholarship? How did they react?
I remember that when I got home from school that day, I first told Stella Joseph, the woman I call my Canadian mum. At first, she didn't understand what Vanier Scholarship meant though she knew that I applied for one big scholarship. So I explained. Her scream startled not just me, but the whole house. She gave me a very hearty hug and quickly got out her phone to announce the good news to friends and family.
What has been one of your most memorable experiences at the U of M so far?
It's difficult to pick out just one experience. Some of my most memorable experiences at the U of M are innumerable: being part of a range of mind-bending courses offered by the department of English, film, and theatre, working as a research assistant for Dr. Diana Brydon at the Centre for Globalization and Cultural Studies, and listening to my supervisor, Dr. Adam Muller, deliver public talks and lectures. Yet, one might also catch me giggling to myself each time I remember how tensed and scared that I was after I did the written part of the department's doctoral Period Examination and awaited the oral exam.
What keeps you busy when you're not pursuing your research?
I write poems and stories that usually end up hidden away in old or discarded jotters and notebooks.
Fast Facts:
Anyaduba is a research fellow at the Centre for Globalization and Cultural Studies, and is part of a dynamic international research team investigating how culture and globalization interact and how people negotiate meaning across different norms of understanding.
He is also a research assistant with the Embodying Empathy project, a research project that is working to develop a virtual/immersive story world about the Indian Residential School experience in Canada.
Since coming to the U of M in 2013, he has joined some rights and awareness campaigns within the university and is working on a documentary film project on the experiences of African immigrant families in Canada.
His volunteer work includes social activism in Nigeria, where as part of the National Youth Service Corps, he mobilized relief support for refugees and spoke out against discriminatory marriage laws.