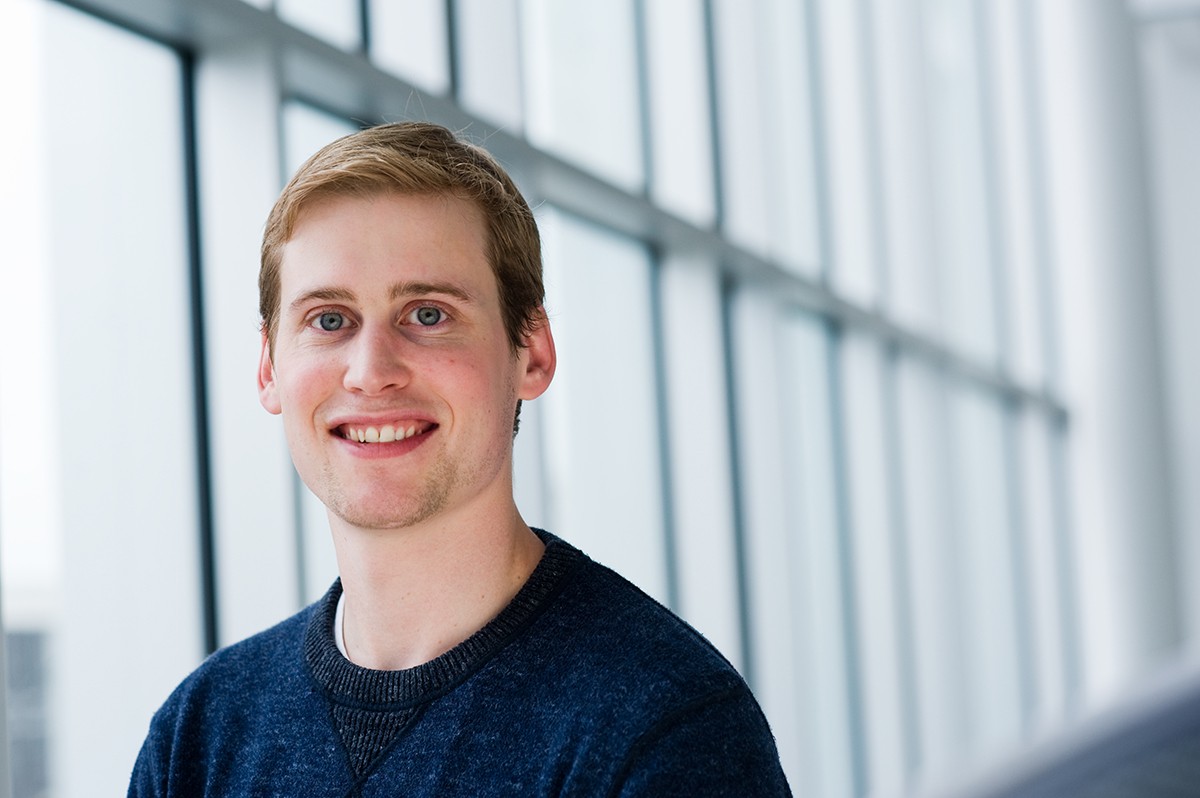 Get to know our 2015 Vanier Scholars
November 25, 2015 —
Jonathan Challis is a science enthusiast and mentor, especially to First Nations communities and inner-city youth. He is extensively involved in science outreach and education, primarily through the U of M CREATE H20 program and the Verna J. Kirkness Science and Engineering program. He is one of four U of M students who have received the 2015 Vanier Scholarship.
His PhD work involves the study of organic contaminants in the aquatic environment using a technique that will provide a new yet simple approach to obtaining organic contaminant concentration data in ways that existing passive organic contaminant samplers cannot. Such a tool that is easy to use, widely applicable, and can provide high resolution data is desperately needed to better understand the dynamics of contaminants in the aquatic environment, which is critical for the development of scientifically sound management and regulatory strategies regarding their usage and treatment.
Challis spoke to UM Today about receiving the Vanier Scholarship.
UM Today: What do you like best about doing your PhD?
Jonathan Challis: There is a long list of things I love about doing a PhD, and maybe a few things I don't love so much… But one of the aspects of my PhD that I feel extremely grateful for is the autonomy to pursue research and outreach interests outside of the direct scope of my PhD project. Being involved in a variety of different research projects and science outreach efforts has helped me develop into a more diverse researcher and mentor. I have to give huge thanks to both my supervisors for providing me this freedom. I also love the variety in my work; research in the lab and field, training summer students, teaching undergraduate labs, writing papers, traveling to conferences, presenting my work, and networking with other scientists, there is always something different to keep me on my toes.
What has been one of your most memorable experiences at the U of M so far?
I think one of the more rewarding experiences I have had at U of M is the science outreach and awareness I have been able to take part in since starting my PhD program. Through both CREATE H2O and Verna J. Kirkness Science and Engineering Programs, I have worked with First Nations, Métis, and Inuit students at U of M and in Norway House Cree Nation, MB to provide training and mentoring about environmental issues facing our natural waters, and the types of research being done to help understand and fix these problems. Taking part in these programs has been a great learning experience for myself and the students.
Also, receiving this Vanier Scholarship probably ranks pretty high on the 'memorable experiences list' as well.
How did you feel when you found out you received the Vanier Scholarship?
Thrilled, honoured, and a little bit of disbelief. Because of the competitiveness and prestige surrounding the Vanier award, it is something that you put a ton of work into, never fully believing you will be successful. It certainly provides a huge sense of accomplishment and drive to know that all the hard work I have done up until now is deserving of such a prestigious award.
Who was the first person you told after finding out you received the Vanier Scholarship? How did they react?
I got the email mid-morning and I already had lunch plans with my parents and girlfriend. I told them over Vietnamese pho and spring rolls. I remember they were ecstatic and beyond proud… Probably ranks as the most rewarding pho I've had! I'm pretty sure I texted my brother somewhere in there as well. It would not have been possible without the support of my girlfriend and family!
What keeps you busy when you're not pursuing your research?
Sports is my main hobby outside of my academic pursuits. It's how I like to stay fit, as I'm not huge fan of the gym. I currently play on two basketball teams and a ball hockey team, so I keep pretty busy with that. Outside of sports my family and friends are really important to me. Getting out of the city with friends to a cabin is probably the thing I love most in the summers, although I wish I could do it more. The highlight of my summer is an annual six day canoe trip I do with my buddies over the August long weekend. This year marked our sixth trip. It's become a bit of a tradition.
Fast Facts
Challis's doctoral work involves three different laboratories across the city: the Stress Ecology in Aquatic and Riparian Habitats Laboratory (SEARcH), with environment chambers that permit complex but controllable studies in aquatic ecotoxicology; the Prairie Wetland Research Facility (PWRF), which allows full miniature ecosystems to be created and studied outdoors, answering questions about what happens when chemicals are introduced into the environment; and the Thomas Sill Analytical Laboratory for Water Research Technology (STALWART), a state-of-the-art trace environmental analysis facility.
Challis has articles in two peer-reviewed journals and has co-authored six more, in addition to 17 conference presentations.
This past summer, he helped organize a computer drive for new Canadian families to Winnipeg. With the donation of hundreds of desktop computers, he helped assemble, deliver, and set up the computers for these families.