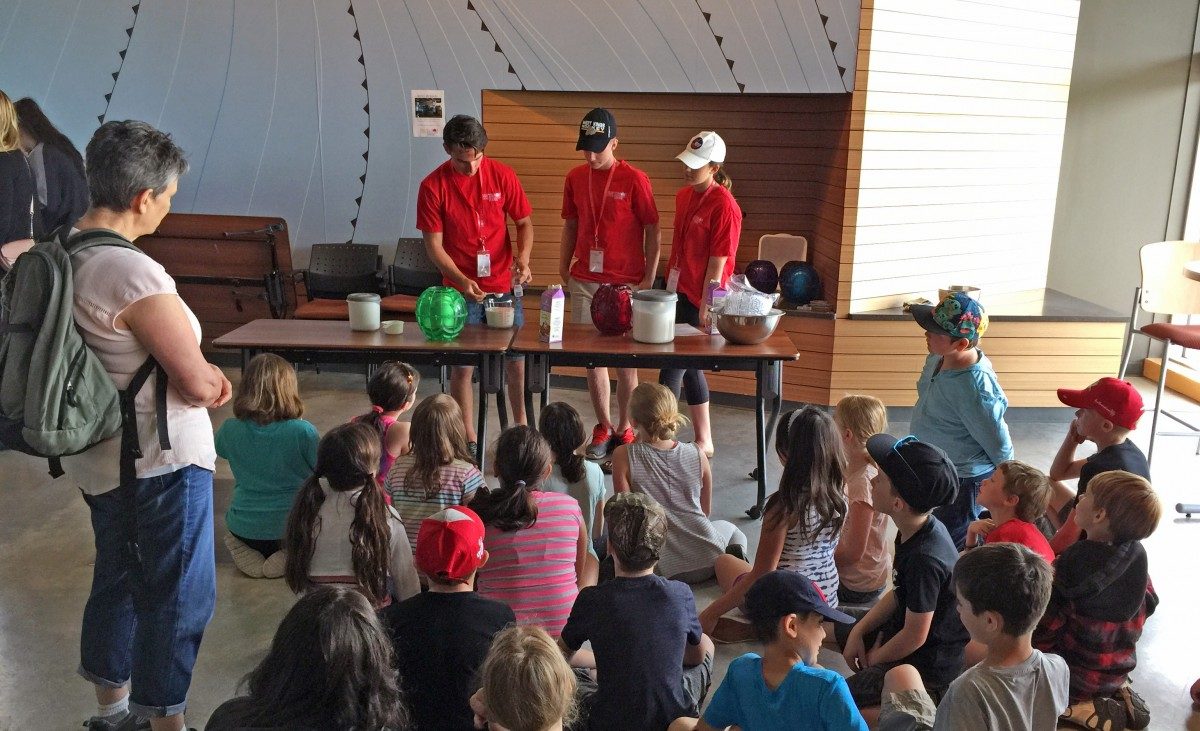 Get a mooove on and visit the Farm and Food Discovery Centre!
July 17, 2018 —
Want to make your own ice cream? Get up close and personal with a cow? Try to pick out the queen bee in our indoor hive? Or how about slipping on a pair of virtual reality goggles and visiting a sheep farm?
You can do these things and more during the Summer Fun Events at the Bruce D. Campbell Farm and Food Discovery Centre, located just 15 minutes south of Winnipeg at the University of Manitoba's Glenlea Research Station.
"We invite you to come learn where your food comes from," says Myrna Grahn, Discovery Centre manager. "If you are looking for something new to try or want to entertain visitors, the Centre is a perfect summer destination with lots of hands-on fun."
The Centre takes you from the farmer's field to the kitchen table in an exploration of Canadian food production. One of the top highlights of the many interactive exhibits found at the Centre is a set of windows that let you look into working swine barn, where you can peek into a day in the life of a pig.
"We are the perfect 'stay-cation' day trip – and even if you have been here before, we have some exciting new exhibits to show off," says Grahn.
The price for most of the summer programs is lower than the regular Centre admission rate – cost is only $5.00 plus GST per person over 5 years old and $3.50 plus GST per child 3-4 years old. Visit the Summer Events page for complete details and dates.
How do I get there?
Take Highway 75 (Pembina Highway) 15 km south of the Perimeter, and proceed left on Research Station Road until you come to the Discovery Centre. Parking is free.
Can't make it during our Summer Fun Events?
Don't worry – the Centre is open to visitors Tuesday to Saturday, 10 am to 4 pm.
Summer events schedule
Saturday, July 21 – Ice Cream Party – Come join us at the Discovery Centre and make some homemade ice cream, a cold treat to enjoy on a hot summer's day! Drop in between 10:00 am- 2:00 pm
Saturday, July 28 – Breakfast on the Farm – Enjoy a pancake and sausage breakfast on the farm, explore the Discovery Centre and take a farm tour. Pre‑registration required, activities between 10:00 am – 1:00 pm
Thursday, August 2 – Dairy Day – Explore the dairy barn and learn about how we get milk to make cheese and yogurt. Finish by helping to make some fresh ice cream! Pre-registration required, activities between 10:00 am – 2:00 pm
Saturday, August 11 – Pigs, Pork and Pulses – Gaze through windows into our hog barn to see brand new piglets, learn about pork production, try tasty pork and pulses food samples and grab a swag bag on the way out! FREE DAY but pre‑registration required, activities between 10:00 am – 2:00 pm
Saturday, August 18 – Pizza Party – Mix, knead and roll out your own pizza dough before topping it with some delicious local ingredients. Pre-registration required, activities between 10:00 am – 2:00 pm
Saturday, August 25 – Virtual Farm Day – Come check out our new 360° Virtual Reality System to explore beef cattle, sheep and other farms. Try out our farming simulator gaming station and sit in a 2018 MacDon Swather cab. Drop in between 10:00 am – 2:00 pm