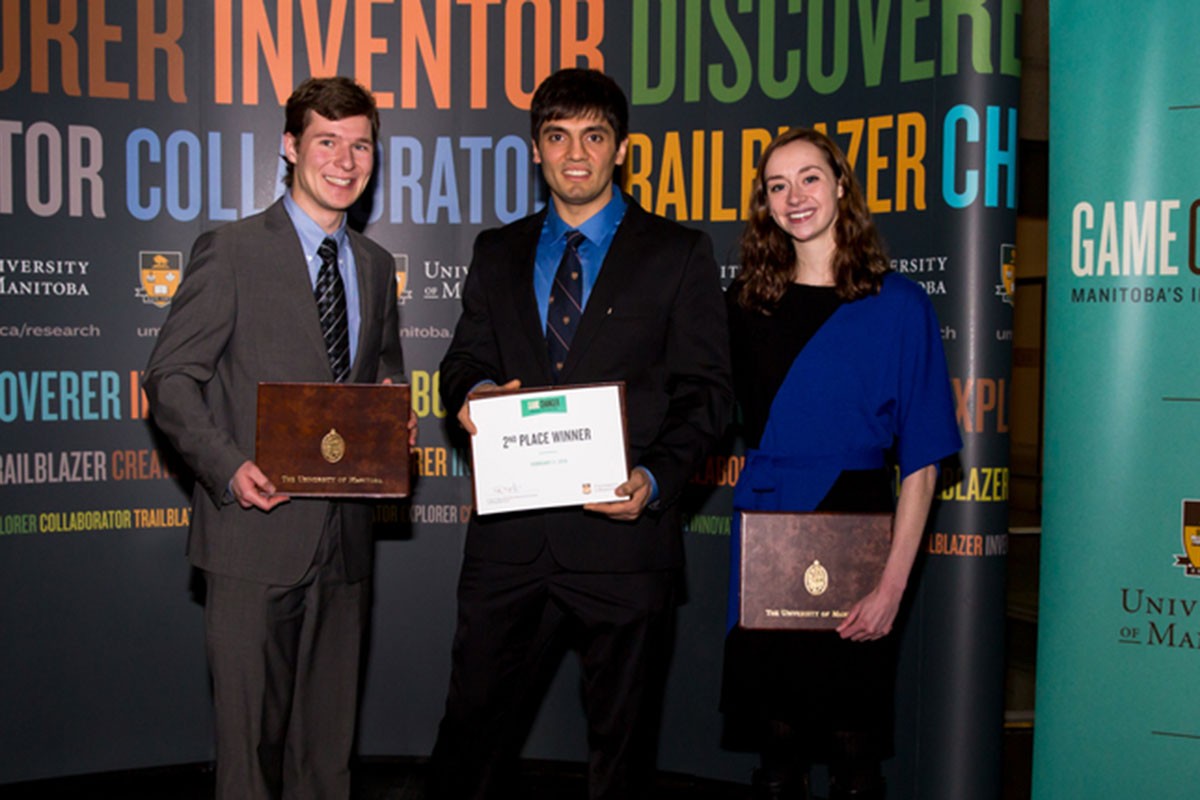 Game Changer team keeps momentum rolling for innovative research
October 5, 2016 —
Since taking home second spot in the Game Changer competition in early February, members of Team Biohack have fashioned an impressive path forward.
Graduate students Paul White (biomedical engineering/engineering), Ahmad Byagowi (electrical engineering/engineering) and undergraduate Jesslyn Janssen (biology/science) made up the team, which took a two-pronged approach to diagnosing Alzheimer's disease, using a finger prick blood test, in combination with a virtual reality spatial navigation test.
"After the competition, I started a business called Cerenic (meaning brain and electronic) with my teammate Ahmad," says Janssen. "With the business I hope to leverage my blood test for Alzheimer's disease and he hopes to expand on Paul's and his work with virtual reality applied for the diagnosis of Alzheimer's disease."
Ahmad Byagowi recently defended his second PhD.
Paul White says the research using virtual reality is progressing, following Game Changer.
"We are working on arranging for testing space with an Alzheimer's care home in Niverville," he says.
"Another student in the lab is conducting further experiments in the fall with a different virtual environment to more thoroughly investigate the efficacy of (virtual reality) treatment," adds White.
The two-phase Game Changer competition that Team Biohack competed in got underway in September 2015 when students from all departments and faculties were encouraged to submit an idea – one that identified real-world challenges where there is a potential to enact positive change if solutions are found.
Seven finalist teams, addressing four challenges, moved forward to the final competition on Feb. 11. Teams were scored based on multiple factors, including novelty of solution, clarity and ease of implementation.
Janssen and White said competing in Game Changer helped focus their efforts.
"Game Changer was a great educational experience for all of us," says White. "We gained valuable experience presenting research work to the public, and it was an excellent opportunity for me personally to work on formulating the structure of my MSc. thesis, and my 3MT® presentation."
White also captured the people's choice award in the 3MT® competition at the end of February.
Janssen says the competition helped build a network of collaborators.
"I formed invaluable relationships with my teammates and collaborators with whom I was able to establish and achieve some of my greatest goals," says Janssen. "I also made lifelong friends that I got to share an amazing experience with them. It was so much fun and I wouldn't trade the experience for anything. The competition definitely changed my life!"
Going forward, she hopes to have a lasting impact in the health field.
"My biggest wish is to see a business that establishes direct to consumer diagnostics, and I hope that I can one day provide that," says Janssen. "I think that if individuals had the opportunity to gain the knowledge about their health at the time that treatment options are most affective, at the earliest stages of their disease, then the prognosis of diseases would be much more positive and many would be curable."
The 2016 edition of the Game Changer competition, developed by the University of Manitoba, is now entering its second phase after the winning five "problems" were announced at an evening event at the Hub on Sep. 27. Game Changer is open to all Manitoba post-secondary students (undergraduate, graduate and post-doctoral fellows).
For phase two of the competition, students will form cross-faculty/department teams to develop practical, viable solutions for any of the winning problems from the first phase. The deadline for submitting solutions is Nov. 2.
The submissions will be reviewed and 10 semi-finalists made public on Nov. 4.
The Game Changer grand finale event takes place on Nov. 16, 4-7 p.m. in EITC Atrium at the U of M, where the semi-finalists present their solutions to a panel of judges. Prizes are:
Grand Prize Winning Team – $10,000
2nd Place – $4,000
3rd Place – $2,000
People's Choice Award – $750
Check out the Game Changer conversation on social media at #gamechangermb