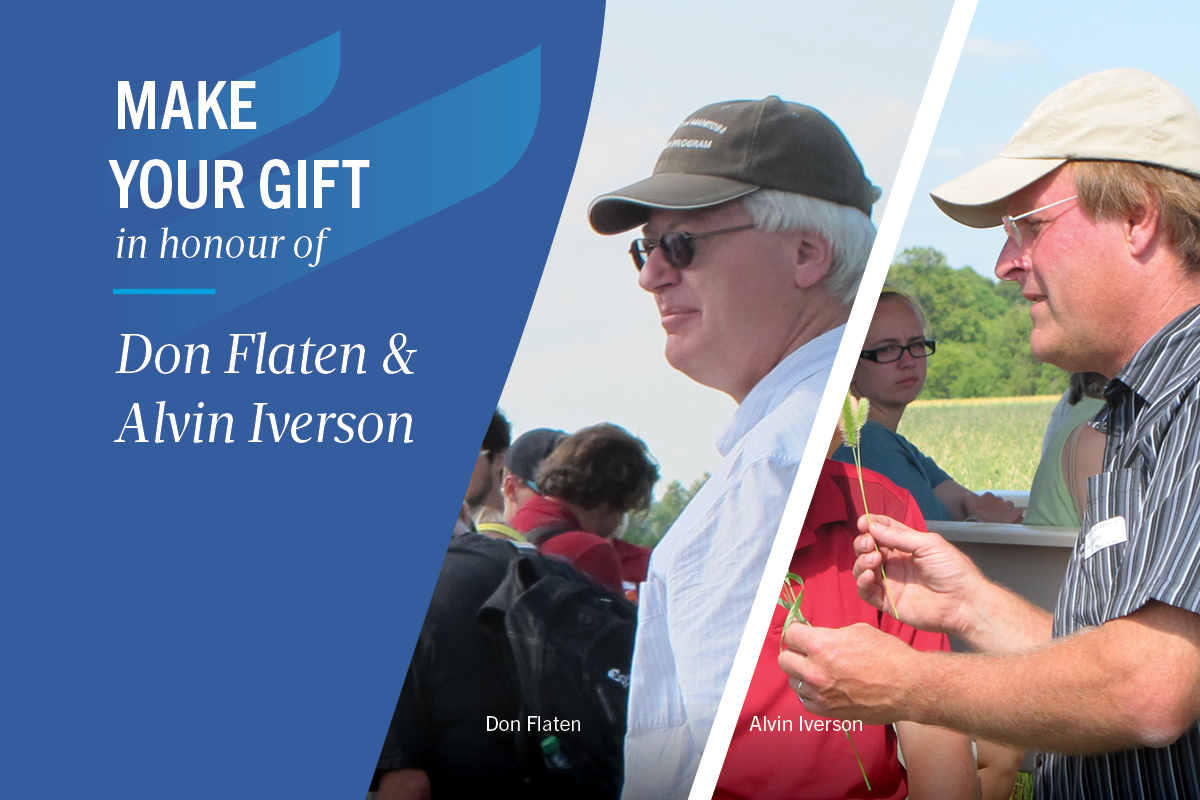 Fundraiser honours retirees' passion for field research
June 7, 2021 —
The Faculty of Agricultural and Food Sciences has launched a fundraiser that is being championed by two recent retirees well-known to many in the Manitoba agricultural community.
Over his 33-year career at the University of Manitoba, Don Flaten has taught hundreds of diploma and degree students all about soil fertility and nutrient management. The professor known internationally as Dr. Phosphorus, Don is also a highly recognized researcher, well-known for his outreach efforts to the agricultural community, and was also a dedicated administrator, serving as the Director of the School of Agriculture for 12 years.
Alvin Iverson, the long-time manager of the Ian N. Morrison Research Station, also recently retired after 40+ years in the Faculty. A plant science graduate himself, Alvin has been the bedrock of the Department of Plant Science's Carman crop facility, always ensuring researchers and graduate students from across the Faculty were well-equipped to conduct field trials. Alvin was also an integral organizer of the Manitoba Crop Diagnostic School, one of the Prairies' longest running and most successful field scouting workshops.
Those who know Don Flaten or Alvin Iverson can attest to their warmth and true concern for our students, friends and colleagues. Many of us have been privileged to know Alvin or Don in one way or another, and so what better way to honour their deep impact on the Faculty and Manitoba's agricultural community than to support a project they are passionate about.
The project
The Ian N. Morrison Research Farm located in Carman, Manitoba, has been an important home to many of the Faculty's education programs, research trials, and outreach activities. However, the Research Farm has a critical shortage of space to properly store essential field research equipment. Don and Alvin have expressed their support for a new machinery storage building to address this fundamental need. The Carman Field Equipment Facility will sustain the crop production programs of researchers, graduate students, trainees and research collaborators across multiple disciplines, to ensure that they can continue to apply their research to real world challenges under field conditions.
Every dollar donated will be matched 2:1 by the Faculty, and will directly enhance agronomic training, research and service in support of Manitoba's agri-food sector. Help us celebrate our friends, mentors, and colleagues, Don and Alvin.
Donate today at https://give.umanitoba.ca/carman