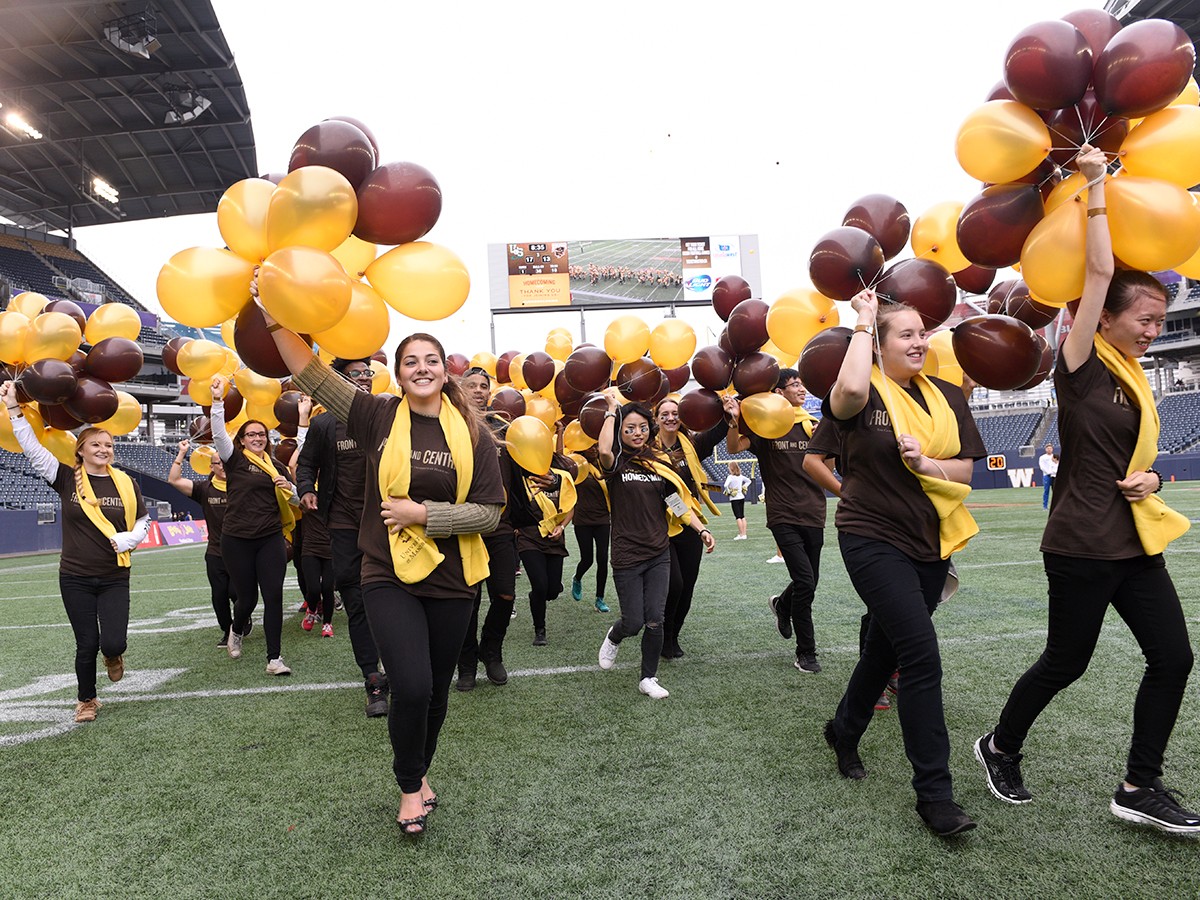 Student support propels campaign past $400M
UMSU commitment recognized with naming of iconic building
September 24, 2016 —
Standing at centre field, hundreds of University of Manitoba students helped celebrate a commitment of $15.9 million to the Front and Centre campaign, announced by University of Manitoba Students' Union (UMSU) president Tanjit Nagra.
It was the start of an exciting celebration, which included two major announcements, made in front of approximately 1,850 boisterous fans during halftime of the Bison Homecoming football game against the Saskatchewan Huskies, held under grey skies at Investors Group Field. The Bison defeated the Huskies 38-17 in the game.
UMSU's investment, which was announced publicly on September 22, will support the revitalization of student spaces, increase childcare options on campus, double undergraduate research opportunities, and increase the number of scholarships and bursaries for Indigenous students. The $15.9 commitment includes $2.4 million for increased childcare options, announced this past June.
David Barnard, president and vice-chancellor at the University of Manitoba, announced that in recognition of UMSU's commitment, University Centre will henceforth be known as UMSU University Centre.
"This is a proud day for our students, and for our community of alumni – many of whom are celebrating Homecoming this week. Today, we recognize the incredible impact that students themselves have on this community – an impact that continues well after graduation," Barnard said.
The Front and Centre campaign is already impacting students. To date, 342 new student scholarships and bursaries have been created; 29 buildings have been upgraded to provide the best teaching and learning facilities; and 16 new research chairs and professorships have been created to enlighten students and drive discovery.
"The Front and Centre campaign has an ambitious goal of $500 million, and thanks to UMSU's support and the 25,895 donors who have already given to the campaign, we are well on our way to reaching that goal," Paul Soubry, chair of the campaign, told the crowd before making the day's final announcement.
"Today, I am thrilled to announce that the campaign has reached an astonishing $409,367,522!"
And the transformation continues.