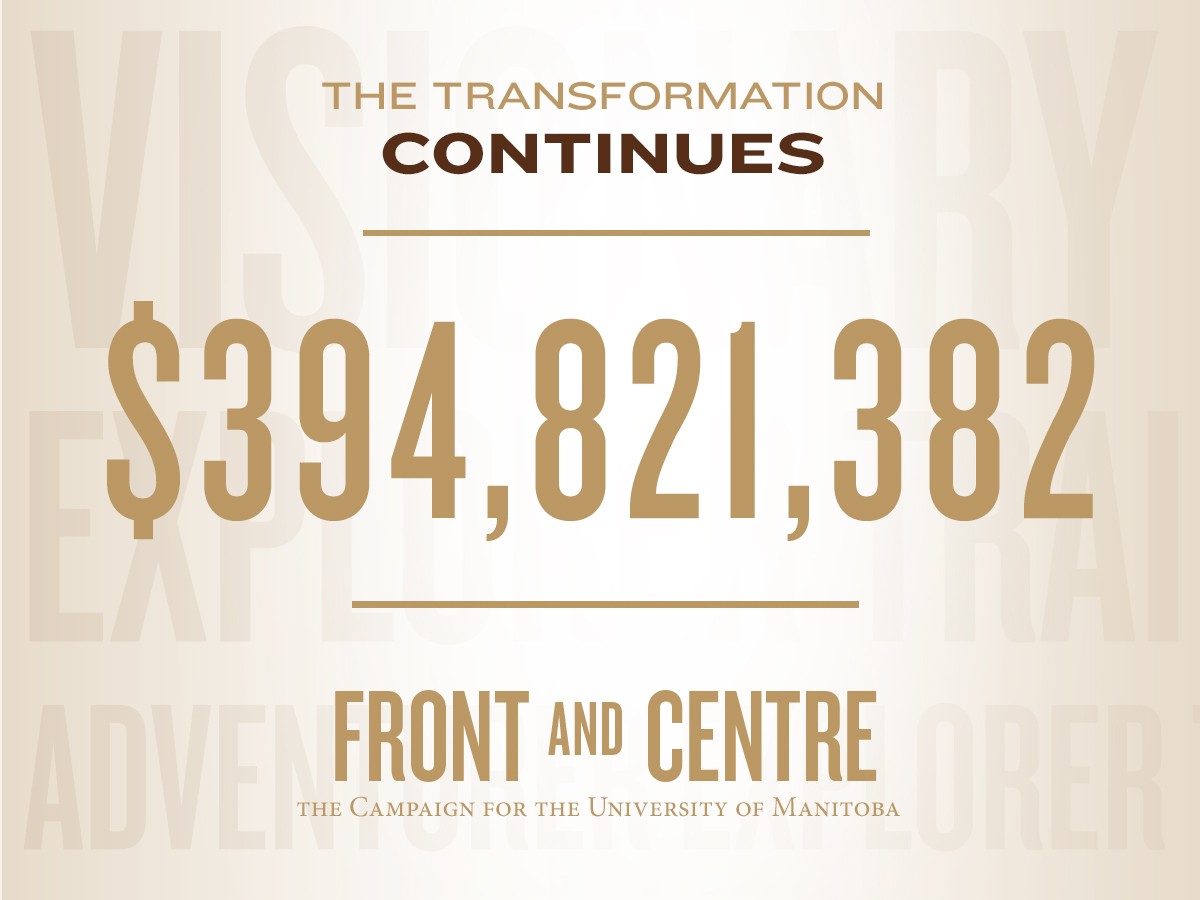 Front and Centre campaign reaches $394,821,382
June 20, 2016 —
Today, the University of Manitoba announced a major landmark in the ongoing Front and Centre campaign to raise $500 million, the largest philanthropic investment in the history of Manitoba.
"I'm extremely pleased and proud to be able to share that, through the generosity of alumni, students, donors, corporations, foundations and government, we have now raised an amazing $394,821,382 for students, faculty and researchers at the University of Manitoba," said Paul Soubry, campaign chair.
The announcement was made during a conference call with donors from across the globe and was greeted with applause.
Tanjit Nagra, president of the University of Manitoba Students' Union, said the generosity of donors has had an "incredible impact on students," with many in turn inspired to give towards others.
Speaking about the need for increased childcare for student parents Nagra announced UMSU's commitment of $2.4 million to support childcare at the U of M.
"We are grateful for this opportunity to make a meaningful impact on students and their families," said Nagra, adding that a further announcement will be made at this year's Homecoming 2016 Bison football game.
President and Vice-Chancellor David Barnard voiced appreciation for all who have contributed to the campaign.
"When we started on this journey, we wanted to do something exceptional. We envisioned a campaign that would create a lasting impact for our students, our faculty, and indeed, our whole community; a campaign that would reach beyond our campus, and reaffirm how incredible this province and its people really are," said Barnard.
In total, 25,781 people have given to the campaign, 67 per cent of whom are Manitobans.
Vice-President (External) John Kearsey spoke on the widespread effects that donations to the campaign have made, including creating bursaries for Indigenous students, providing global connections to foster intercultural understanding, providing opportunities for youth who have been in the care of Child and Family Services and adding assistive technology for students with disabilities, among other positive impacts.
"Our donors are driving change that reaches far beyond our campus – donors like alumnus Jeff Kushner, who established a scholarship for LGBT students in the Faculty of Engineering – the first of its kind in Canada – in order to foster diversity and inclusivity within the field," said Kearsey. "I'm delighted that we saw the first scholarship awarded this spring, just one year after Jeff made his gift."
To date, contributions to the Front and Centre campaign have made great inroads on specific goals of campaign priorities identified by the U of M. To date, we have raised:
$17,360,577 for Graduate Student Support;
$14,228,641 for Indigenous Achievement;
$165,172,495 for Places and Spaces;
$69,002,541 for Research Excellence;
$117,084,532 for Outstanding Student Experience; and
$11,972,594 for emerging opportunities.
In May, the Rady Family Foundation announced $30 million to support the Faculty of Health Sciences, now known as the Rady Faculty of Health Sciences, in the largest philanthropic gift made to the university.
In April, the Richardson Foundation announced a $10-million gift to support classroom and laboratory upgrades in multiple buildings across the Fort Garry and Bannatyne campuses.
The university publicly launched the Front and Centre campaign on October 3, 2015 during a half-time display at a Blue Bombers game. The launch saw 250 performers rolling out representations of Manitoba's rivers, grain fields and cityscapes, bringing the Front and Centre campaign to life in a display of colour, music and fireworks. The event was recently recognized with a national award.
Learn more about the Front and Centre campaign