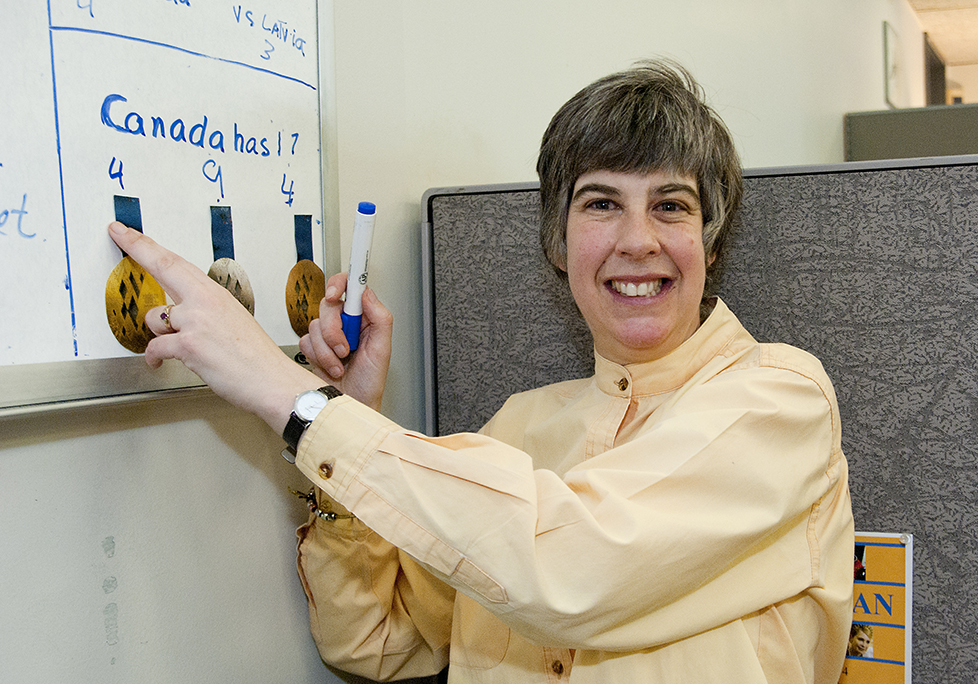 From world stage to campus community: U of M's own true 'Golden Girl'
February 19, 2014 —
Just inside the offices of Extended Education at the U of M, there is a white board on which a detailed graph lists the status of Canada's medals at the 2014 Sochi Winter Olympics. Beside the board, a tall woman excitedly waits for news from the other side of the world, on a break from attending to her day's duties.
Brita Hall has worked in Extended Education since 1993 as a Junior Office Clerk. She does mail distribution, delivers parcels and helps shred documents. But beyond her work, Hall has accomplished more on the world stage than probably anyone in her place of employment. Although she isn't in Sochi this year as a competitor, Hall is an accomplished athlete, having stood on a podium more often than most, with six gold medals to her name.
Brita Hall is truly a "Golden Girl," and the pride of her co-workers. They say she is energetic, always willing to lend a hand and her smile is infectious.
"Everybody loves Brita and Brita loves everyone."
"She's a delight to be around," says Linda Fontaine, Brita's supervisor in Extended Education.
"I'd have to say that supervising Brita is my favourite part of working at the university. Most days she comes in to work smiling from ear to ear, except when the Jets or Bombers lose, and even then she bounces back to her effervescent self very quickly. Her positive attitude rubs off on almost all of us."
Recently, at a small ceremony attended by family and friends, Hall's photo was placed on the "Wall of Fame " in the offices of Special Olympics Manitoba in Winnipeg. One of the first athletes ever to be inducted, Hall has been active in Special Olympics for 33 years, competing in both summer and winter sports on provincial, national and international levels.
And winning at all of them.
Hall's photo was recently placed on the "Wall of Fame" in the new offices of Special Olympics Manitoba in Winnipeg.
In 2004, Hall was named Female Athlete of the Year for Special Olympics Manitoba and in 2005 was named Canadian Special Olympics Female Athlete of the Year in Toronto.
When Hall was only nine weeks old, a car accident changed the course of her life and the lives of her parents forever. Doctors gave her only a ten per cent chance to ever walk or talk. Indeed, she didn't take her first steps until she was almost five years old―but then a miracle occurred. Her parents put her feet inside a pair of ice skates that same year―and she started skating almost immediately―and skating well.
Something about the physical exercise and Hall's own motivation literally moved her forward in her development. Not only was she skating, but also running at top speed. In 1980, Hall competed in her first Provincial Summer Games, in Pan Am Stadium at the University of Manitoba in Winnipeg. She easily took gold in the 800m race, beginning her award-winning record of achievement.
Hall's first International Winter Games came in 1993 in Austria, where she won two gold medals and one silver medal in cross-country skiing. In 1994 she was part of the Canadian Paralympics Team in Lillehammer, Norway, and came 4th in cross-country skiing in the intellectually disabled category and placed 4th in the sport at the 1998 Paralympic games in Nagano, Japan. In 1997, the Special Olympic World Winter Games were held in Toronto, where she won a gold and two silver medals in cross-country skiing. In 2005 Hall was back in Nagano with Special Olympics and again won one gold and two silver medals in cross-country skiing. And in 2009 she competed in Boise, Idaho, in the Special Olympics World Winter Games and came home with another gold and two more silver medals.
"She's taken us around the world."

And that's just in winter sports.
In 2003, Hall competed in track and field at the Special Olympics World Summer Games in Raleigh, North Carolina, where she earned one silver and one bronze medal. In 2007, she was part of Team Canada at the Special Olympics World Summer Games in Shanghai, China, where she again won a gold medal. In 2014, she will be competing at the Special Olympics National Summer Games in Vancouver in the 1500m, 3000m and 5000m races.
"She's really taken us around the world," says her mother, Birgit Hall.
"Brita loves her sports and the socialization she gets from being around the other athletes. Special Olympics has changed Brita's life, allowing her to develop and perfect so many skills. Her participation in Special Olympics has given her so many opportunities to grow, travel, gain confidence and learn self-discipline."
Her mother adds: "Besides her athletic skills, she has gained so much more, including healthy eating habits and life style, as well as her amazing dedication and striving for excellence."
Before athletes can participate in international games, they have to compete in Provincial competitions,  in each sport different criteria will qualify an athlete for a national or international games. Hall easily met the criteria, allowing her to be added to Canada's national teams in world-class international venues.
Despite her normal Monday to Friday work schedule, Hall makes the time to train five times each week at the Max Bell Centre and runs during her lunch time in the Gritty Grotto, the main recreational track at the university.
Throughout her remarkable athletic career, Hall has received eight "Gold Award of Excellence in Sport" honours from the Province of Manitoba. In addition, she has been the recipient of three levels of the "Duke of Edinburgh Award," which is designed to encourage youth to set and achieve goals through self-development, self-training and personal achievement, based upon individual effort and improvement. She was presented with the Bronze Award by Winnipeg Mayor Bill Norrie, the Silver Award by Lt. Governor George Johnson and the Gold Award by His Royal Highness Prince Edward when he visited Winnipeg in 1990. She was the first person with an intellectual disability to ever receive these awards in Manitoba.
When asked about the best part of working at the University of Manitoba, she replies quickly: "The people I work with!"
"Everybody loves Brita and Brita loves everyone," notes Fontaine.
And while she isn't going to Sochi, Hall explains she has an important job to do here in Winnipeg.
She proudly says, "I have to watch the Olympics on TV and cheer for Canada!"