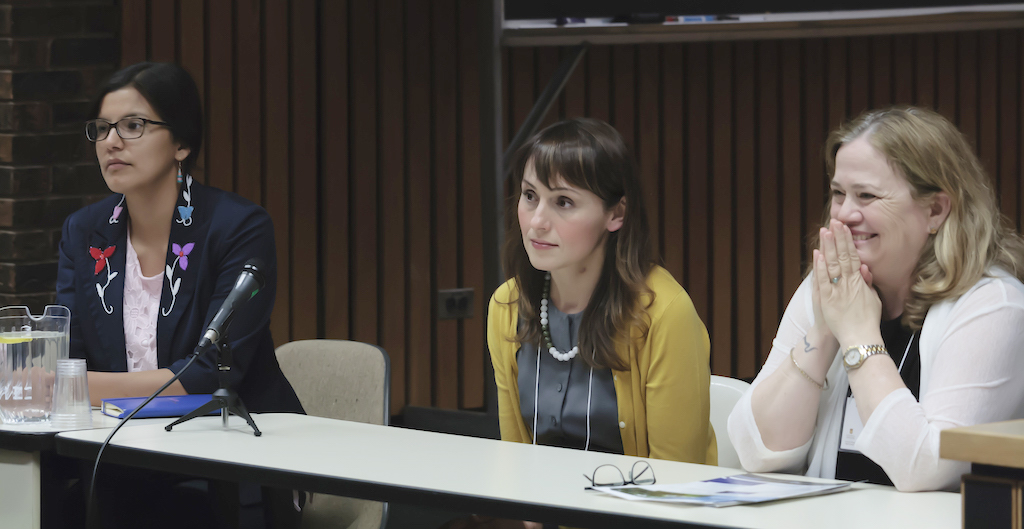 From the lab to the reserve
June 6, 2017 —
Science and engineering students breaking out of the lab and heading for First Nation reserves to put their education into action got some tips in June from those who have walked that path before them.
"Community engaged scholarship has transformed my research career and me as a person," toxicologist Dr. Lalita Bharadwaj told about 65 university and community researchers at the annual H2O First Nation water research conference.
The University of Saskatchewan professor has collaborated for the last 15 years with Saskatchewan First Nations, including as co-leader of the Safe Water for Health Research Team. She has built long-term, trusting relationships with communities that involve co-teaching, joint research and action and making sure benefits flow to the First Nations involved.
In one study, Elders told Bharadwaj they didn't want a written report, so her team produced a video.
Her Cree colleague Dr. Priscilla Settee reminded students attending the conference that everyday citizens who did not have access to higher education need to reap the benefits of the students' privilege.
Bharadwaj said researchers engaging with communities should:
build into their research budgets the costs of travel to communities, local research assistants and creative ways of sharing results,
take it easy when plans change,
be willing to have some fun and
be themselves.
"People care about who you are," Bharadwaj said. If you're getting involved in Indigenous research for the advancement of your career, then you're in it for the wrong reason, she said.
Trainees and their First Nation partners with the H2O program led by University of Manitoba soil scientist Dr. Annemieke Farenhorst shared some of their work:
Recent U of M MSc graduate Johanna Theroux found a significant increase in turbidity in the Nelson River at Norway House over the past 40 years. Turbid water costs more to treat before it can be safely consumed. The rising turbidity may be due to a combination of climate change and increased drainage in the Lake Winnipeg watershed.
Trent University MSc student Erin Hayward, who is Mohawk, is investigating whether ozone pre-treatment of wastewater might be an inexpensive option for small communities compared to aerating or expanding lagoons.
Russ Head, the director of public works for a Saskatchewan First Nation, said his community members have to boil water about 100 days per year, often because of pressure loss in the water lines following a power outage or equipment malfunction.
U of M MSc student Mauli Isuruni Gamhewage found that crop land in the Fisher Branch area seems to be contributing to pesticide loading into Fisher River. More surprising was her discovery that pesticide use in Winnipeg appeared to contribute more to Red River contamination than agricultural use in some months, despite the provincial ban on cosmetic pesticide use. Urban pesticide sources might include golf courses and railway rights of way.
Videos and slides from some conference presentations will be posted on the H2O website.
Research at the University of Manitoba is partially supported by funding from the Government of Canada Research Support Fund.