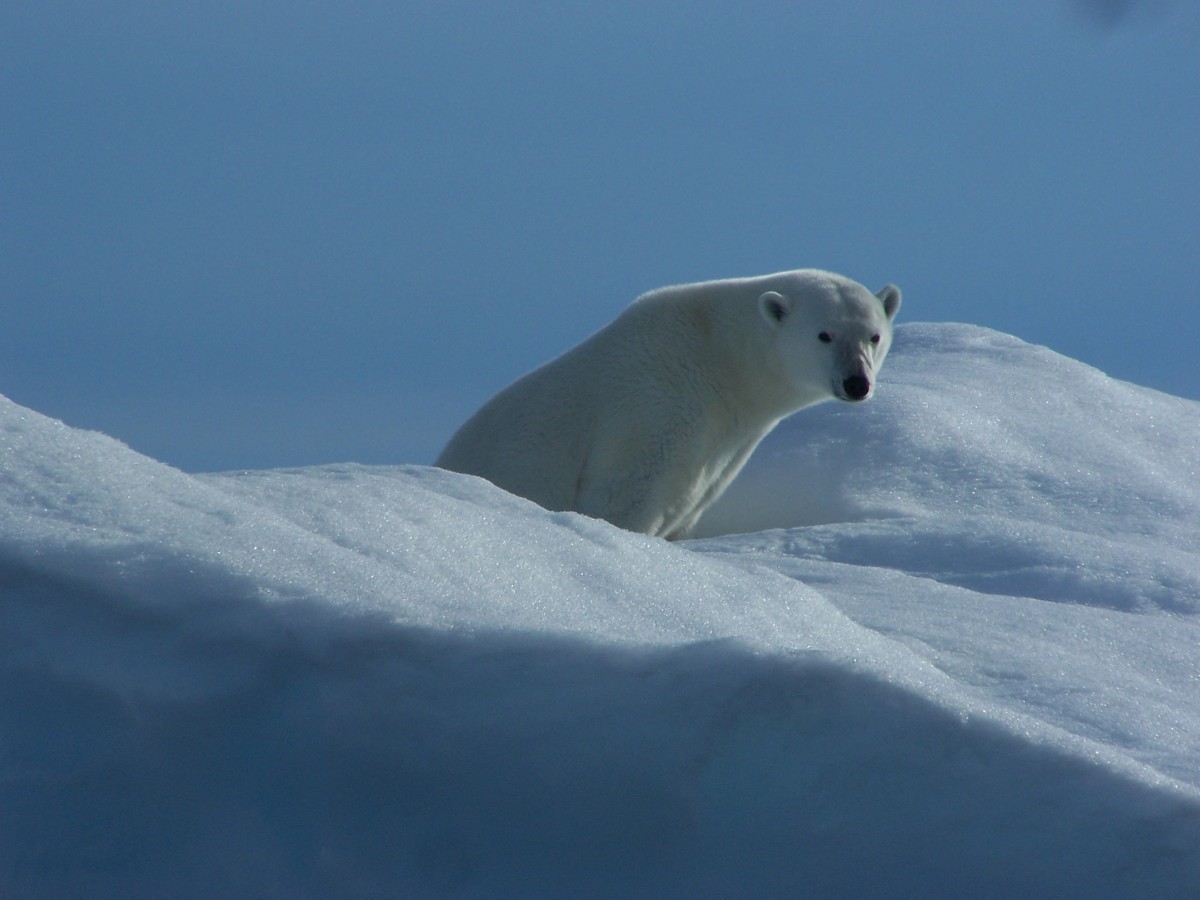 From the field: Stories from the high Arctic
June 22, 2015 —
Graduate students Heather Kyle and Yubin Hu from the Centre for Earth Observation Science recently returned from a research trip to Station Nord, Greenland. They wrote about their experiences, which we republish from the CEOS website. 
In April 2015, Yubin and I went to Station Nord, Greenland as participants on Leg 1 of the 2015 ASP research campaign at the Villum Research Station. Four other participants from CEOS, as well as several participants from Denmark, were also there at the same time. At 81.6°N, the Villum Research Station is the second northernmost land-based scientific station in the Arctic. It is located at a Danish military base, so we ate all our meals with the six soldiers who were stationed there. It was a nice community, and it was great to get to know everyone.
Our project centered on ikaite, a calcium carbonate mineral that has recently been discovered in sea ice. Research from our group has shown that the formation of ikaite in sea ice could play a major role in CO2 exchange between the atmosphere and ocean in the polar regions. I was at Station Nord to collect ice cores to test a new method for quantifying ikaite crystals in sea ice and Yubin was to study the effect of ikaite precipitation on phosphate removal in sea ice. What surprised us the most was how thick the snowpack was. Unlike many other Arctic regions where snow on sea ice is typically less than 50 cm, here in our study area there was at least 1 m of snow everywhere. As snow acted as a good insulation layer, even though the air temperature was as low as -20°C, the underlying sea ice was very warm, always warmer than -5°C. The salinity of the ice was also very low, with a typical value around 1 ~2 psu. Those conditions meant that the ikaite concentration in the sea ice was fairly low, as ikaite formation is favoured at low temperature and high salinity.
Nevertheless, I was able to spot some ikaite crystals in my ice samples through the microscope in the lab. This was tedious work, as I had to let the ice cores melt at as close to 0ºC as possible. Fortunately, we were able to make it work, and my samples stayed cold enough even though there was no cold lab at the research station. I also brought back a lot of samples to Winnipeg and am currently doing a dissolved inorganic carbon analysis on the filtered samples. After my analysis is complete, I will have a pretty good idea if the new method for quantifying ikaite will give accurate results, especially at low concentrations.
The thick snow layer might present more a challenge for Yubin's study. Due to the very low concentrations of ikaite in sea ice, it will be difficult for him to quantify its interaction with phosphate. Other scientists encountered similar challenges. The people we did most of our fieldwork with, Brian Sorrell and Ditte Arp Jensen of Aarhus University, were looking for ice algae, but they did not find any because of the deep snow that prevented the light penetrating the ice. Although somehow disappointing, it was not efforts in vain. At least we all recognized how important the snow cover is in controlling sea ice biogeochemistry. A few new ideas and hypotheses were indeed put in test while we were there.
It was a bit of a relief when we got home and there was no snow to shovel!
Research at the University of Manitoba is partially supported by funding from the Government of Canada Research Support Fund.