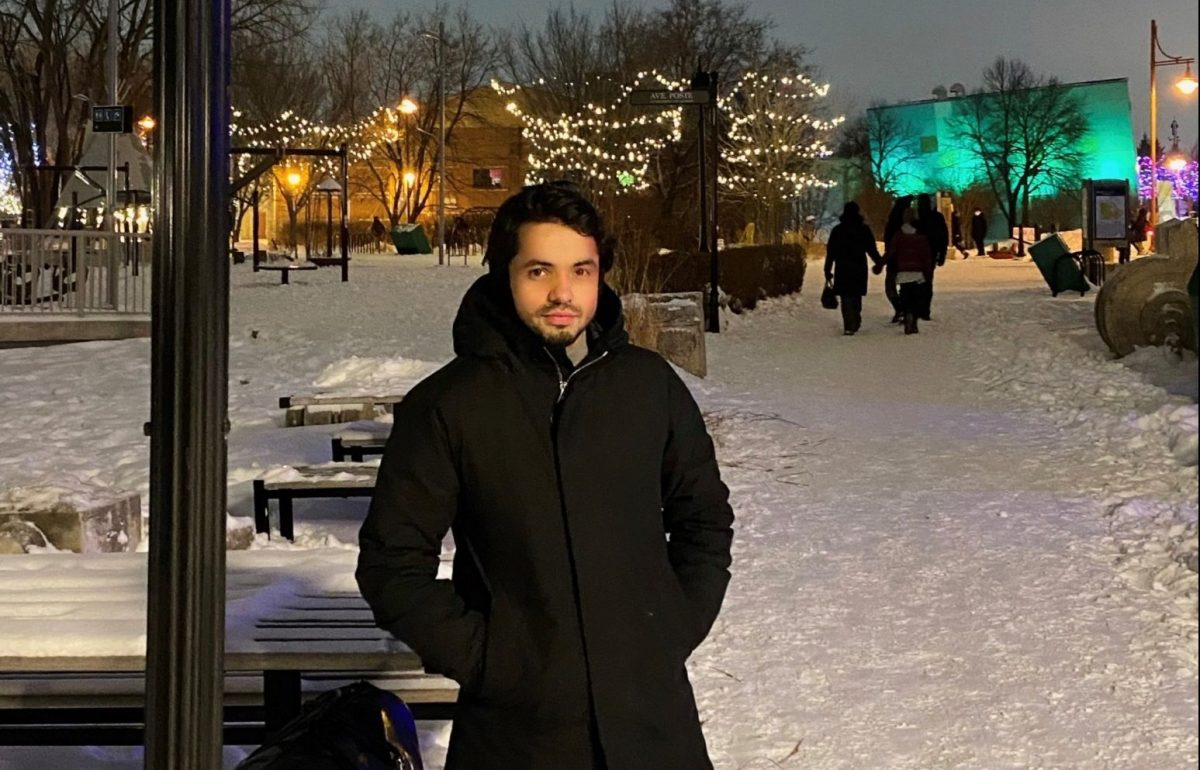 From Nepal to Winnipeg
Asper MBA graduate Sazag Bhattarai reflects on his university adventure
October 18, 2021 —
When Sazag Bhattarai embarked on the Asper MBA program in January 2020, he recalls looking out the window at the Himalayan mountain range as his airplane took off to Winnipeg, Manitoba. While the flat topography he would soon see does not often attract the world's top adventurists like his home country of Nepal, to Bhattarai, the arrival in Winnipeg represented an exciting challenge.
"I was just 22-years-old when I first entered the MBA class in a foreign country, with all new faces and the dreams and the tenacity to build myself without a single close relative or friend," said Bhattarai. "It was my personal decision to come to Canada, to see what I am made up of and to see if I can survive through all the thick and thin. I'm probably the first Nepalese to graduate from the Asper MBA program."
Bhattarai, who entered the program with a Bachelor of Business Administration from Pokhara University in Lekhnath, Kaski, Nepal graduates from the Asper MBA program this October with a dual concentration in Finance and Supply Chain Management. Completing the degree in 18 months, Bhattarai said when he first applied to the Asper School of Business, he was enticed by the MBA program's mix of quality, affordability, and flexibility.
"It represented the best return on my investment," said Bhattarai. "Experiential learning through the international exchange student programs, overseas study tours, and courses also piqued my interest."
While the program's core offerings did not change, unfortunately, like for many students graduating this fall, Bhattarai did not get the opportunity to explore the full suite of experiential learning opportunities offered in the program, as less than three months after he started at UM the COVID-19 pandemic hit.
"Throughout the first semester I enjoyed in-person classes and I was acclimating to the Canadian educational system and culture," said Bhattarai. "But when we transitioned to virtual classes, I found connecting with peers and professors more challenging than in person. Maybe it's just me because I am a more outdoorsy person, but I believe we build a better connection with people in unstructured and spontaneous moments."
As a self-professed individual who will "never say no to thrilling adventures and travel plans such as bungee, swing, rafting, and paragliding", Bhattarai made the best of the virtual experience by getting involved. He served as the President of Finance for the Asper MBA Student Association and as a hiring selection committee member for the University of Manitoba Graduate Student's Association.
While the original adventure he hoped for shifted due to the pandemic, Bhattarai said his experience in the program allowed him to reflect on his life, career, and how he could make a difference in the world.
"I had opportunities to learn from people with such abundant and diverse experiences," said Bhattarai. "Overall, my beliefs, values, and principles have not altered, but my approach to perceiving and doing things has significantly changed since the MBA program."
Bhattarai recently passed his CFA level 1 Exam and Canadian Securities Course and has experience working in finance for real estate firms in Canada. Open to new challenges and responsibilities, he plans to continue his adventures in Canada to pursue a role in finance.
To celebrate Sazag and other Asper fall 2021 graduates, please visit the UM virtual convocation link on Wednesday, October 20 at 3 p.m.
cntrUpTag.track('cntrData', 'ddce13b3ee843bb7');