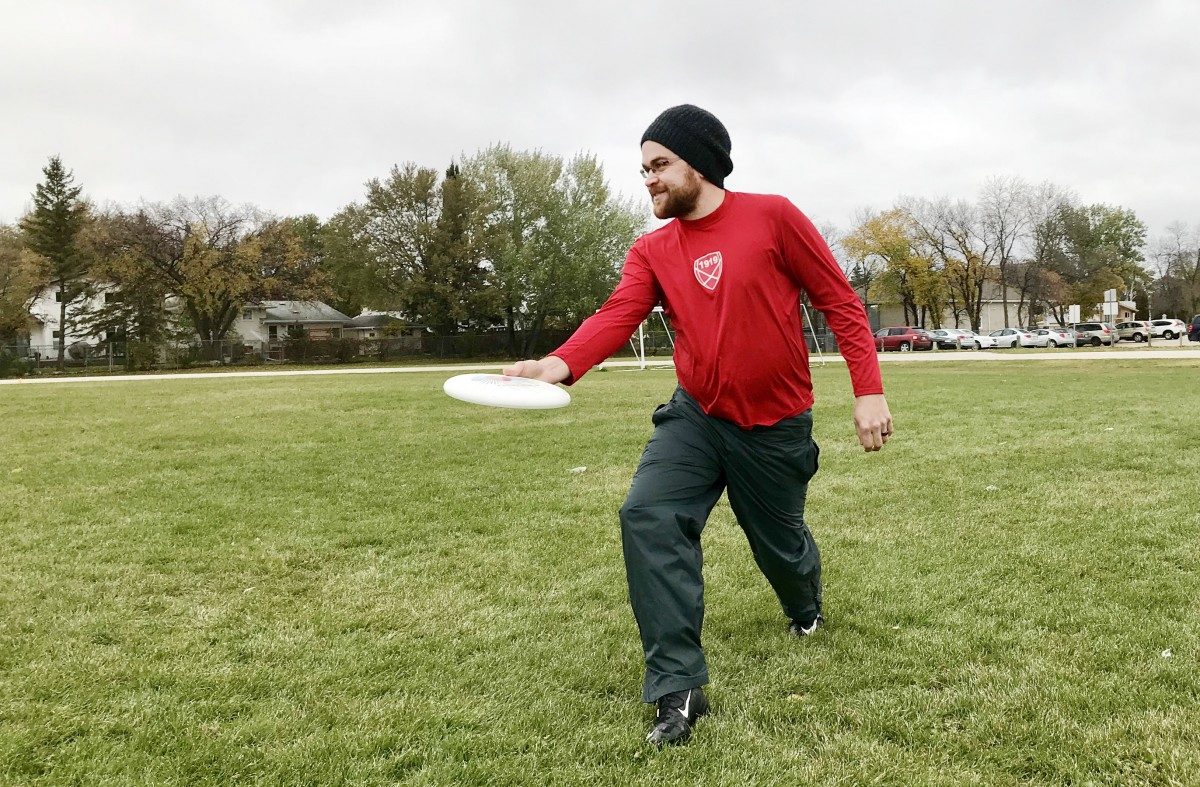 From Frisbees to jet fighters, and food to your door
October 16, 2018 —
In his spare time, Graeme Crawford plays Frisbee. For his day job, he works with slightly larger flying things, like F-35 jet fighters and helicopters.
Crawford is graduating at Fall Convocation 2018 with an MBA, following on the heels of an engineering degree (BSME/12) that spawned a job in the aerospace sector. He currently leads a team a StandardAero that is relocating three engine manufacturing lines from British Columbia to Winnipeg.
He explains: "Through the engineering co-op program at the U of M, I leveraged my mechanical engineering degree to get a position at Magellan Aerospace developing testing procedures on the F-35 Joint Strike Fighter Program. Just prior to starting my MBA, I took on an engineering management role in the StandardAero turboprops division, managing Pratt and Whitney engine lines."
But it's with Ultimate Frisbee where Crawford burns off energy and unwinds. He began playing in middle school and then at Westwood Collegiate and later on Manitoba Provincial Junior and Men's teams, traveling across Canada and the US Midwest competing in many tournaments. He still plays recreationally and coaches high school teams.
Crawford says: "Coaching provides tremendous satisfaction in knowing that it helps introduce kids to the sport along with developing their teamwork, communication and leadership skills."
Beyond disc sports, Crawford has volunteered with Habitat For Humanity during the past five years. Combined with his outstanding academic record, these community efforts were part of why he received the prestigious Schwartz-Reisman Scholarship this year, which recognizes community involvement, leadership and academic excellence among students studying in the Asper School of Business and the Faculty of Law at the University of Manitoba.
He says: "It is a tremendous honour to receive the Schwartz-Reisman Scholarship, which has helped broaden my horizons in the business world through an increased understanding of the different approaches to education as well as business practices and cultural norms throughout the world."
Getting an MBA after an engineering degree seemed a logical choice for Crawford. He explains: "Sound technical decisions from an engineering perspective can have zero financial benefit, or a brilliant engineering design can completely flop if there isn't a strong understanding of the target market and the customer needs. During some of the repair development projects at my work, I was exposed to the sales, pricing and promotion side of the business, which I thoroughly enjoyed."
Taking this lesson to heart, Crawford managed to turn an assignment into a profitable venture during his MBA program. In a business venture class, his study group was given five dollars to generate the most money, with the winning team collecting all of the other teams' earnings.
He says: "Our group came up with a surprise subscription box idea and we made over $1000 within the two hours."
Crawford details: "Our team worked furiously late in 2017 to learn how to build a subscription box business from the ground up, with hopes to launch by Cyber Monday. Within two weeks, we had managed to learn how to build a website on Shopify, gain a social media presence and we launched ad campaigns on Facebook and Instagram. Our business offered a surprise assortment of locally made goods delivered to your door on a monthly basis. We fulfilled many subscription boxes as gifts for the holiday season and we continued to build the business as the months went on."
Crawford has had to step down from the company due to workload, but it continues to do well, growing rapidly.
His career continues to soar, and he notes: "My aspirations and the business knowledge and connections gained through the MBA program coupled with my existing background in engineering gave me a powerful combination to help meet my goals."