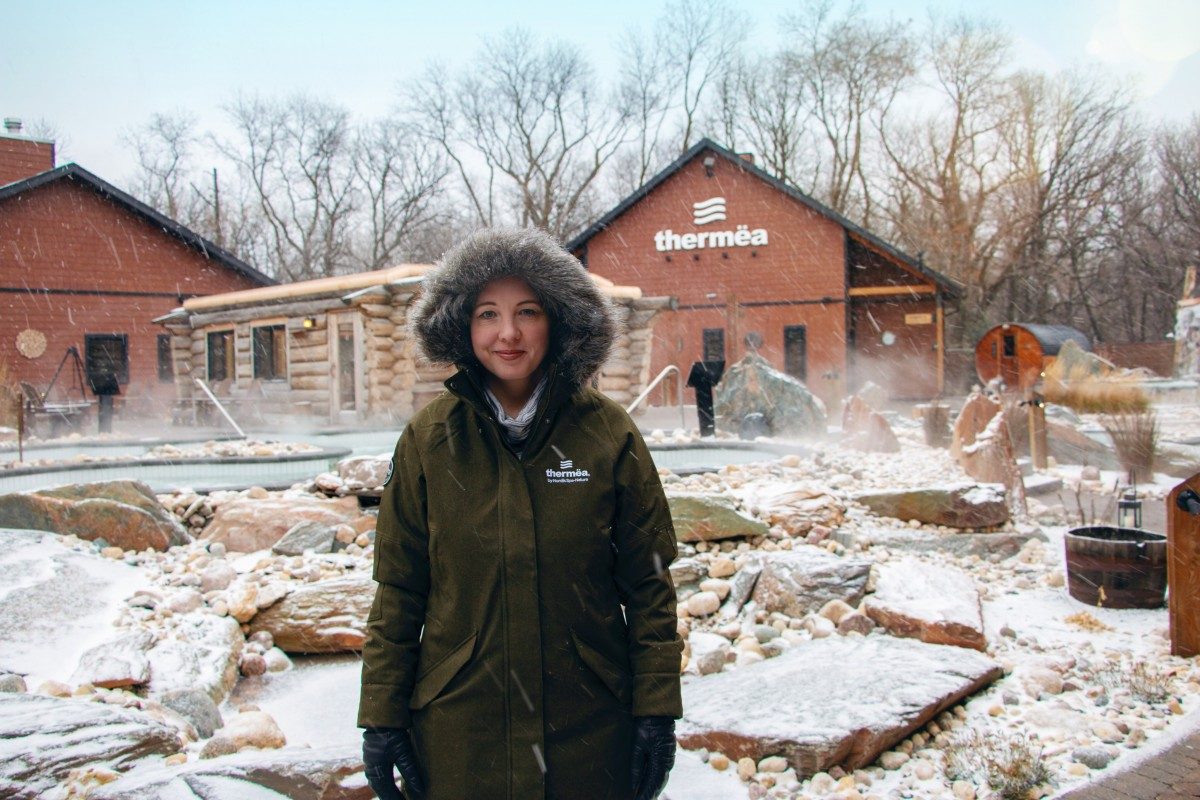 'Foundational learning' leads to career success for FKRM alum
November 7, 2018 —
The degree programs in the Faculty of Kinesiology and Recreation Management are designed to have graduates employment ready, fully prepared to seek a career path in their field(s) of study. Others obtain the necessary prerequisites while studying with us to gain entry to graduate programs, inching themselves closer to their dream job.
November is Career Month at the University of Manitoba. Over the next handful of weeks, we'll be highlighting a selection of our alumni, their fascinating careers, and paths they navigated to land The Job.
Bachelor of Recreation Studies major Tannis Hogue is the general manager of Thermëa by Nordik Spa-Nature. She shares more about her current role, the career stops she's made along with way, and how her foundation of learning as a FKRM student prepared her for it all.
What year did you graduate from U of M and what was your degree/major?
1999 Bachelor of Recreation Studies [now Bachelor of Recreation Management and Community Development]
Majors in Marketing, English and Film Studies
(I also lived at the campus radio station – hosted and produced "Pop Culture Vultures" on UMFM and was a frequent guest on other shows)
What was your first job upon graduation?
Assistant Dean of Residence at Canada's Royal Winnipeg Ballet.
What is your current job title, and what are some things you enjoy about your current career?
General Manager, Thermëa by Nordik Spa-Nature.
Thermëa is part of the Groupe Nordik family whose mission it is to transform the lives of people one visit at a time. We promote and provide enriching wellness experiences where people can heal, connect, rejuvenate and practice self-care.
It matters to me to be part of an innovative company that is collectively passionate about creating incredible experiences and contributing to the wellness of others.
I truly believe when we are well, we are the best versions of ourselves; we dream again; we can give others the love and care they deserve, and we remember what it is to live.
You've had some interesting positions and jobs along the way to where you are now. What are some highlights you're proud of? Did you ever think you would be where you are now based on your first job out of school?
After the Royal Winnipeg Ballet, I was with Q-94FM, BOB FM and 1290 Starlight radio stations in the Promotions Department where I got to help companies and organizations with their awareness and growth.
Shortly after I started a Marketing & Communications company where my focus was helping companies/organizations with strategic planning, branding and creating memorable and winning customer experiences.
I also held positions with the Province at Manitoba Film & Music where it was my privilege to market Manitoba to the world as a fantastic place to film as well promote our diverse pool of stellar musical talent.
From there I was with Economic Development Winnipeg & Tourism Winnipeg as VP, Marketing and Communications – that's when I was blessed with twin daughters and a son and took a break the corporate world for a while. As my kids got older, I continued with my company until last year when I decided to re-enter formal employment. I always kept my eye on Groupe Nordik and Thermëa and after I met the warm and fantastic people – they instantly felt like family. I am also passionate about helping others see their full potential. I believe we were all born with purpose and unique gifts/strengths. It's my honour to care for the team at Thermëa so they may pour care into our guests.
How did your education as student in our faculty prepare you for your career path?
The profs were incredible – very approachable, knowledgeable and warm. The faculty itself was pretty tight-knit…I still often see some of my classmates in the industry or at events. The curriculum at the time was going through some shifts I believe – but what I recall most was the preparation of how to create world class experiences/situations/backdrop for people to experience all kinds of wellness (leisure included). Completely foundational learning for where I find myself today (both as a mom and a contributor in the wellness/leisure industry).
What advice do you have for students near graduation as they seek a career in the field of their studies?
Two things:
Understand your strengths and grow them! Find out what makes you unique and what inspires you. Some wonderful resources to get them started include "The Truth About You" book/exercise by Marcus Buckingham and the Strengthsfinder 2.0 Assessment Tools by Gallup.
Don't underestimate the power of mentorship. I have five in my life for various reasons -they all teach me and hold me accountable based on their experience. And, look around and see who you can influence as a mentor in your life – they may teach you a thing or two as well.