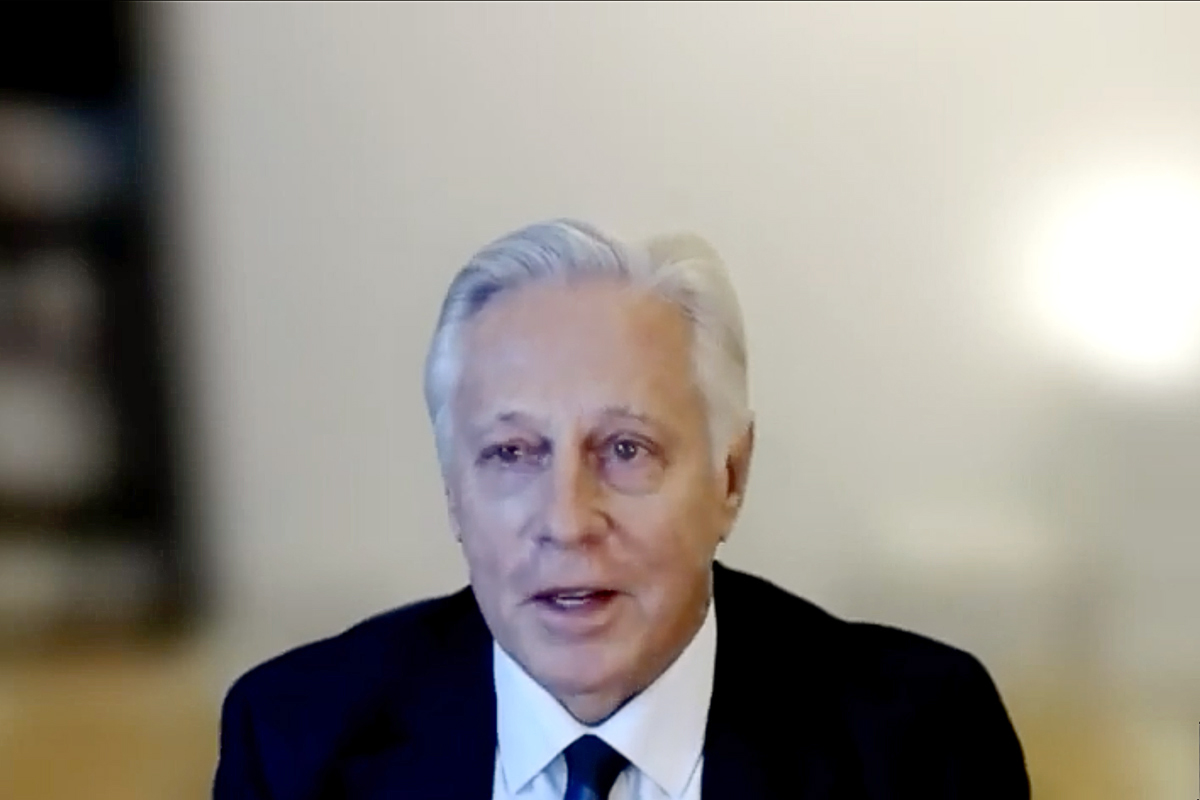 Former dean of dentistry recognized for 'transformation and vision,' named dean emeritus
March 24, 2022 —
A dentist and academic who led the UM dentistry program for eight years said he was humbled to be formally appointed dean emeritus of dentistry at a virtual ceremony on March 7.
Dr. Johann de Vries served as dean of what is now the Dr. Gerald Niznick College of Dentistry from 1998 to 2006. Calling UM "a great institution of higher learning," he accepted the honour via videoconference from his home country of South Africa, where he is now retired.
In an interview, de Vries recalled that he and his family were welcomed to Manitoba with open arms 24 years ago. They have fond memories of Winnipeg and made lifelong friends here.
"If it wasn't for the pandemic challenges, we would surely have traveled to Winnipeg to receive the award in person," he said.
De Vries brought transformation and vision to the dental college, said Dr. Diane Hiebert-Murphy, provost and vice-president (academic) of UM, in her introduction of the honoree.
As dean, de Vries introduced the college's first strategic plan, which optimized the environment for learning. He implemented a new organizational structure and oversaw the opening of a state-of-the-art simulation clinic, the first of its kind in Canada.
He was involved in establishing the college's Centre for Community Oral Health, which provides oral health care to underserved populations. He also initiated the International Dentist Degree Program, which trains internationally educated dentists for licensure in Canada.
"We wanted to recognize his accomplishments and contributions," said Dr. Anastasia Kelekis-Cholakis, current dean of dentistry, about honouring the former dean. "Dr. de Vries had a vision for our college that he was able to communicate well and implement."
De Vries recalled being impressed by the devotion of the college's faculty and staff. "They were dedicated to always do what was best for our students, and to make them outstanding graduates.
"With the help and support of our dedicated team, we managed to start several projects to benefit the communities we served. I am proud that most, if not all, of these projects are still functioning and sustainable."
In 2006, de Vries received the President's Award of Merit for outstanding service to the profession from the Manitoba Dental Association.
Nationally, he was the first academic member to sit on the Canadian Dental Association governing board and received the Distinguished Service Award from that organization. He served as vice-chair of the dental advisory committee to the federal government.
In a career spanning more than four decades, his many international roles included serving as president of the International Federation of Dental Education Associations. In 2012, he received the American Dental Education Association's prestigious Gies Award for Outstanding Vision in Dental Education.
De Vries expressed gratitude for the support he received from the UM dental college and university administration.
"They supported me to be able to become a leader in the profession, in Canada and globally," he said.
At the March 7 Honouring Emeriti event (view the ceremony here), these members of the Max Rady College of Medicine and the College of Nursing were also recognized:
Dr. Allan Becker, Professor Emeritus
Dr. Kent HayGlass, Professor Emeritus
Dr. Robert Lotocki, Professor Emeritus
Dr. Michael Moffatt, Professor Emeritus
Dr. Michael Mowat, Professor Emeritus
Dr. Noralou Roos, Professor Emerita
Dr. Jo-Ann Sawatzky, Professor Emerita
Dr. Richard Warrington, Professor Emeritus
Dr. Michael West, Professor Emeritus
Dr. Teresa Zelinski, Professor Emerita