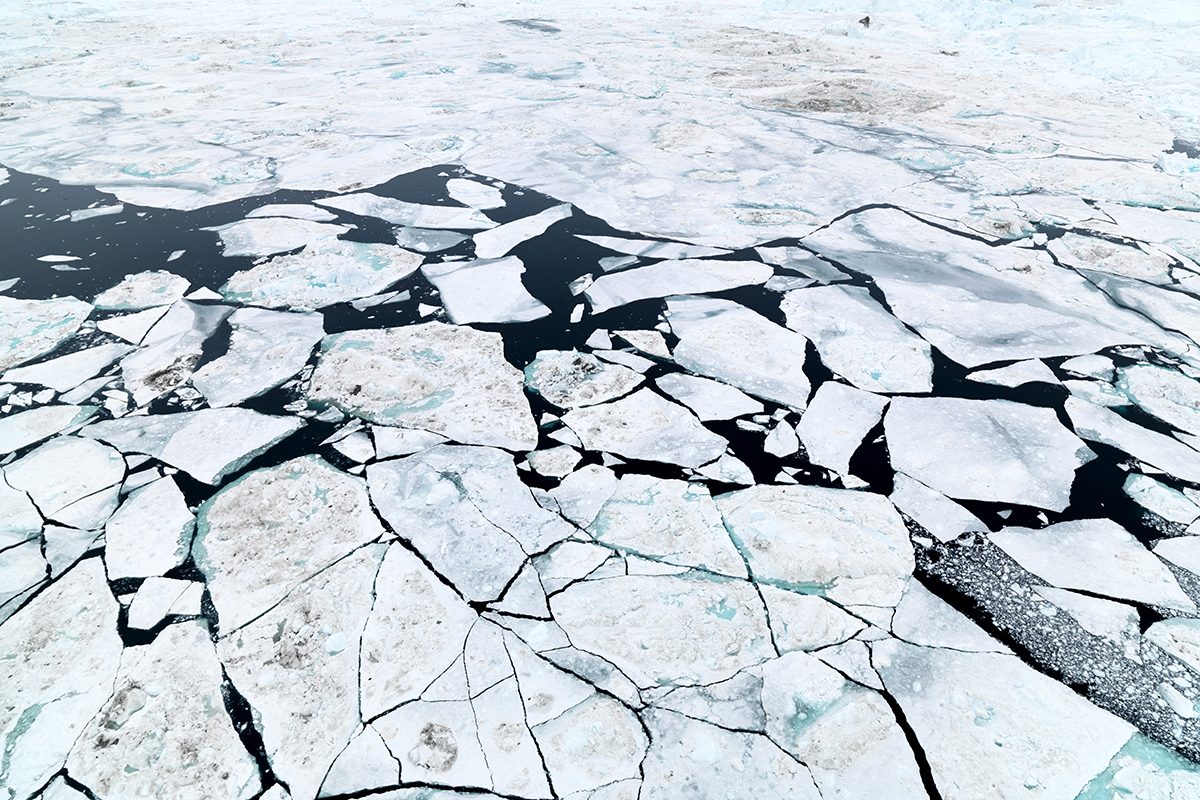 Forecasting an ever-changing climate
February 4, 2019 —
Julienne Stroeve once dreamed of travelling to outer space. Instead, she has limited her travels to the ends of the earth.
Stroeve is a climatologist, Arctic ice expert and a world leader in the integration of large-scale observations and satellite remote sensing data used to study sea ice dynamic and thermodynamic processes.
As of September 2018, she is also the U of M's new Canada 150 Chair in Sea Ice-Climate Coupling.
In her new role, Stroeve will receive seven million dollars in federal funding over seven years to continue and extrapolate on the research that has brought her global acclaim, briefings with the CIA and with former American vice-president Al Gore, and recurring appearances on both the History and Weather Channels.
Stroeve's research focuses primarily on the changes occurring in the seasonal snow and sea ice cover in the Arctic Ocean as a result of climate change. Her work predicts, observes, measures and interprets those changes, and cautions the world about the way in which those changes are impacting the Arctic marine ecosystem, the atmosphere and northern communities.
It is research that is timely, vital and all encompassing.
"Sea ice," Stroeve explains, "is an important component of our climate system, influencing all aspects of climate, biological, ecological and human systems."
Much of Stroeve's inquiry aims to understand what an Arctic Ocean without summer sea ice will mean for the rest of the planet. It is research that she began as a PhD student in geography at the University of Colorado at Boulder, and pursued while working at the National Snow and Ice Data Centre at the University College London.
Now she is attempting to reach that understanding before the Arctic summer sea ice fully disappears.
The Arctic Ocean ice cover has been shrinking for decades. Currently, its average thickness is half of what it was 30 years ago, and its summer melt is now greater than its winter growth.
"One of the biggest surprises of my research to date," Stroeve says, "is that sea ice loss is outpacing climate model forecasts, with the real possibility of an ice free Arctic Ocean in the next 20 years."
It is that recognition that infuses a sense of urgency into Stroeve's research and her plans for the next few years.
"I have two main areas I want to focus on," she says. "One is to better model and understand the role of snow on ice thickness retrievals from laser and radar altimetry."
The second one, she adds, is to understand how precipitation may change, and the climatological and biological impacts of those changes.
"One of the key difficulties we face in understanding the effect of Arctic climate change is in the timing and delivery and consequences of snow fall on sea ice," explains David Barber.
Barber is a Canada Research Chair in Arctic System Science and an associate dean at the U of M's Centre for Earth Observation Science (CEOS) in the Clayton H. Riddell Faculty of Environment, Earth, and Resources, where Stroeve is now based.
"Her research," he elaborates, "seeks to understand how climate change affects the timing and amount of snow through a range of time and space scales, using both in situ observations and surface and satellite borne microwave remote sensing."
Stroeve will be collaborating with Barber, as well as other CEOS scientists, on several projects.
She also will supervise about 10 graduate students each year and teach one graduate level course during the fall and winter semesters.
She will conduct her field work, primarily in Baffin Bay and Hudson's Bay, during the spring and summer seasons.
"When I am in the field, I collect observations to either validate satellite observations or better understand some physical process," she explains. "At other times, I'm deploying instruments to collect data over a longer time-period than when we are physically there."
Stroeve also plans to enlist the assistance of northern Indigenous communities with this data collection.
"I've never been part of a community monitoring program," she admits, "so I don't fully know how it will work, but the idea is to get communities to collect useful data for satellite validation and regional forecasts when they are out on the ice for hunting or traveling."
The data retrieved from that community monitoring program, as well as the data collected from her colleagues, her students and her own efforts, will help Stroeve better understand the sea ice dynamic, the changes resulting from that dynamic, and the negative consequences of those changes.
In abandoning her youthful ambition to become an astronaut, Stroeve became a scientist working to save her planet instead.
---
CO2 IMPACT
The arctic sea ice is retreating at an alarming pace. And much of that retreat is a result of CO2 emissions.
"As CO2 increases, so does the amount of downwelling long wave radiation reaching the surface of the ice," explains Stroeve.
Downwelling occurs when a higher density material sinks beneath a lower density material.
"Basically," Stroeve says, "CO2 increases warming, which increases ice melt."
That relationship between CO2 and sea ice melt was the subject of a major paper co-authored by Stroeve and Dick Notz, from the Max Planck Institute for Meteorol­ogy, in 2016. And it remains a major issue of interest and concern for Stroeve today.
In their paper, Stroeve and Notz observed that every tonne of CO2 that was emitted into the atmosphere resulted in the disap­pearance of three square metres of the Arctic Ocean sea ice. This means that everyday actions taken thousands of kilometers away—like driving a car to a shopping centre, travelling by plane to an out-of-province conference, or turning up the heat at home instead of putting on a sweater—contributes directly to the melting of the sea ice in the northern-most edge of the world.
Stroeve has been monitoring the Arctic sea ice melting since she was a PhD student in the 1990s, but admits that she is still alarmed and amazed by how quickly it is occurring. She remains optimistic, however, that the research she is undertak­ing in her new role at the U of M will help temper that melting and convince people everywhere of the need to reduce their carbon emissions.
– From the Winter 2019 edition of ResearchLIFE
Research at the University of Manitoba is partially supported by funding from the Government of Canada Research Support Fund.