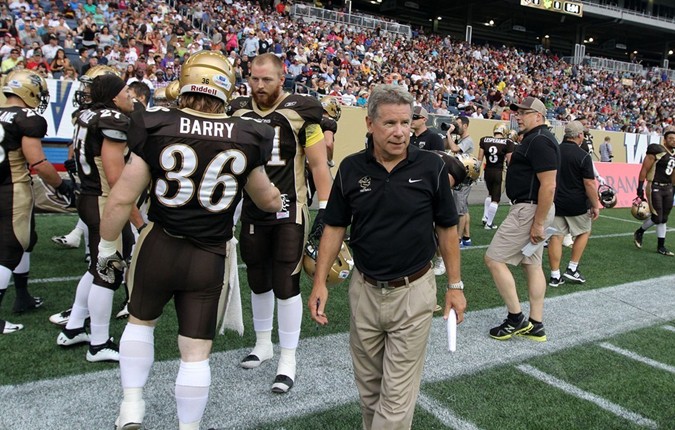 Football kick-off at home
Bison Football home season takes to the grid iron September 11
September 9, 2015 —
Bison football is back! On Friday, September 11 don't miss the Manitoba Bisons hosting the Calgary Dinos in the first regular season match up on their home turf at Investors Group Field. This head-to-head battle is a rematch of the 2014 post-season Hardy Cup game which ended with the Bisons on top in a convincing 27-15 win to end Calgary's season.
Doors for the game open at 5:30pm through gates 2 and 3 (northeast and southeast gates). The real festivities kick into high gear when the annual pre-game pep rally gets started at 6:30pm. Fans will meet and cheer on all of the Bison teams and have a chance to receive giveaways.
Students who activate their Sport and Recreation fee will receive their Bison Sports barcode sticker that will allow them free access to all Bison regular season home games, including football.
As always, you can bring a non-perishable food item for the University of Manitoba Food Bank. Volunteers will be at the gate collecting donations at each home game this season.
If you can't make it to campus, the game will be televised live as the Canada West Shaw Game of the Week, and a live radio broadcast can be heard on 101.5 UMFM.
Single game and season tickets for football are also available. Visit gobisons.ca for details.
FREE! TICKETS! GIVEAWAY!
That's right, folks! We're giving away two pairs of tickets to the Bison Football home opener on Friday, September 11.
HERE'S HOW TO ENTER FOR YOUR CHANCE TO WIN ONE PAIR OF FREE TICKETS:
Add a comment to the story — telling us which Bison team you think will win a national championship this season!
Hint: There is no wrong answer. It's a random draw that doesn't depend on the nature of your anecdote or comment.
THE DRAW:
Takes place Friday, September 11 at 9:00 am.
The two winners will be announced online and contacted via email with more information.