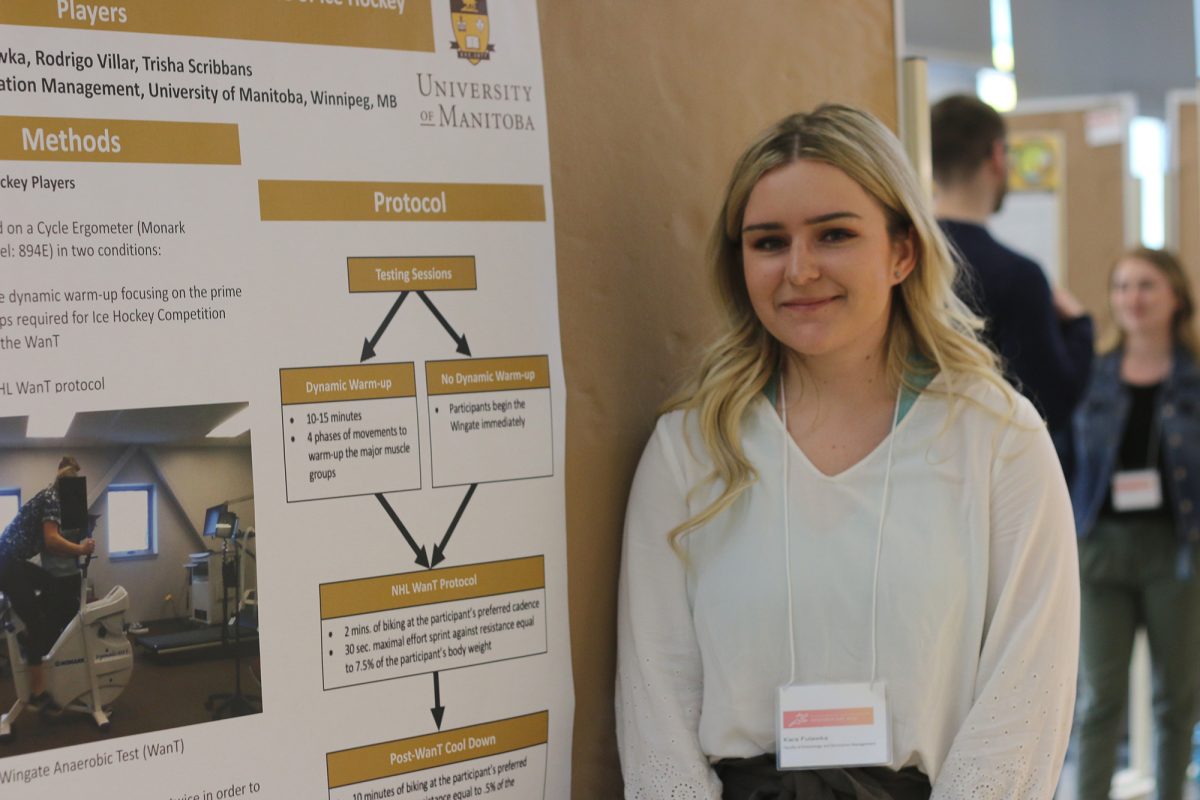 FKRM research day set for May 5
April 6, 2021 —
The Faculty of Kinesiology and Recreation Management is hosting a virtual showcase of its research Wednesday, May 5.
Research Day features the health, leisure, and human performance research being conducted by our faculty and community. It's a day to spread ideas, gain insight, and to be inspired to continue a pursuit of promoting health and preventing illness through sport, recreation, and community development.
This year's iteration centres on research and ideas generated by the faculty's graduate (M.A., M.Sc.) students, who will be presenting on topics related to their studies.
Zoom | Meeting ID: 924 2631 5924 | Passcode: nC96Sc
A full schedule of events is listed on the Research Day website, including the topics of the master's student thesis presentation competition.
The day will also feature presentations from faculty and members of the community via Zoom.
9:45 a.m. – 10:30 a.m.
HOW TO HAVE EFFECTIVE CONVERSATIONS ABOUT HEALTH BEHAVIOUR CHANGE
Dr. Shaelyn Strachan, Associate Professor, Faculty of Kinesiology and Recreation Management
Attendees will be introduced to motivational interviewing as a general philosophical approach for having effective conversations with people about health behaviour change. Attendees will also learn about some do's and don'ts and will have the chance to practice some basic counselling techniques for use in conversations about health behaviour change.
11:30 a.m. – 12:15 p.m.
UNDERSTANDING THE NEWCOMER EXPERIENCE AND SPORT PARTICIPATION IN WINNIPEG
Craig Brown, M.A.
Carolyn Trono, Winnipeg Newcomer Sport Academy
Betty Kassa, Winnipeg Newcomer Sport Academy
Sonya Gill, 4th year student, Department of Psychology
Newcomers to Winnipeg often face many barriers to sport participation. This presentation will be a forum to share current research and applied work with newcomers and sport engagement. The goal is not only to share this information but also to encourage more inclusivity and understanding towards newcomers in this city.
2 p.m. – 3:15 p.m.
FUNDAMENTAL MOTOR CONTROL IN ACTION: USING THEORY TO INFORM HOW WE TEACH MOTOR SKILLS
Dr. Cheryl M. Glazebrook, MSc(PT), PhD, Associate Professor, Faculty of Kinesiology and Recreation Management, University of Manitoba
This seminar outlines our current understanding of how humans integrate sensory cues to perform everyday actions, including how to use advances in knowledge and technology to support teaching motor skills in a variety of settings and to a variety of learners.