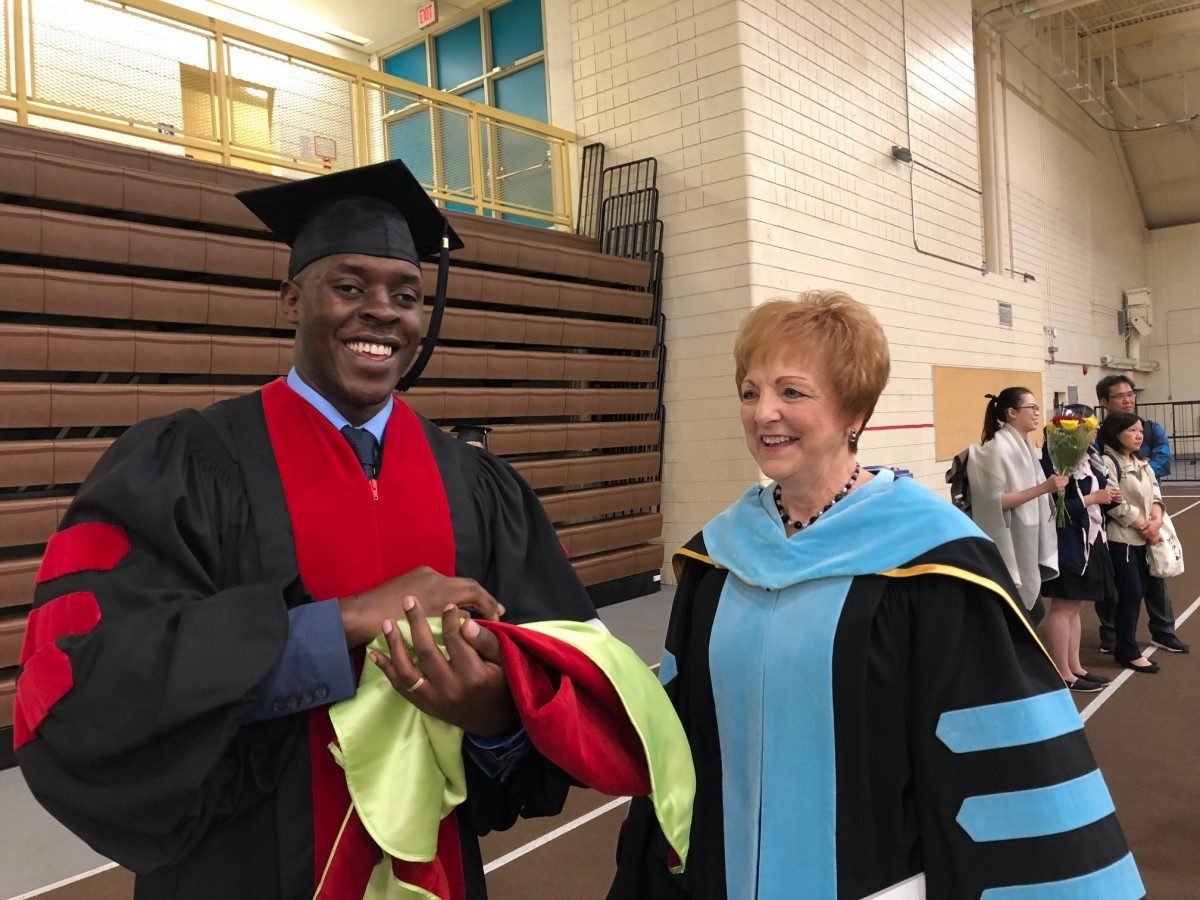 Nursing PhD in Cancer Control: 'Bring it On'
June 14, 2018 —
Standing proudly in his cap and gown at convocation as the last graduate of the College of Nursing's PhD in the Cancer Control stream, Dr. David Busolo still marvels at one of his first surprises upon arrival in Canada from Kenya in 2011.
"I thought it would be like the States but I was shocked how different it is," he explains. "The people in Manitoba are very friendly. How you walk into a place, and you get a genuine smile and people asking how they can help you. People are always welcoming you and wanting to associate with you and relate to you. I quickly felt settled and found my roots."
Busolo grew up in Kenya and earned his Bachelor of Science in Nursing there in 2006 before becoming a teacher. After a couple of years, he moved to the US to complete his Master's in Public Health at Loma Linda University in California.
When his Master's studies were nearly over, he began to research PhD programs, focusing on chronic diseases, particularly cancer and diabetes prevention.
During that research, he stumbled upon Dr. Roberta Woodgate, Canada Research Chair in Child and Family Engagement in Health Research and Healthcare in the College of Nursing, Rady Faculty of Health Sciences, and information about the College's Cancer Control program. After a few conversations with Dr. Woodgate, Busolo was sold.
As soon as he began his studies, he knew he'd made the right choice.
"The mentorship and training Dr. Woodgate provided, the kind of courses she guided me to take and projects she allowed me to work on – Canadian Institute of Health Research funded projects – really put me at a great level for my career," he says. "By the time I was going to collect my data, I felt like I was very ready. I was like, 'bring it on', I want to go and do it. I had all this confidence and I feel it's that beauty of the College, how they train their students. It was awesome," he says.
Busolo started with a year of pre-doctoral classes and began the full PhD program in 2012. In the fall of 2015, he went back to Kenya to do his research over the course of five months.
His thesis was on Kenyan youth and their understanding of cancer risk and cancer prevention.
"At the moment, cancer rates are really increasing and equally, a higher number of people are dying from the disease. Yet, for youth in Kenya, very little work has been done to understand what they think about cancer. So, I chose that path to go and find out," says Busolo.
After defending his thesis in November 2017, he was soon offered the position of Assistant Professor, tenure track, in the Faculty of Nursing at the University of New Brunswick in Fredericton.
Busolo says it's humbling to be the first PhD grad of the Cancer Control program, and the strong guidance he received during his studies is what got him to where he is today.
"It's special because cancer is chronic and we know that many people are getting the disease, equally many people are dying from it. The good thing is progress has been made in that area and training people with that special focus is important. It is not just the prevention, it's the treatment, the quality of care, support of care. Having someone train in that specific area is critical."
Dr. Netha Dyck, Dean, College of Nursing, says she's thrilled Busolo was able to travel to Manitoba from New Brunswick for convocation.
"We're so happy he was able to join us in Winnipeg so we could all celebrate this achievement together," says Dyck. "It's such a great accomplishment. It's truly a unique stream of education so we're proud he was able to complete that, and now we have a graduate from Cancer Control and we couldn't be happier."