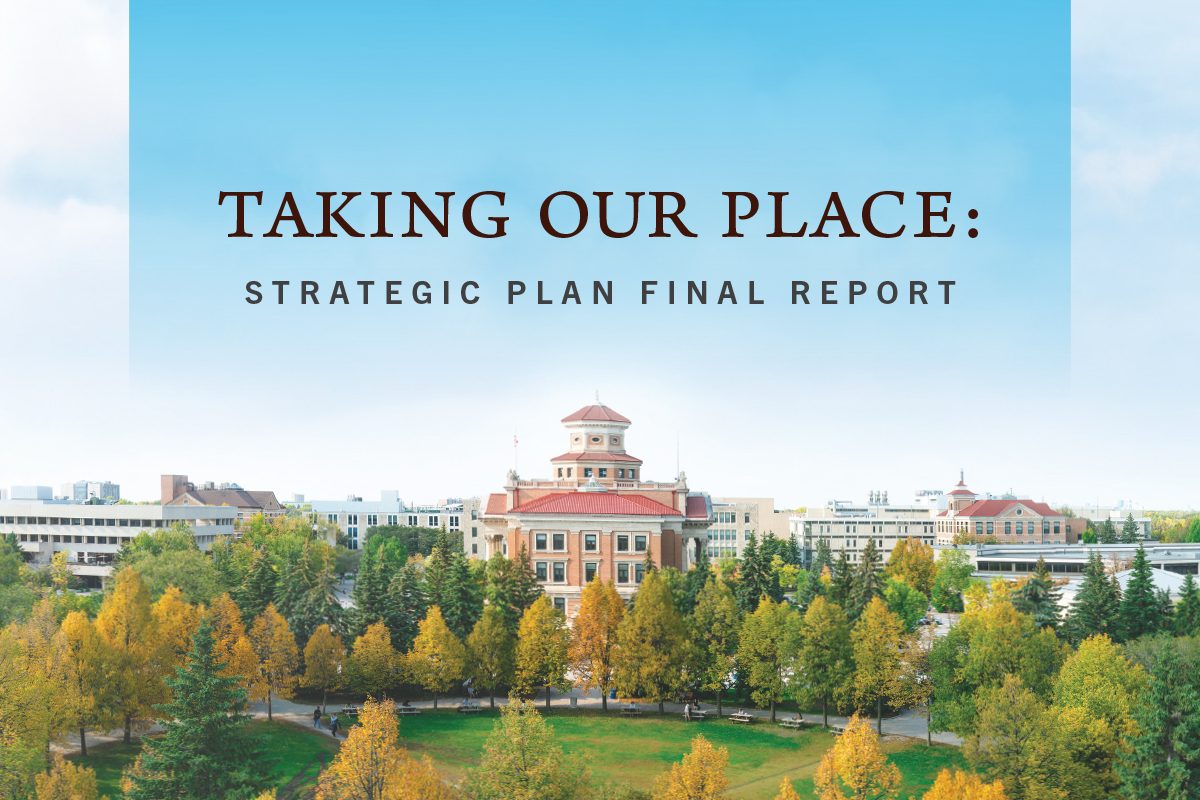 Final report on strategic priorities
June 24, 2020 —
Advancements in flexible learning, increased inclusion of Indigenous perspectives across the university including the appointment of a Vice-President (Indigenous), new and upgraded facilities and the successful completion of the Front and Centre fundraising campaign.
These are just a few of the many collaborative successes that have been achieved as Dr. David Barnard completes his term as the 11th President and Vice-Chancellor of the University of Manitoba (UM) and are outlined in the final report on the Taking Our Place: University of Manitoba Strategic Plan 2015 – 2020.
The report is now online and includes highlights from the five priority areas and progress made in achieving the goals and priorities set out in the plan. Other accomplishments highlighted within the report include:
Increases in student enrolment, with a fall 2019 record high of 29,561
Improved learning environments with upgrades to more than 165 classrooms, labs and seminar rooms
Increases in experiential learning, including a 35% increase in co-ops since 2015. We now have 40 co-op options available for students across a range of programs
An increase in undergraduate research awards to 170 awards valued at $1.18 million
Sixteen new research chairs and five professorships reflecting UM's research expertise
Introduction of an Indigenous Initiatives Fund that supported 61 projects including a new Indigenous Languages Elders-in-Residence Program
Creation of an Indigenous Advisory Committee to guide the Indigenous Planning and Design Principles for UM, now incorporated into ongoing work across campuses
"Since 2015, this strategic plan has guided our efforts as a university," said David T. Barnard, President and Vice-Chancellor at UM. "As my time here draws to a close, I am humbled by the many ways in which UM as a whole has worked together to advance our collective priorities and grateful for the collegiality of our community."
Within each of the strategic priorities, several key goals have been achieved and we have demonstrated noteworthy progress in other areas.
"We wish to take this opportunity to reflect on what has been accomplished and to celebrate the progress we have made together. While there is always more to be done, the coming year will bring an opportunity to review our progress, to build on our accomplishments as well as to adjust our priorities for the future," said Dr. Janice Ristock, Provost and Vice-President (Academic).
The final report, mid-term report and strategic plan can be found on the strategic plan webpage.