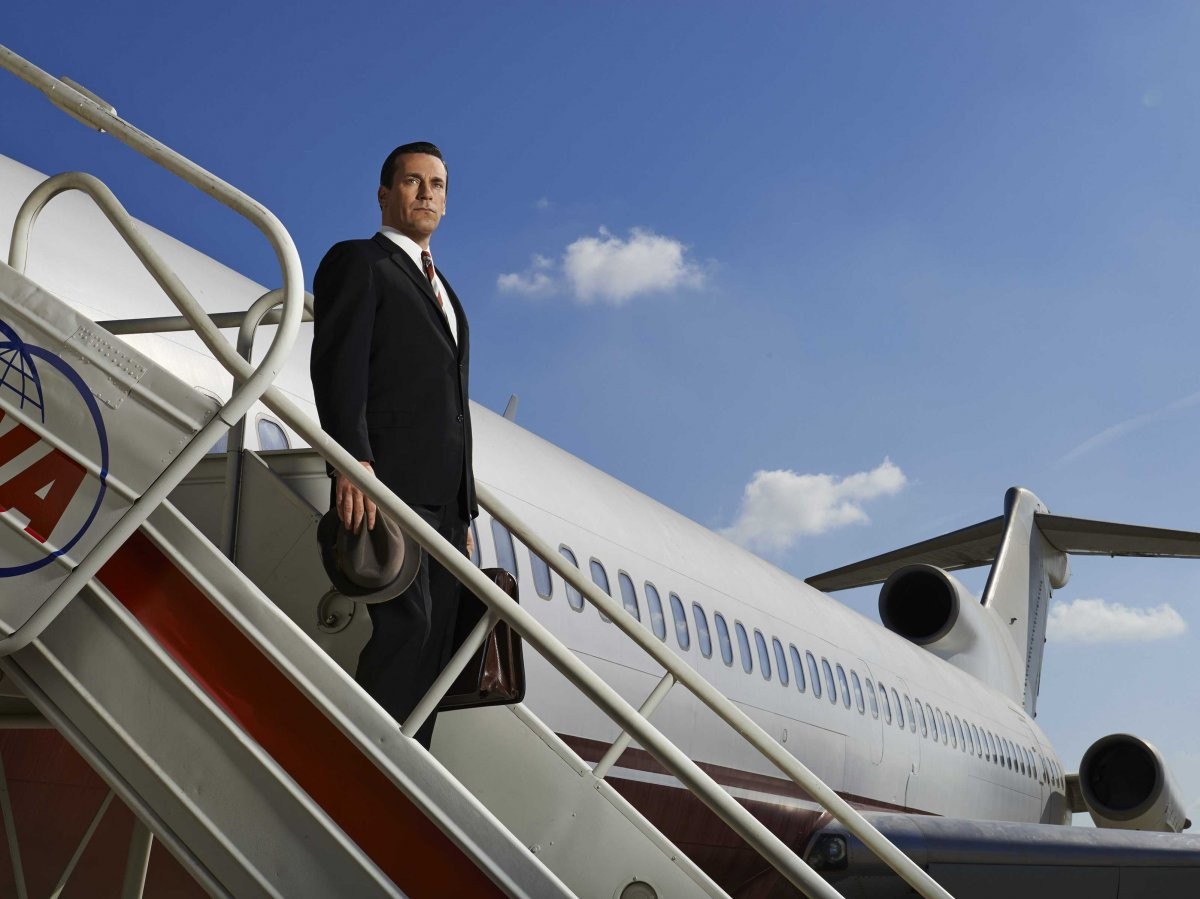 Film prof George Toles analyzes Mad Men as its final season begins
April 18, 2014 —
UM Today spoke with George Toles, longtime Guy Maddin collaborator and Distinguished Professor in the department of English, film and theatre, Faculty of Arts, about the season opener of the popular television show Mad Men, which launched its seventh season last Sunday. Toles taught a course on Mad Men in winter 2013, and contributed the article, "Don Draper and the Promises of Life" to a collection of essays called Television Aesthetics and Style (Bloomsbury Academic, 2013).
To start, we were warned that he's now "over-invested" in the show. "I'm over-sensitive about anything to do with Mad Men. It's like an over-identification, similar to what I've felt about Frank Capra's It's a Wonderful Life," he says.
"When I read blogs or see comments from people who've reached their limit with Mad Men and are shrugging it off, 'too sad, too boring, too slow, nothing happens' — I get strangely worked up. And if someone says something about what [show creator and head writer] Matthew Weiner's up to and is dismissive, I get into it on the spot."
Though he has no illusions of changing minds through discussions on Facebook, he adds. "I'm fully aware how pointless this exercise is: no one ever convinces anyone of anything on Facebook. Ever. No one changes their mind; you're talking to yourself."
In his view, "the first episode did a brilliant job of working with everything that had caused both the impasse and the breakthrough for [Don] Draper at the end of Season 6."
Here are a few of his reflections on the show at the start of its final season.
On dismantling the Don Draper mystique:
Season 6 was primarily about the dismantling — not the pretend dismantling, but the wholesale, visceral dismantling — of Don Draper's (Jon Hamm) mystique, both for the viewer and for himself and those who knew him. That he acquires the need, and maybe the capacity, to expose everything in his self-loathing to all who know him.
In the final episode you have a kind of echoing of his Kodak pitch from the end of Season 1 — on the one hand it is a disastrous deed of self-sabotage, destroying any chance for success, but at the same time, it's a point of using everything he knows and remembers about himself to create a deeply moving linkage with the product that he's talking about. [It's] as moving as the carousel episode, but that, in fact, will work for no one in the room.
And finally getting down to the fundament of his own sense of falsity and disengagement.
And [ending Season 6 with] the outdoor scene, the return [with his children] to the house [where he grew up] is completely non-verbal. Just about any other writer in TV would have thought a solution, or at least the band-aid, for the horror of what happened with his daughter [seeing Don being intimate with another woman] was some sort of talk scene. And it seems to me that Weiner realizes that there's nothing whatever that can be accomplished verbally. The decision to take his daughter and son to the house and to stand there and say nothing, other than to identify the house, was a great one.
On doubling:
[With the new season,] you have doubling of so many sorts now. Don and Peggy (Elisabeth Moss) mirror each other in so many ways. But it's interesting that Don's new double is Freddy Rumsen (Joel Murray) — to have two drunks getting together with sausages to talk about fronting and failed pitches. Don now is occupying this new state of mind, where there are no more secrets, from himself or others, but also, no power. And the absence of power [is] combined with this strange, untested self-knowledge.
Far from being a pathetic stand-in for powerful Don, it's more or less giving us exactly where Don is: They are two unhappy drunks, middle-aged, both feeling that they are on their way out. Freddy saying to Don that he should be careful or people will see him as damaged goods — as though they don't already, and as though Freddy himself isn't damaged goods personified. If you're going to do a take-down of masculinity, having two guys order sausages together and discuss … [laughter].
Women on the show, role models and the idealizable:
I'm fascinated by the women in the show and how well-written the women are by the many women writers but I'm staggered by how often in plot commentary, people present Joan and Peggy as role models. It seems to me that as the men are falling apart, the women are discovering who they are and what they can be and do, yes, but — first of all, you're forgetting the context: it's the world of advertising. It's not as though we're talking about human betterment and something idealizable, outside of the business — it's all based on various forms of counterfeit belief, and rising up on this ladder. Everything is contaminated.
'You never get rid of your sh-t'
Every character who pleases us in a scene, soon after disappoints us. Because as one person said on a blog, this show is about: no one ever being able to get rid of their sh-t. Which is Weiner's kind of bottom line: 'You might learn to cope better with your sh-t but you never get rid of it.' All the characters are, in their various ways, making the lunge away but always return.
I mean, does anyone remember Nixon's first inaugural address [that Don watches in the first episode of Season 7]? Play a segment of it and you realize that more than Jimmy Carter, Nixon is addressing the terrible mindset of the nation at large, the malaise, of late '68. He's giving counsel at a time of national despair — there's nothing of Reagan's 'Good Morning, America' here — it's a sombre rather than a Kennedy-energized, 'we're going to shift direction.' It's all about taking our grief and what we can do with it.
It's just so far away from permissible presidential addresses, right now, and to have it come out of the mouth of Richard Nixon.
'I'm a Man'
Interesting that [in the first episode of Season 7] Don is watching a Frank Capra movie late at night with Megan (Jessica Pare) — Lost Horizon, a James Hilton novel, built around Shangri-La and utopia. The written legend that begins the movie says that Shangri-La can be anywhere. It is a place where your heart's desire is somehow gratified, though the example at the end of the list is "maybe a chicken farm."
Has there ever been a sadder love scene than Don's attempt to get something going with Megan? His use of the term on the plane, "broken vessel," about his marriage, and to admit that he's a terrible husband. To see, more clearly than he ever had, why she's not able to or willing to give more to him, and being in this state of need himself, which he's open about — and she goes along with it, but with no sense of being able to join him there and find something with which to build better intimacy.
He encounters not one but two lookalikes [in the first episode of Seaon 7], Neve Campbell resembles Sylvia in a number of ways and the real estate agent he meets with Pete (Vincent Kartheiser) is a Betty-lookalike. In both cases, there are chances, which he, to our surprise, passes on. And then there's those stunning, hilarious Mad Men reversals: Pete, who has not drawn a happy breath for six seasons, suddenly finding convincing contentment in California. For at least the course of his single meeting with Don, he seems at home in that draped sweater and plaid and the all the oranges …
[For Don] it's the dream of the possibility of a meeting that they'll have where they'll be able to regain lost ground, repair … 'now that I'm free of all that, I should be able to find you where you once were.'
Mad Men reversals
Completing the reversal idea, Ken Cosgrove (Aaron Staton) — who's always seemed the ideal Aristotelian man … a successful writer who seems to just ride things with such attractive reasonableness, becoming this permanently one-eyed madman. And within two months, there's a terrible new boss with his horrible Mr. Rogers sweater and his signature line, "I guess I'm immune to your charms, Peggy."
And the fact that within two months, in creative, no one except Peggy cares. Out of everyone just going through the bottom-end motions, and Peggy being in immense pain, for one reason only, because, like Don, within her work, she cares — immoderately — about what can be creatively accomplished there, and can't bear the fact that good ideas are worth nothing.
On assessing the show and viewers' reactions:
The other day, someone was not being entirely condescending about the latest episode when they compared it to Game of Thrones, suggesting that it was sorely lacking and mentioned [writer and cultural critic] Daniel Mendelsohn's article on NRYB and helpfully posted it for me to consider.
Mendelsohn has written many fine things but this was fundamentally wrong, from top to bottom. Lack of sympathy — and to my mind, also a lack of understanding about what the show is actually doing — which makes everything more or less … part of that domino drop. (Having taught the series and having looked at every episode at least twice, many of them a number times.) I think that there's a habitual laziness that is common currency among TV viewers. Watching something on TV, even if you love the show — you assume it's got to make palatable, easy, [that it has to] create effective, reliable patterns and not do significant damage in terms of our relation to the mystique of the central character and the mystique of the show. Weiner said the starting point of the show was John Cheever and Richard Yates … like many things, I think Mad Men's initial success is based on a lucky collective misunderstanding of what the show is really after.
This is the one truly grown up show which is not manufacturing tragedy out of gristly deaths. 'Adult' now is 'keep the deaths coming, but make them be surprising.' And have some charismatic [douch]bags that we can call anti-heroes but that aren't put though any genuine human torment and struggle.
Unlike Mad Men, it has nothing to do with inwardness.
I also think that it's next to impossible to evaluate with any degree of accuracy, thoroughness or comprehensive understanding of the first episode of the season when we simply haven't yet come to terms with what serial writing in television really is — that the best writers are playing the long game, setting things up which cannot disclose patterns and structural mysteries until we have seen where things land.