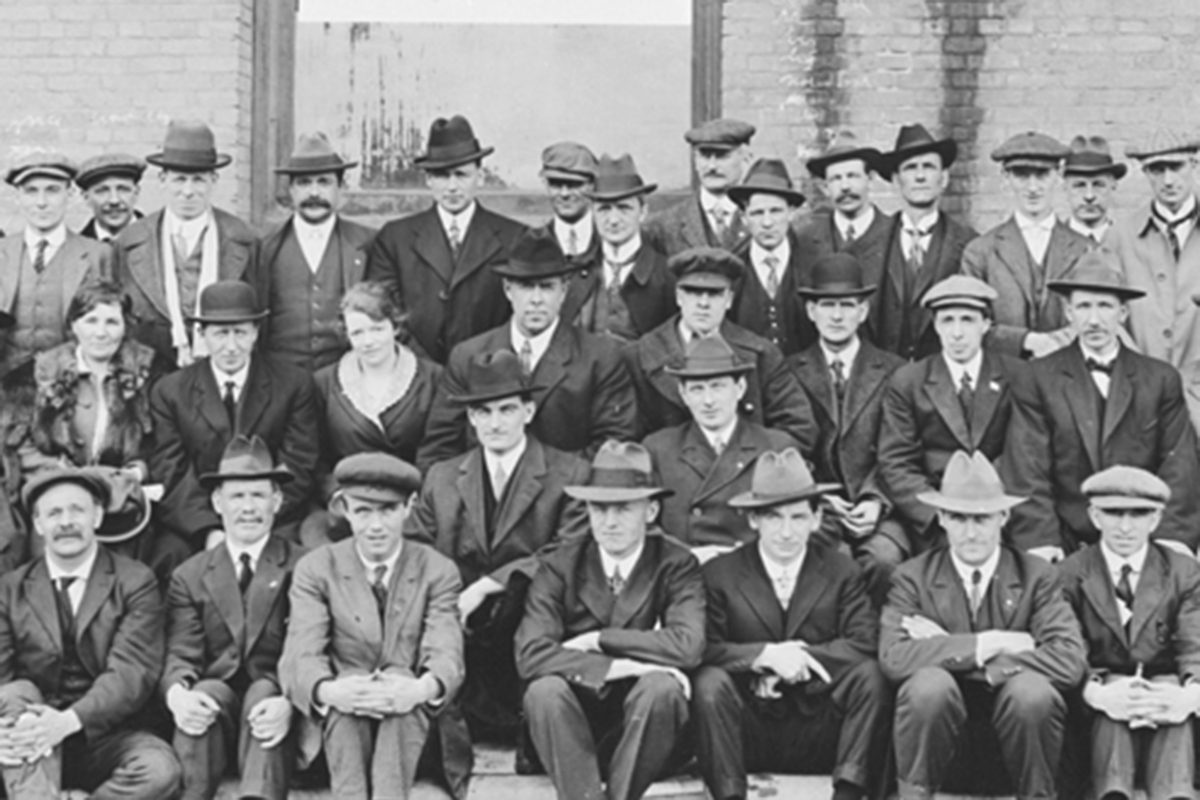 Fighting for change: Alumni in the Winnipeg General Strike
May 21, 2019 —
For six weeks in the spring of 1919, all eyes of the world were on Winnipeg. Thirty thousand workers were on strike protesting better wages and working conditions.
They were met with intimidation, racism, military intervention and violence which killed two and injured many on Bloody Saturday. At the forefront of events were U of M alumni whose rhetoric, ideology and legal skill changed the course of history.
On the 100th anniversary of the Winnipeg General Strike, we reflect on the vital contributions of these early defenders of labour rights.
WILLIAM IVENS [BA/1906, BD/1908, MA/1909]
One of the Strike's most impressive orators, William (Bill) Ivens was a key member of the Strike Committee. Born in England, he attended the U of M as a Methodist ministerial candidate. He was a prominent social gospel activist whose pacifist views and vocal opposition to conscription during the First World War caused him to part with the Methodist Church. In June 1918, he founded Winnipeg's first Labor Church with a largely pro-working class congregation. They became key supporters of the Strike and Ivens was made editor of the Western Labor News, labour's major daily publication.
Ivens wrote articles, housed meetings at his Labor Church and spoke at rallies to audiences of thousands. He depicted the Strike as the dawn of a new era for working-class Canadians, while discouraging violence, saying:
"This is not a revolution. The workers are docile … But the workers realize their importance and they see no reason why they should not own and enjoy, since they produce all."
On June 17, 1919, Ivens was arrested and charged with conspiracy to overthrow the government by force. Despite his 14-hour address to the jury, Ivens was found guilty and sentenced to one year in jail.
From his prison cell, he campaigned and was elected to the Manitoba Legislature. He served four terms as a member of the Independent Labour Party, later becoming a chiropractor. Ivens died on June 20, 1957, aged 78.
JAMES SHAVER (J.S.) WOODSWORTH [BA/1896]
A pioneer of Canada's social democratic movement, J.S. Woodsworth was also a Strike leader. Like Ivens, he was ordained as a Methodist minister but became disenchanted with its mission. While directing the All People's Mission in Winnipeg's North End, he witnessed the poverty that afflicted many immigrant communities and their everyday suffering became more concerning to him than their spirituality.
A strong union supporter, he was invited to speak publicly during the Strike and replaced Ivens as the Western Labor News' editor upon his arrest. A week later, Woodsworth himself was arrested for writing about Kaiserism in reference to the government's actions during Bloody Saturday. He was charged with seditious libel but later released.
In 1921, he was elected to the House of Commons representing Winnipeg North Centre – a seat he held for 21 years. He was instrumental in pressuring the then Liberal government to enact an old-age pension plan, Canada's first social welfare legislation. Woodsworth died on March 21, 1948, aged 67.
MARCUS HYMAN [LLB/1921]
A staunch defender of immigrant rights, Marcus Hyman was labour's defense lawyer. He was the son of an internationally known rabbi and studied law at Oxford before coming to Canada in 1913. That same year, Hyman was called to the Manitoba Bar and established himself as a skillful criminal-defense lawyer. He was appointed by the Winnipeg Trades and Labor Council to defend strikers, especially those accused of "foreign agitation".
One of those charged was Moses (Soloman) Almazov, a philosophy and economics student at the U of M who had emigrated from Russia. He was a member of the Social Democratic Party and editor of Die Volk Stimme (The People's Voice), but police accused him of being a revolutionary conspirator.
Attacks against Jews and immigrants were commonplace among anti-labour supporters; Hyman argued this was a deliberate attempt to tarnish labour's reputation. He successfully reversed deportation orders for Almazov and five strike leaders.
He joined the Independent Labour Party after the Strike and was elected to the Manitoba Legislature in 1932. There, he introduced Canada's first group libel law: The Manitoba Defamation Act, which allows persons of racial or religious groups to sue an author or publisher for producing defamatory material.
Hyman was granted an ad eundem law degree from the University of Manitoba and taught at Robson Hall (then known as the Manitoba Law School). Hyman died on December 21, 1938 from pneumonia contracted after surgery. He was 55.
HUGH AMOS (H.A.) ROBSON [LLD/1914]
A well-respected lawyer and civil servant, H.A. Robson chaired the Royal Commission that investigated the Strike – setting the tone for how the event is viewed today.
Robson emigrated from England as a boy in 1882, settling with his parents in the Northwest Territories. He practiced law there for over a decade before moving to Winnipeg to join the prestigious firm of James Aikins. He was named to the Court of King's Bench in 1909.
After the violence of Bloody Saturday, the Strike Committee met with Premier Tobias Norris. They agreed to call off the Strike only if Norris established a Royal Commission to investigate local labour conditions.
Robson was appointed Chair and his report, published on November 6, 1919, determined that the Strike's true origin was the "refusal by the employers … to recognize the demands of the workers" for fair working conditions. It was not, as many in the anti-labour movement claimed, a revolutionary conspiracy led by "alien scum." The cause was just and the vast majority of those arrested for seditious libel were not guilty.
When the Manitoba Law School moved to the University of Manitoba's Fort Garry campus on September 15, 1969, it was renamed Robson Hall in his honour. Robson had founded the school back in October of 1914 and briefly served as Acting Dean in the 1920s. Robson died on July 4, 1945, aged 73.