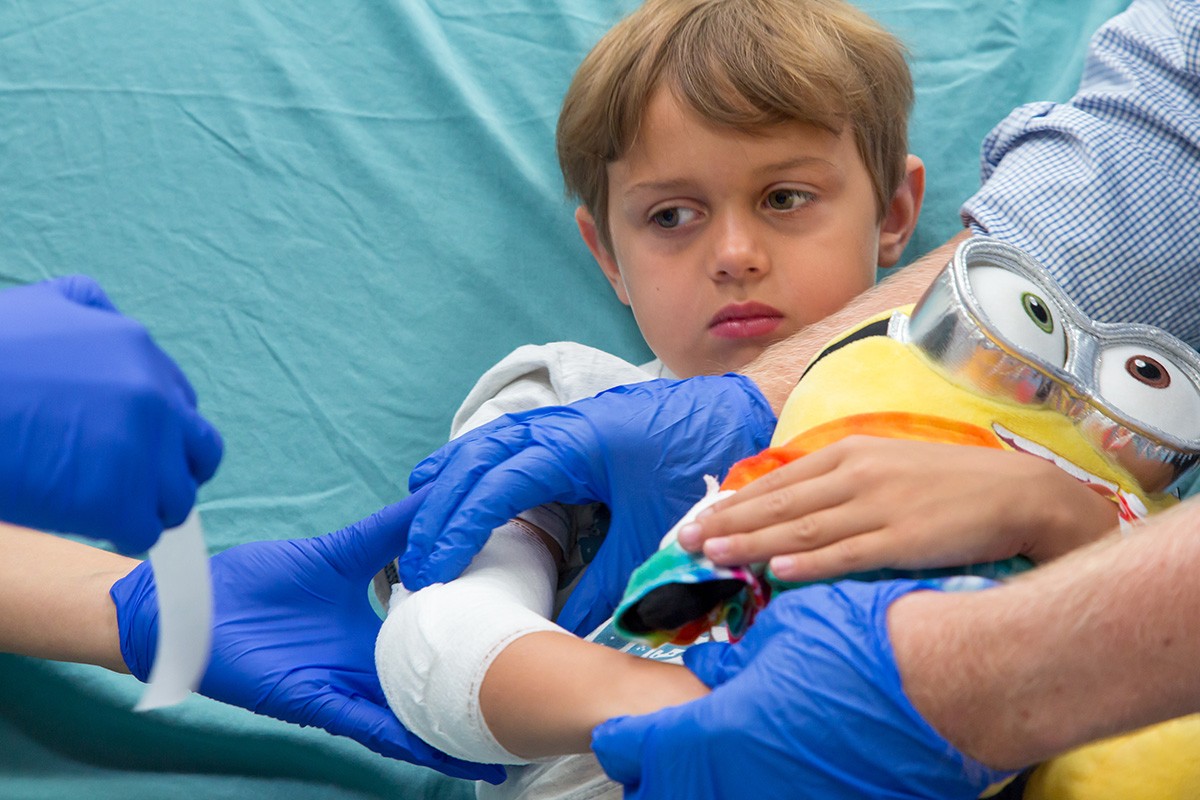 Feds renew support for knowledge mobilization groups
Winnipeg-based network spreads latest research about best ways to improve pediatric emergency care
April 29, 2016 —
Three knowledge mobilization networks, including the Winnipeg-based Translating Emergency Knowledge for Kids (TREKK), will receive renewed support totalling $3.6 million from the Government of Canada to continue their work in putting scientifically validated best practices into the hands of the people who put it to use on the front lines.
TREKK shares knowledge and experience among general emergency departments, children's hospitals and academic institutions to ensure that the latest knowledge about pediatric emergency care is put into common practice.
"We are grateful to the Government of Canada for its continuing support of TREKK and our vision that every child receives the highest standard of care, whether they are treated in a pediatric or general emergency department," said Terry Klassen, director of TREKK. "This additional funding will allow TREKK to share the latest evidence in pediatric emergency care through innovative and engaging resources for both health providers and families and continue with efforts to expand TREKK's reach to all emergency departments across the country."
Robert-Falcon Ouellette, member of Parliament for Winnipeg Centre, along with Terry Duguid, member of Parliament for Winnipeg South, today announced that TREKK will receive $1.2 million over three years to continue to connect the best research on pediatric emergency care with those who can put it into practice. The announcement was made on behalf of Kirsty Duncan, Minister of Science, at the University of Manitoba.
These investments are the result of the most recent competition for the Networks of Centres of Excellence Knowledge Mobilization initiative. Children and Youth in Challenging Contexts (CYCC) and Promoting Relationships and Eliminating Violence Network (PREVNet) were the other two networks to receive renewed funding. Funded networks support knowledge transfer activities and collaborations among academia, industry, government and not-for-profit organizations in a variety of sectors.
"The Government of Canada's support for these NCE Knowledge Mobilization networks results in direct benefits to Canadians on a day-to-day basis. We are proud of the TREKK team and how their efforts help ensure that children in Manitoba, and across the country, can count on receiving the best possible emergency care, even if their doctor does not have specialized pediatric training," said Duguid.
"I congratulate Dr. Klassen and his team on this renewed funding and on the exemplary research undertaken by him and his team of scientists and clinicians. Their discoveries are transforming pediatric emergency care for children locally and nationally and saving lives," said Digvir Jayas, Vice-President (Research and International) and distinguished professor from the University of Manitoba.
Research at the University of Manitoba is partially supported by funding from the Government of Canada Research Support Fund.