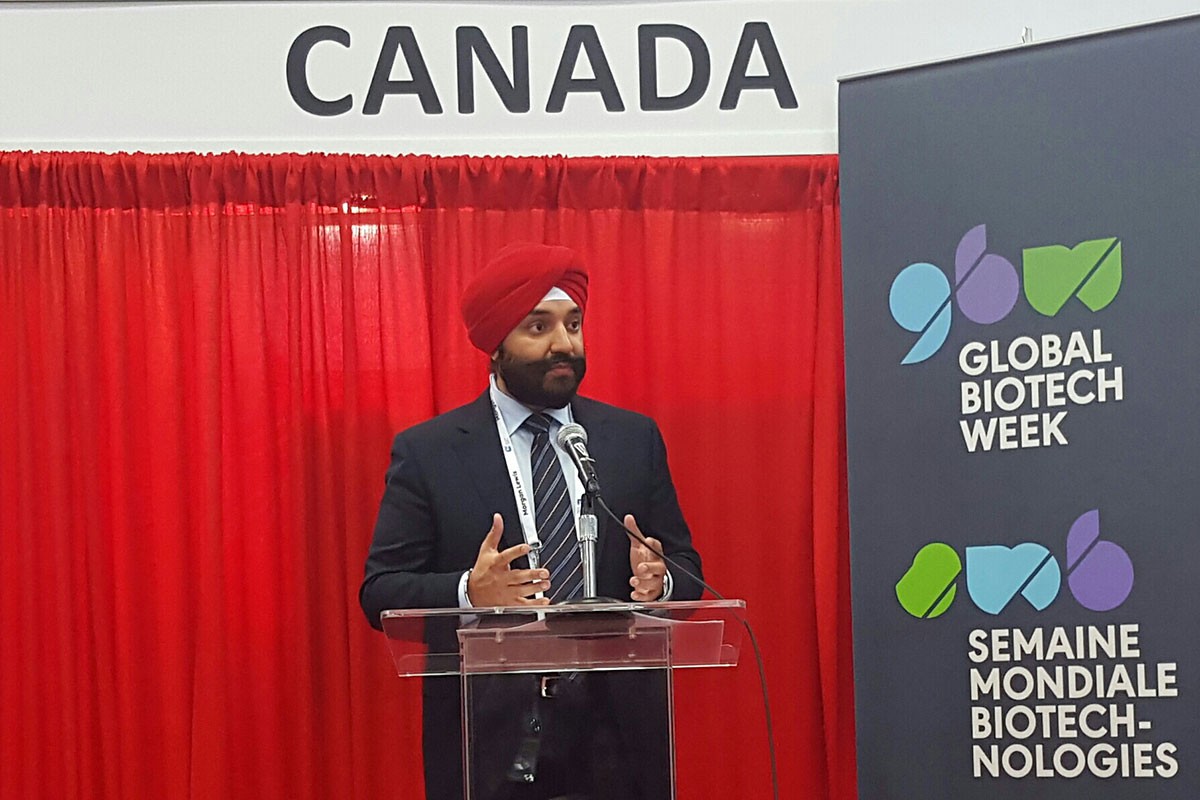 Federal Minister Bains speaks on Canada's culture of innovation at BIO International Convention
Manitoba showcases excellence in life sciences
June 29, 2016 —
­Manitoba showcased its bioeconomy at BIO International Convention (BIO2016) in San Francisco (June 6-9). BIO2016 was the biggest global biotech business conference of the year, attended by nearly 16,000 representatives from 76 countries and included 35,700 business-to-business partnering meetings.
The Manitoba delegation included representatives from the provincial government, funding agencies, non-profit organizations, biopharmaceutical and digital health companies and the University of Manitoba Technology Transfer Office (TTO). The delegation aimed to showcase Manitoba's capabilities to deliver economical, efficient and effective business results in the life sciences sector, an important part of the provincial economy.
Simon Potter, director of operations at Genome Prairies (Winnipeg) commented, "There are always benefits from the international exposure and partnering opportunities that BIO offers Manitoba companies."
The University of Manitoba Technology Transfer Office was able to use more than 35 meetings it had with companies to promote research collaborations and to showcase technologies available for license. "Every year at BIO leads to some additional collaborations or licenses of University of Manitoba developed technologies," said Darren Fast, director of the TTO.
"The benefits (of BIO2016) occur at multiply levels. First, Manitoba companies were able to build a broader international network. With these connections, they will be able to further develop their companies, secure investments and grow the Manitoba economy.  Secondly, the research organizations that participated were able to promote Manitoba technologies which enhances our reputation and increase business opportunities," said Life Sciences Association of Manitoba president Tracey Maconachie.
Federal Minister of Innovation, Science and Economic Development Navdeep Bains voiced appreciation for the efforts of Manitoba and other Canadian provinces in displaying national excellence in the biotech sector. In his opening speech, Minister Bains spoke on the federal government's plan of "increasing R&D, strengthening industrial capability and growing new, dynamic and globally-oriented companies."
He spoke with life science leaders from private and public sectors from across Canada at several occasions and expressed his ministry's mandate of having "strong vibrant Canadian companies that are not only successful in Canada but have a strong global footprint as well."
At the Government of Canada reception at BIO2016, we got an opportunity to hear his thoughts on several issues related to innovation, funding distribution and immigration.
The following is a condensed interview with Minister Bains:
What does innovation mean to you?
Innovation for me boils down to a mindset. It is about challenging the status quo; it is about finding solutions to problems…it is really about social innovation as well. It is about how do we improve one's quality of life, how do we improve one's standard of living and how do we create meaningful employment going forward. So for me, innovation is really a mindset.
How will your innovation strategy help boost our economy?
The prime minister has set a really important tone – it's about collaboration. It's about working with others…if we want to create good quality jobs, if we want to invest in the future, then we need to take actions now and the prime minister has really set the example by making my mandate public, so I have a greater accountability for the innovation agenda. Also because it is inclusive and, more importantly, we are going to be very bold and action-oriented.
Is there a strategy to ensure that the Prairies get their fair share of funds with regards to funds allocation to clusters (innovation)?
The culture of innovation is really vibrant in some of these smaller communities (in the Prairies) and in some of our remote communities. I have seen it firsthand.
With regards to cluster strategy, we are saying that we have allocated $800 million in our federal budget to focus on creating these clusters to see how do we create these ecosystems and we are looking at how best to deploy those funds.
So, this is part of the engagement process that I am working with my provincial and territorial counterparts to get their feedback. Where do we focus? Do we focus on sectors, regions or technologies as enablers? So there is a range of possibilities that exist. We are right now in the process of getting that feedback from various stakeholders.
Are there any plans to engage immigrant talent?
I think that there is a greater recognition that we need to leverage our immigration policies and our immigrants, new Canadians – the diversity, because it really is a differentiating factor. Some companies are starting to get it, but government can play a leadership role. We are looking at how to develop immigration policies to deal with that issue.