FAUM students win first prize and merit awards in the LYCEUM Competition
July 5, 2023 —
Michael Fitzpatrick and Brock Dueck win awards under the competition hosted by LYCEUM this year, Old Town Mall – Reimagined. As the final project of their Environmental Design, Landscape + Urbanism Option studio, Emergent Futures, they worked with Professor Marcella Eaton to respond to the design challenge of reimagining Old Town Mall in Baltimore, Maryland, USA.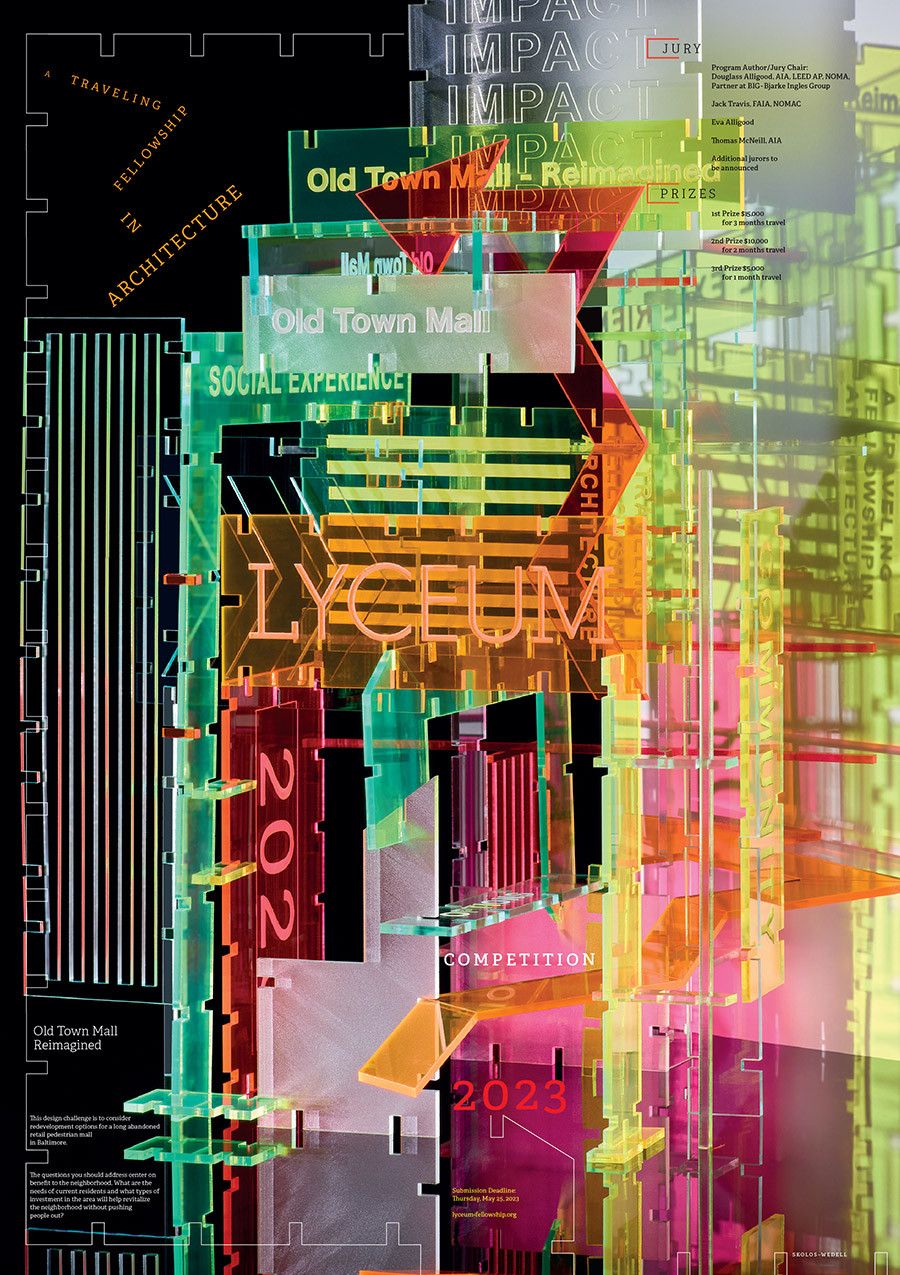 "The Old Town Mall, the long abandoned outdoor pedestrian retail mall in the heart of Baltimore's "Black Butterfly", is the site of our 2023 competition. Centering on benefit to the neighborhood, students are challenged to redevelop the four-block, 16-acre parcel. Designers will explore new programs for the site, study preservation vs. demolition options, evaluate public vs. private uses, and propose methods for engaging the community." – Program Author and Jury Chair: Douglass Alligood AIA, LEED AP, NOMA Partner, BIG-Bjarke Ingels Group
Bel Air Forest | Michael Fitzpatrick, First Prize Award
"The effects of the Black Butterfly have caused the massing of urban heat islands throughout Baltimore, establishing long-term effects on public and environmental health. Redlining has removed mass amounts of forest land within the city of Baltimore. What defines an urban forest? How can a forest be embodied within Baltimore? The narrative of Bel Air Forest establishes an Urban forest with the use of the cities forest program, spreading throughout the neighborhood from Old Town Mall. The urban forest challenges the existing grid by forming a new grid determined by a forest. Using the old commercial hub of Baltimore, Bel Air Forest provides a starting point for the reforestation of Baltimore."
Michael Fitzpatrick won the top award of $15,000 US for a three-month travel fellowship. "Being recognized by the Lyceum Fellowship is an honor, something I couldn't even imagine when submitting. It allowed me to represent both my studio group and university, showing other schools our approach to design. I hope to carry what I've learned through my project into my future studies and career; understanding that design is never done and there is always more one can do to push the initial idea forward." – Michael Fitzpatrick, Faculty of Architecture alum
Central Core | Brock Dueck, Merit Award
"The new Central Core takes a site that has been disconnected from the rest of the city and reintegrates it as an essential piece of the community. Providing space for people to move freely and safely as well as providing ample resources limits the need to travel elsewhere. This means that the residents in the neighborhood can create their own future close to home. Much like a building, this space is the Central Core for the Old Town community."
"It's an honour to have my work recognized alongside that of so many talented students that entered. I'd like to thank my professor and classmates for creating a studio environment that pushed us to design to the best of our ability. I'm excited to continue with future projects in my schooling and career, having learned so much from this competition." – Brock Dueck, Faculty of Architecture alum
To learn more about the competition, Michael Fitzpatrick and Brock Dueck's submissions, visit LYCEUM.