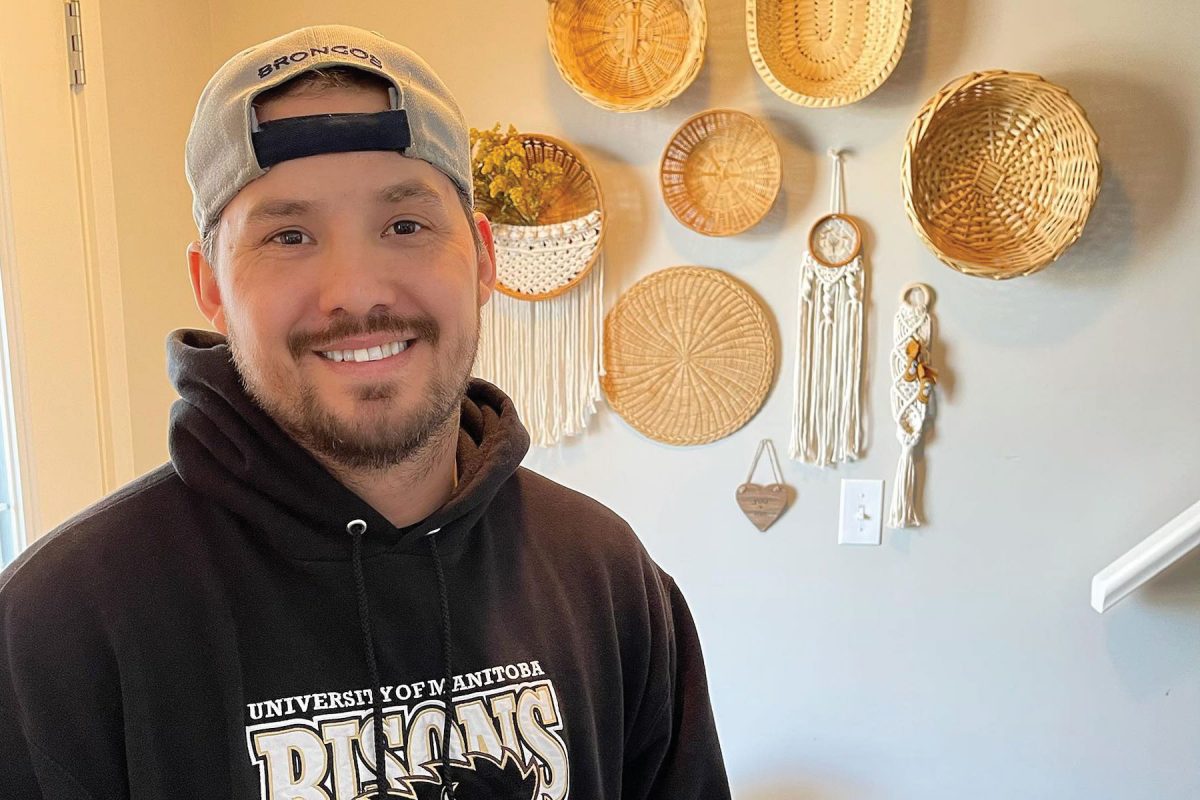 Father goes back to school to be a dietitian
Join the Access community at UM
March 26, 2021 —
When his niece told him about The Access Program, it was just what Mark Mercer was looking for. At the time, he was home with a knee injury and did not want to return to working in construction. He wanted to be a dietitian.
"I was thinking of university and Access was just what I was looking for," says the 34-year-old married father of three. "It is what someone like me needs. I was very excited to know it was here for us."
The Access Program at the University of Manitoba provides holistic support to Indigenous, newcomer, and other UM students, empowering them on their path to success as they begin their academic journey in a variety of fields of study.
The Indigenous student with family at Peguis First Nation grew up in Winnipeg. At his North End high school, he did a work education program rather than pursuing his math and sciences, and after graduation, he went straight to work. As a young father living on his own, he attempted a post-secondary program at one time, but he had to withdraw. "I was 20, partying, with no support and no positive role models. I had no idea what to do."
So he worked in roofing, on the railway, and digging sewer and water lines. At the time he was injured, he was pursuing his Red Seal in Carpentry but he just wasn't enjoying it any more. After achieving sobriety and getting into the best shape of his life, he was inspired to learn more about food and health. He discovered he had renewed energy when he took care of himself, and he started helping other people on their health journeys as he and his wife had started a meal preparation business, cooking healthy meals for clients.
They plan to start that business up again, and build it with the knowledge he will have earned after he completes his studies. He wants to be a Registered Dietitian "so people will take me seriously and take the business seriously." He says, "Everybody needs to eat. I lost weight, built muscle, feel great eating clean. I will be able to help people on their health journey."
Now he's working on his bachelor of human nutritional sciences degree. "When I started Access, I was on cloud nine. Everyone was so nice and welcoming. I felt like I fit in. I knew I was in the right place. Any questions I had were answered. If my kids were sick, they helped me catch up. I knew everything I needed was there. They thought of everything. I just had to do my part."
Through his Access connections, Mercer became the male co-vice president of the University of Manitoba Indigenous Students' Association. "The whole Indigenous community at UM is amazing. Access is so great for networking. You have friends who will always be there. It is a great program and I am so grateful to experience it. Migizii Agamik (home to the Access Program on the Fort Garry campus) is an amazing place. I feel so comfortable there."
From the smaller first-year classes to the academic and personal advisors, he says, "It's all like one big family. It feels good. With Access, it really doesn't matter where you come from in life. The whole thing is to have a plan and they helped me with that. I have a solid study plan."
His goal is to complete his degree and then the practicum required to become a Registered Dietitian. Then, with his knowledge and his wife's love of cooking and marketing skills, they will be back in business.
"I would say to anyone looking to go to university, look into Access. It will change your life. You are not alone. There is a whole community. The help is there. You just have to ask."
Students planning to start university this fall must apply to the Access Program by May 1.