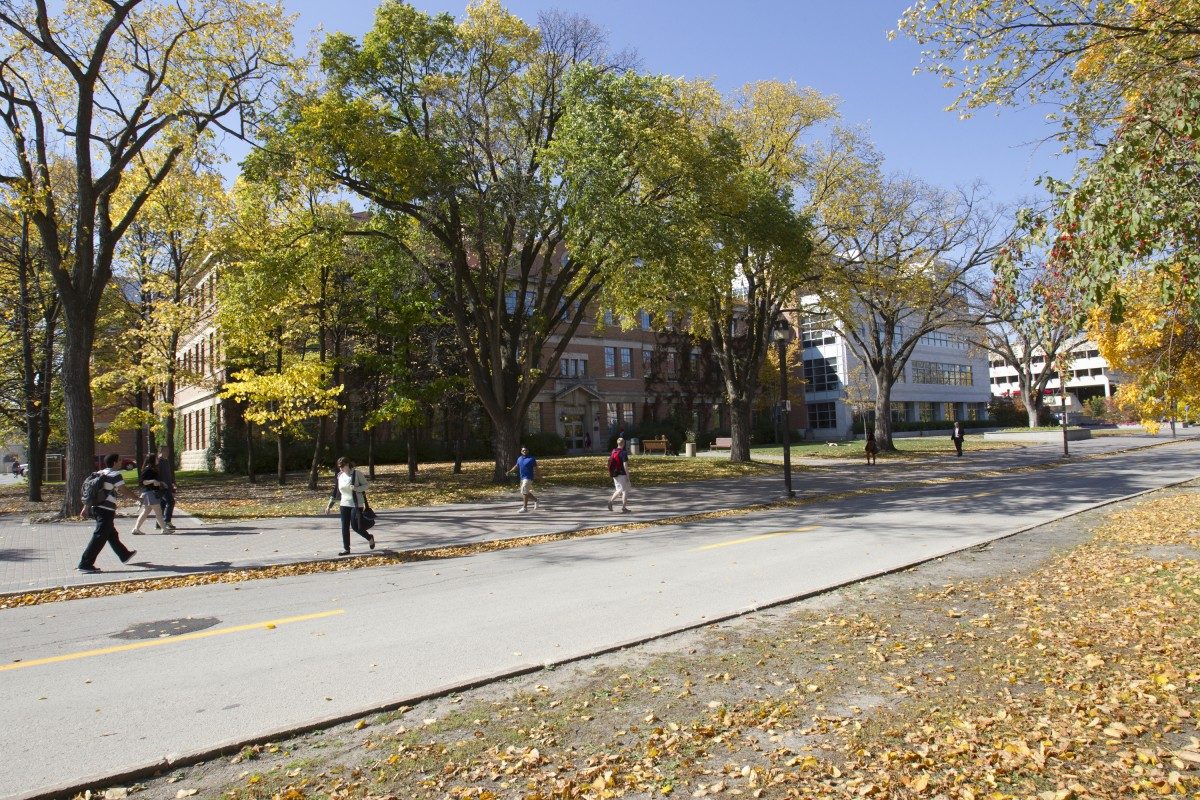 FAQs: Roadway renewal on Fort Garry campus
What you need to know about traffic restrictions and Transit changes
September 10, 2019 —
To repair and upgrade roads, and to improve traffic flow and pedestrian safety, a number of ongoing roadway construction projects are currently underway around the Fort Garry campus. Commutes will likely be slightly delayed as this important work is completed in mid-October.
We've received a few questions about the construction. Please note the Frequently Asked Questions (FAQs) below.
For the full picture, see also the previous story on the roadway repair and Fort Garry campus renewal.
Back to school! Wait, why can't I expect an unimpeded drive onto Fort Garry campus? How long will I be delayed?
Significant and much-needed roadway construction projects are currently underway to repair and upgrade roads, and to improve overall traffic flow and pedestrian safety on Fort Garry campus.
Commutes will likely be slightly delayed, about 10 to 15 minutes during peak periods.
What's happening? How do I get where I'm going?
Dafoe Road is closed in front of Active Living Centre until mid-October.
Access the Active Living Centre from east Dafoe Rd. via Freedman Cres. and MacLean Cres.
No drop-off or pick-up at the Administration Building. N Lot Permits Only.
Use designated drop-off and pick-up locations:

U Lot: west side of campus off Chancellor Matheson Rd.
Q Lot: north side of campus off Dysart Rd./Sidney Smith St.
B Lot: east side of campus off Saunderson St.
Alumni Lane: south side of campus off Freedman Cres.
Why this, why now?
Due to increased Transit traffic, the intersection of Dafoe Rd. and University Cres. was critically compromised and sunken areas posed a serious safety issue.
The road closure will accelerate the project schedule and mitigate the overall impact to the campus community.
Is there a map? Where can I find the most current version?
Okay, let's break this down. What Transit changes should I know about?
Transit has rerouted all buses down Freedman Cres. to MacLean Cres.
Agriculture Stops on Dafoe Rd. temporarily cancelled.
Temporary westbound bus stop installed on Freedman Cres. at King's Drive.
Westbound Dafoe Rd. W. stop at University Cres. temporarily cancelled. Use stop at RH Way.
So what is the impact to traffic flow coming IN to the University?
As the map illustrates:
Right Turn Only from eastbound (inbound) Dafoe Rd. West onto University Cres.
No Access to Dafoe Rd. from inbound University Cres.
No U Turns permitted at Chancellor Matheson Drive.
And leaving the University?
No Access to University Cres. via Dafoe Rd. after leaving the Active Living Centre.
Traffic must leave the same way it arrived, via MacLean Cres.
What can I do to ensure a safe and smooth ride?
Watch for signage and obey all temporary crossings and closures.
Plan ahead, leave early, and carpool, bike or take transit when you can.
See map here and above.
Now let's get to the obvious question: Why is the construction taking place during the busiest time of year—the first few weeks of September?
Given the seasonal nature of construction in our climate, construction projects—including needs assessment and project coordination—start in spring.
The current project has actually been underway since May; actual construction on University Cres./Dafoe Rd. started in June, with impacts stretching unavoidably into the fall school term.
Has anything been done to mitigate traffic flows and Transit changes?
Yes. The intersection near the Active Living Centre was closed to ensure the least possible wait times under the circumstances.
Closure of the Dafoe/University Cres. intersection also ensures an overall smoother flow of traffic and clearest detours under the circumstances.
Why wasn't this communicated sooner? Where can I go to ensure I have the updated info I need?
What improvements are being made?
Work is being done to:
Upgrade and repair roads from previous deteriorated, pothole-ridden state, which required continual short-term patching and created unsafe conditions for vehicles, pedestrians and cyclists.
Improve efficiency through the intersection by extending the left turn lanes along the length of the median. This will reduce traffic congestion and improve turning movements for busses.
Improve pedestrian safety by:

Providing pedestrian refuge in the centre median of University Cres.;
Removing righthand turn slip lane westbound Dafoe Rd. onto northbound University Cres. to reduce the crossing distance for pedestrians, and minimize overlaps between vehicles, pedestrians and cyclists.
Read more about the upgrades and improvements.