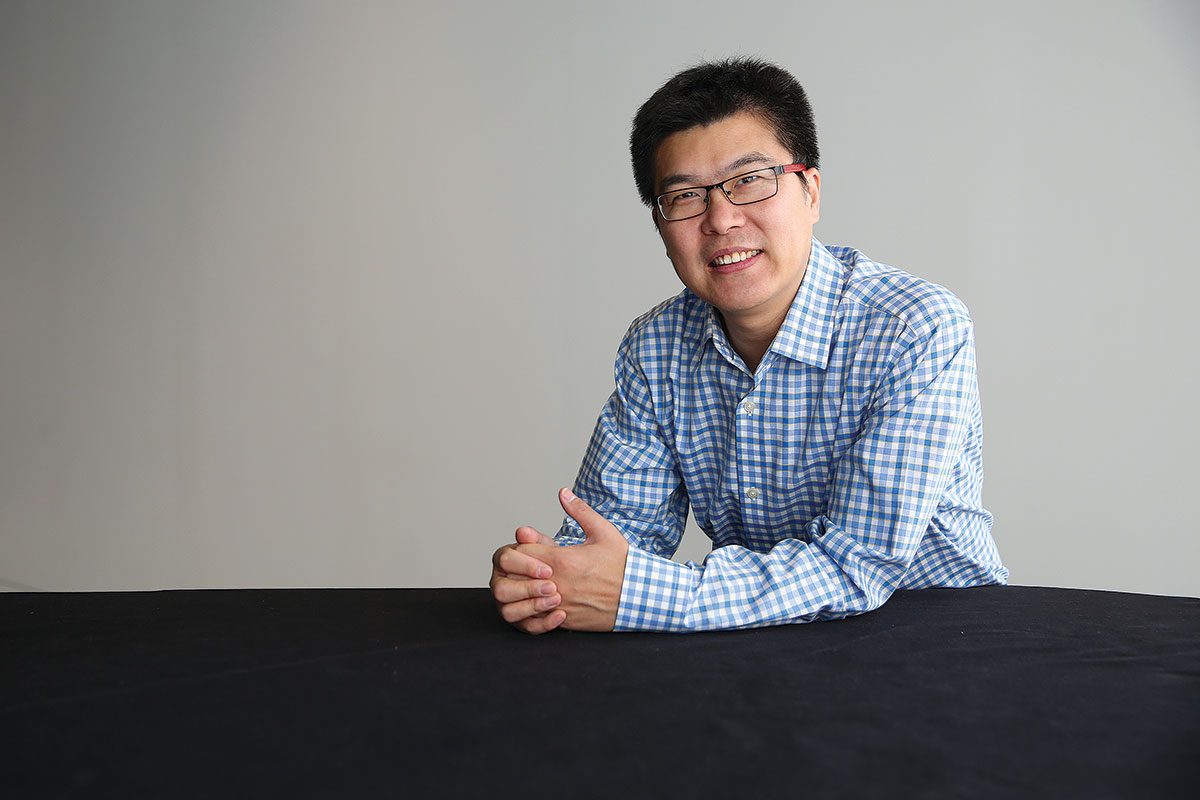 Family matters
September 11, 2018 —
The study of family dynamics might seem, at first blush, to fall squarely under the purview of psychology, sociology and other social sciences. But consider that a third of Canadian and U.S. businesses are family-owned, and that these businesses employ more than half of workers. Small wonder, then, that family matters have come under the scrutiny of Asper School of Business researcher Zhenyu Wu.
A professor of business administration with a background in economics and finance, Wu is now in the second term of a Canada Research Chair (CRC) in Entrepreneurship and Innovation supported by the Social Sciences and Humanities Research Council of Canada, in which he is exploring the decision-making processes of family firms.

"It's largely uncharted territory and we have a lot of ground to cover," he says.
"Our goal is to build a solid foundation for other studies to help us better understand how family involvement impacts the management and decision-making of organizations."
Why is this important? Wu's research program will provide information that improves the probability of entrepreneurial success, and will help improve the financial and emotional well-being of entrepreneurial firms, their employees and the efficiency of the Canadian and global economies.
More specifically, he says, "Findings from this program will help Canadian entrepreneurs and decision-makers in entrepreneurial firms—especially family-owned-and-managed ones—and financial institutions and other potential stakeholders better understand the determinants of promoting entrepreneurial activities in order to improve employment and economic growth. Our findings can also be generalized to the global economy."
Over the next four years, he will determine how hundreds of family firms fit into what current economic theory defines as the four dimensions of family involvement (see section at bottom). He and his research team have begun by examining the proxy statements and annual reports of large, publicly listed firms, such as those with common stock on the Standard and Poor's index of the top 500 companies listed on the New York Stock Exchange or NASDAQ. From there, they'll explore the family dynamics of privately held family firms.
"These two types of companies work very differently," he says. "I want to establish some empirical understanding of what those differences are in a family-business setting."
In the U.S., for instance, publicly listed companies are monitored and regulated by the U.S. Securities and Exchange Commission. The key relationships that impact decisions are the agency issues between owners and managers, majority and minority shareholders, and shareholders and creditors.
In privately held companies, however, it can get much more complicated because the business family's self-interest, so-called socio-emotional wealth, often holds sway.
"Personal relationships between family members play a larger role in decision-making, along with the desire to leave a legacy, to maintain harmony within the family, to preserve the family's reputation in the community. You have to balance all these things against business objectives such as profitability."
Wu says he's developed more than 60 variables to measure the extent of a family's involvement in a company—an undertaking that requires the help of a robust team of graduate student researchers, which the CRC has helped him finance.
Wu's current CRC builds on previous CRC research into risk-taking behaviours in new venture financing.
He worked with three PhD candidates and three master's degree students on the earlier project, which sought to make it easier for entrepreneurs to secure financing and bolster economic growth. For his current research, he's working with three additional PhD candidates, as well as a research team with partners in the U.S., Europe, Asia and Australia.
He says that his current research program will likely create some of the same opportunities for academic and professional growth as the first.
"I didn't expect the impact it had on them, to be honest," he admits. "Every single one of my students graduated with at least one academic publication under his or her belt. Several of my master's students went on to analyst roles in the venture capital industry and at entrepreneurial firms, and they've been hugely successful there, in part because they've been able to apply what they learned in our research. When we talk about knowledge creation and dissemination, we're usually pleased when it happens within the university, across faculties—but here I see my students impacting industry itself. That's exciting."
Wu's CRC program funding has also helped him organize workshops and conferences and bring in visiting scholars from outside fields. "My expertise is in finance and entrepreneurship, so being able to reach out to colleagues in other areas and create positive synergies has proven invaluable."
---
THE FOUR DIMENSIONS OF FAMILY INVOLVEMENT IN BUSINESS
In his CRC-funded research into the dynamics of family firms, Zhenyu Wu and his team will explore how hundreds of publicly listed and privately held family firms measure up to the following criteria:
OWNERSHIP
"Ownership is about how big a chunk of shares the family owns," says Wu. "In private companies, it's usually at least 50 per cent, which enables the family to keep control. In publicly listed companies, the holdings are usually much lower. That difference can be critical to how the family influences a company's decision-making process."
MANAGEMENT
"Involvement refers to the number of family members embedded in different layers of the company's management, from mid-level managers all the way up to the top executive team."
GOVERNANCE
"In the past, in many firms, family members typically sat on a company's board of directors, where they could monitor what was happening and make strategic decisions. These days, they've gone one level higher, to what we call a family or advisory board."
INTENTION FOR SUCCESSION
"This is not just about the succession plan, or training younger family members for senior leadership roles, or determining whether the older generation is hanging on to control for too long. It's about leaving a legacy. How are they giving back? Are they donating to business schools that take on their name, like S.C. Johnson?
It can be difficult to gauge and measure the impact of this intention in publicly listed companies, but it can have a huge impact on decision-making."
Story originally published in ResearchLIFE Summer 2018 Edition. Read the full magazine online.
Research at the University of Manitoba is partially supported by funding from the Government of Canada Research Support Fund.