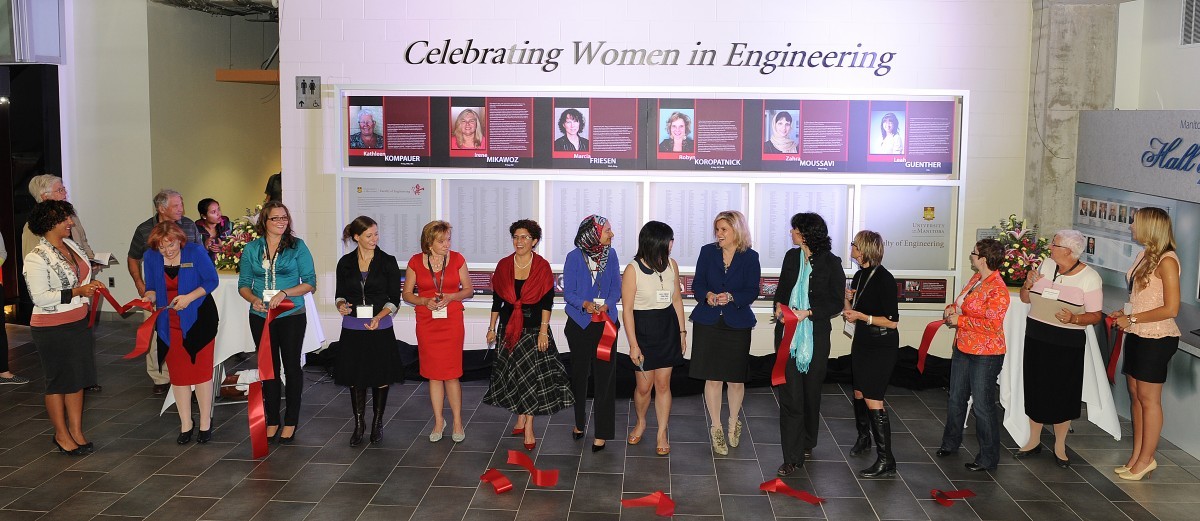 Faculty reunions: The heart of Homecoming
Great stories are always the highlight of faculty events
September 18, 2014 —
Be it tours, luncheons, speaker panels or receptions, the faculties at the University of Manitoba each have their unique approach to Homecoming.
But what they have in common is the chance to bring generations of people who chose similar educational pursuits together – and provide them with the opportunity to connect not only with other alumni, but with today's students as well – to exchange stories of past and present.
And great stories are always the highlight of faculty events. "For example," says Amber Anderson Skrabek, external communications specialist in Engineering, "this Friday I will be showing our alumni a very special gift given to me back in 2007 (our centennial Homecoming). It is a beanie that was worn by a first year engineering student on Freshman Day, October 12, 1944…70 years ago!"
In recent years, the Faculty of Engineering hosted a wine and cheese reception in the Engineering and Information Technology Complex. Students are highly involved in the festivities as the current senior stick provides greetings, University of Manitoba Engineering Society hosts building tours and, of course, the legendary Engineering Band makes an appearance. Unique to this year's event, the Honourable Gary Filmon [BSc(CE)/64, LLD/2011] will address the attendees and 'celebrity' biosystems engineering student Cormac Foster and his mother Nicole, who recently appeared on the Amazing Race Canada, will be in attendance.
In the College of Medicine, Faculty of Health Sciences, there is no question that many stories will be told as six decades of alumni will come together at the Dean's Homecoming Breakfast. Ilana Simon, director of communications and marketing of the college says, "We love hearing the classmates recall with fondness their U of M memories and some of the pranks and other fun they had while in medical school." Homecoming 2014 will see eight medical classes celebrating reunions and 175 alumni returning to their alma mater for the breakfast and tour of the medical campus.
The excitement of returning to campus is also felt in the Faculty of Arts. Janice Gripp, executive assistant to the dean, who organizes the 'Arts Celebrating Arts' luncheons says, "The best thing about having the alumni return is their genuine and unexpected pleasure at returning to campus. There have been years when they have been like excited first year students – checking out all the new buildings, exploring their old classrooms, and reconnecting with professors. I don't think they are in any way prepared for the emotions of the event and the whole homecoming experience."
The Arts Luncheon honours the accomplishments of arts students, staff, faculty, and alumni by presenting them with certificates of achievement. Two to three celebrated alumni speak at the annual event, which hosts 165 guests each year.
Faculty of Education dean, David Mandzuk, agrees. Homecoming highlights "alumni's personal stories about their time in the faculty and where their careers have taken them since."
The faculty encourages discussion amongst its alumni this year with a panel presentation of speakers representing three generations of alumni – from recent grads to retired faculty members. The panel will discuss how educators can know the past and change the future.
There are many more faculty Homecoming events on campus this week. For more information visit:
http://umanitoba.ca/ homecoming