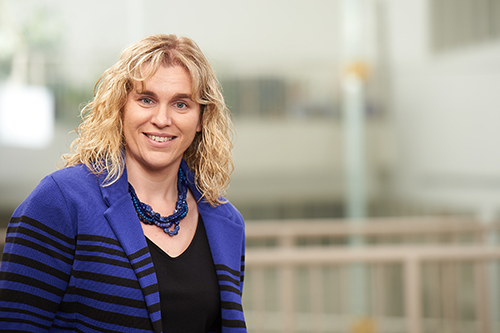 Faculty Profile: Kelley Main
May 7, 2014 —
2012 was a big year for Dr Kelley Main. She was awarded a 2012-2013 U of M Graduate Students' Association Teaching Award, a 2012 Associates' Achievement Award for Service, a Best Conference Paper Award, and was appointed both Interim Associate Dean of Research and Graduate Programs and the new F. Ross Johnson Professor in Marketing. In 2012, she turned the spotlight on faculty research by helping launch the Research Bytes series on the Asper School of Business website. Now, it's our turn to point the spotlight on this dynamic, inspiring member of the Asper community.
Tell us about your research interests.
Generally speaking, I'm looking at ways we as consumers respond to persuasion in the marketplace. I'm interested in what we call "persuasion attempts", whether they come from ads, sales clerks or other consumers.
One question I'm trying to answer is, what makes consumers suspicious when someone or something tries to persuade them to buy a product or service? When should they be, and when shouldn't they be suspicious?
These days I'm focusing on what happens when the consumer has the same knowledge or experience as the persuasion agent – for instance, when the consumer has been a salesperson themselves. I want to know if that necessarily makes you more accurate at judging other people's behaviour.
Ultimately, I'm hoping my research will build better, more aware consumers.
How are you involved in creating the one-minute Research Bytes?
I can't take the credit for the idea: that came from Business Administration Professor Nick Turner. He was inspired by a series of short BBC videos and thought we could do something similar to highlight faculty research, past, present and future.
We thought these videos would be a great way to make what we're doing accessible to a wider audience, including potential students, other researchers, and the business community at large. I took charge, producing the first three batches.
One of the happy results I've seen is that they've been great for us, too, as a way to learn more about what our own colleagues are doing. Some grad students at our own School have even told me the videos remind them of why they went into grad studies in the first place. That alone has made the videos worthwhile.
Apart from professional skills and academic knowledge, what is the one thing you hope your students take away from your classes?
I want them to understand the power of thinking deeply about a question. There's nothing more seductive than the opportunity to draw out the answer to a question or problem. It's one of the best parts of being a researcher – and a teacher.