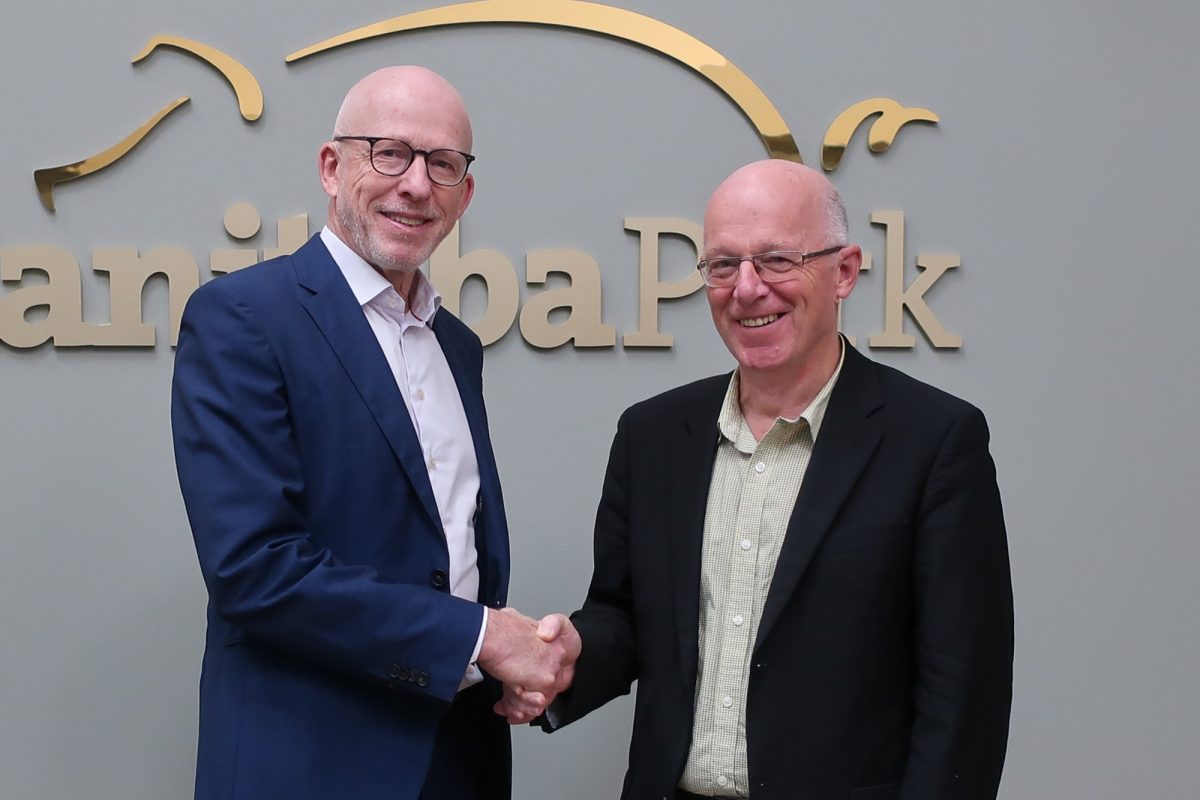 Faculty donor recognized for community support
November 22, 2019 —
The Faculty of Agricultural and Food Sciences helped celebrate the generosity of Manitoba Pork at the National Philanthropy Award Luncheon held by the Manitoba Chapter of the Association of Professional Fundraisers in Winnipeg on November 15. The organization received the 2019 Outstanding Contribution to Philanthropy Award (Organization Under 100) for their exemplary community support, including contributions to the Faculty for outreach and research programs.
Manitoba Pork news release (November 20, 2019):
Manitoba Pork is honoured to be the recipient of the 2019 Outstanding Contribution to Philanthropy Award (Organization Under 100), for the various contributions the hog sector makes to Manitoba communities. Our thanks go to Dean Martin Scanlon and the Faculty of Agricultural and Food Sciences at the University of Manitoba for nominating Manitoba pork producers for this significant award.
As food producers, a guiding principle for our philanthropic activities is to help ensure food security in our communities, partnering over the years with organizations such as Siloam Mission, the Salvation Army and Winnipeg Harvest, Brandon's Samaritan House Ministries, and Steinbach's South East Helping Hands. Every year, we donate more than two tonnes of pork products to those needing a hand up.
Manitoba Pork is pleased to advance agricultural literacy through our support for organizations like Agriculture in the Classroom-Manitoba and the University of Manitoba's Bruce D. Campbell Farm & Food Discovery Centre, along with other agri-education events. Our goal is to help further the public's knowledge and understanding of how their food is produced, so that they can make well-informed decisions about their food choices.
As producers of a high-quality, nutrient rich protein, it makes sense for us to promote active and healthy lifestyles by partnering with grassroots sports organizations and health-related charities that help advance patient care, services and programming. And, of course, our support for the culinary arts in provincial community colleges encourages up-and-coming chefs and foodies to use pork in new and innovative ways.
"The Manitoba Pork Council inspires us with their philanthropy. From their unswerving support of local charities and in-kind donations to foodbanks and international hunger relief, they lead the way in contributing to healthy communities. We particularly appreciate their commitment to agricultural education and we are so pleased they are being recognized for their efforts," noted Dr. Martin Scanlon, Dean of the Faculty of Agricultural and Food Sciences, University of Manitoba.
Manitoba Pork Chair George Matheson said: "Manitoba's pork producers enjoy making a meaningful social impact by supporting the communities where we live and work. We know that something as simple as a pork sandwich can make a huge difference in someone's day. We are proud to help make that difference."