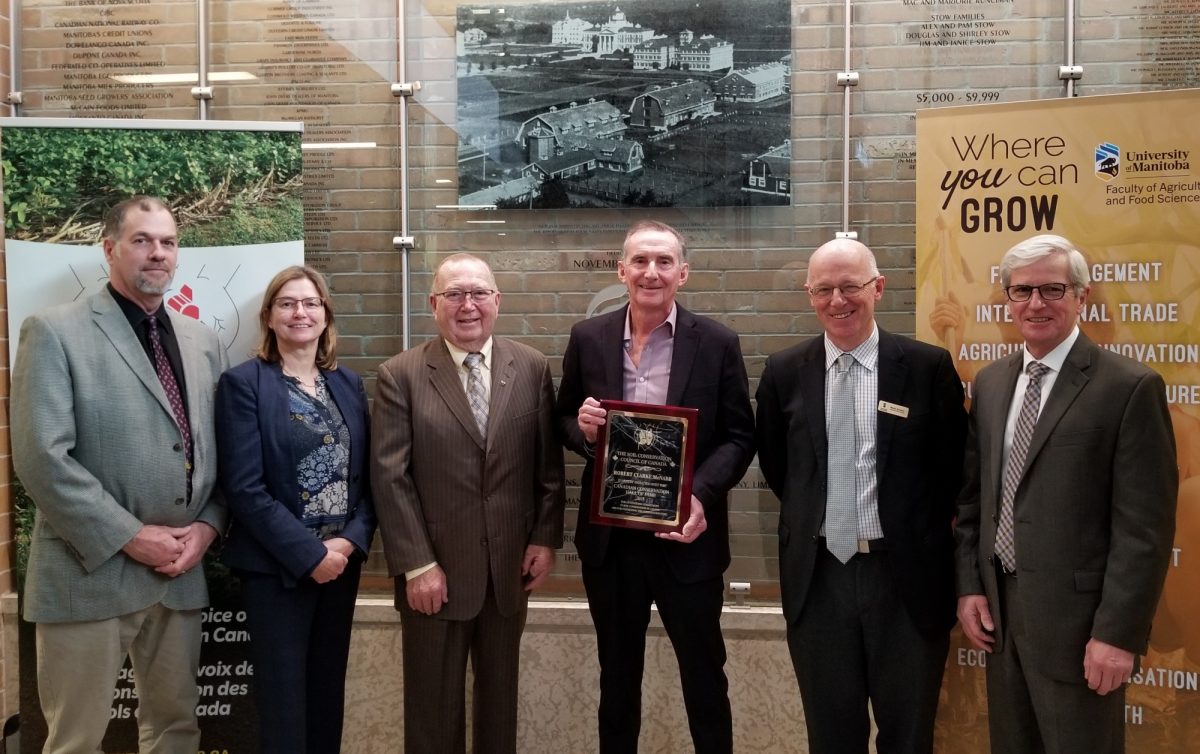 Faculty alum inducted into Canadian Conservation Hall of Fame
November 26, 2019 —
Soil Conservation Council of Canada news release
A Manitoba agriculture hall of famer can now add the Canadian Conservation Hall of Fame to his impressive resume. The Soil Conservation Council of Canada (SCCC) has announced that Bob McNabb is the newest inductee for his dedication to soil conservation and health in Canada. He was officially honoured at a ceremony on November 13 at the University of Manitoba – the same institution he graduated from 50 years ago.
A Minnedosa-native, Bob was an early adopter of zero tillage in the 1980s and became a key leader in Manitoba, helping to establish both the Manitoba-North Dakota Zero Tillage Farmers Association (1982) and the Manitoba Zero Tillage Research Association (1996).
Bob remembers the first time he sowed canola into zero-till, watching the crop emerge and grow despite the heavy barley residue it was seeded into.
"I was encouraged to see how well the canola crop was growing, but unfortunately, a hailstorm wiped it out and I lost the crop," Bob recalls. "The early season growth was good, and I was eager to try again, knowing there was no reason to fear the heavy residue. The canola could handle it."
Bob reminisces about these early years and the excitement he felt about farming, including the trial and error that most early zero-till adopters took to find the best ways to grow crops in different types of residues.
He was not just a leader in Manitoba, but nationally and internationally as well. Bob was involved in the 1985 "Soil at Risk: Canada's Eroding Future" report for the Standing Senate Committee on Agriculture, Fisheries and Forestry. He also extended his zero tillage knowledge to Zimbabwe, where he co-ordinated a program to teach farmers how to improve soil stability and conserve moisture through zero tillage practices.
"Bob is one of those humble individuals who doesn't feel he deserves to be recognized for his many achievements, but there isn't anyone more deserving than him when it comes to his work advocating for conservation and soil health in Canada and around the world," says SCCC Chair, Tim Nerbas. "Many of us at SCCC have had the pleasure of knowing and working closely with Bob for many years especially as he championed the zero tillage movement in the early days. He is known for his practical, innovative approach to his work and has paved the way for other leaders just like him."
Bob has since retired from farming and currently resides in the Vancouver area with his wife, Elaine. He spends his time engaged in his second passion – flying – transporting groups to northern communities and mentoring young bush pilots for Transwest Air.
Bob's keen insight, hard work and ongoing leadership undoubtably make him a worthy inductee into the Canadian Conservation Hall of Fame.
In 1990, SCCC established the Canadian Conservation Hall of Fame, which to date, has recognized 31 Canadians who have made a significant contribution through their dedication to soil conservation in Canada.