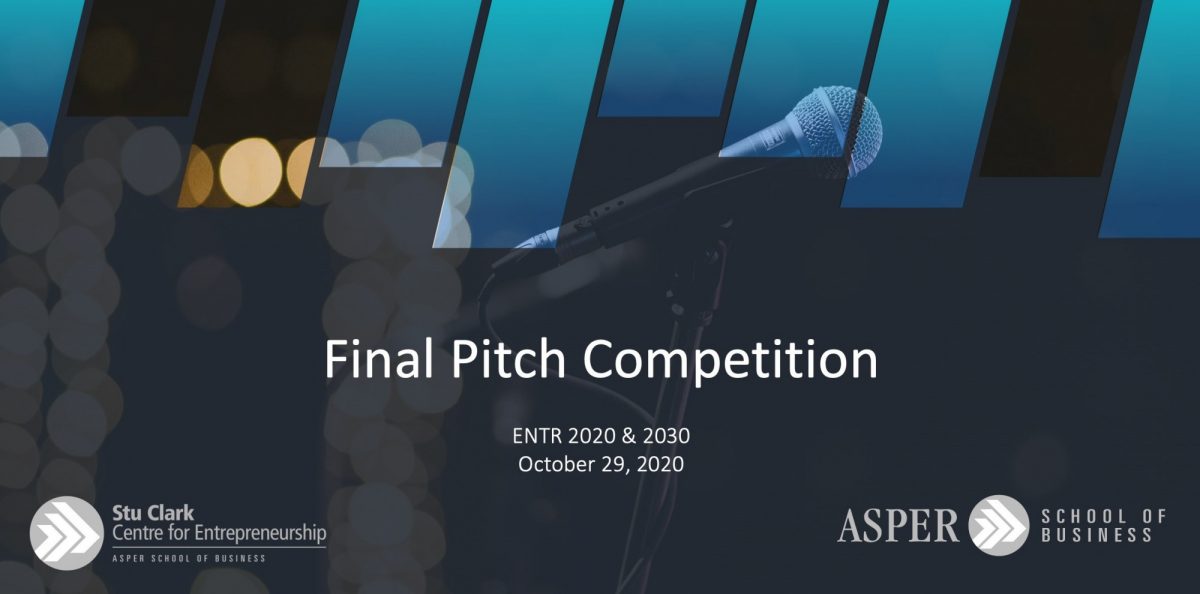 Exploring the Entrepreneurial Spirit – Virtually
Stu Clark Centre for Entrepreneurship hosts first virtual pitch competition
November 11, 2020 —
On October 29, the Stu Clark Centre for Entrepreneurship (SCCE) hosted its first virtual business plan pitch competition as part of its core Asper entrepreneurship course ENTR 2030 and the parallel ENTR 2020 course for non-Asper students.
The two courses provide UM students with a unique experiential learning opportunity to practice fundamental concepts such as idea creation and pitch development through a real life competition in a Dragon's Den format.
Students were challenged to propose an innovative business idea and pitch it to a virtual audience while fielding tough questions. The Stu Clark Centre was excited to provide UM students a safe space to practice and learn the art of an effective pitch before entering the real world where the stakes are higher.
This semester, 49 cross-faculty teams representing 250 students from various faculties including Agriculture, Arts, Engineering, Fine Arts, Kinesiology, Science and Asper recorded their two-minute virtual pitches and submitted them in the hopes of being selected to compete as a finalist in the live virtual pitch competition.
At the evening event, the top nine teams pitched their business ideas in a live format to their classmates and to a panel of three industry judges including:
Chris Schmidt – Founder & CEO, Pluto Ventures Inc.
Corinne Gusnoski – Talent & Workforce Development Coordinator, YES! Winnipeg
Muriel Dupuis – Business Advisor, the World Trade Centre Winnipeg
The judges challenged and explored the student's ideas while offering valuable feedback on growing an idea into a business. The top three teams won $100 Starbucks gift cards and of course, bragging rights.
Dr. Gady Jacoby, Dean of the Asper School of Business helped conclude the event by applauding the student's innovative ideas and by offering encouraging remarks.
This event was the first of many exciting opportunities for students to compete in a new virtual format as the Stu Clark Centre has collectively decided to host the Stu Clark New Venture Championships – Graduate, Undergraduate, and High School Editions in an online format as well.
To learn more about the upcoming virtual competitions, visit the Stu Clark Centre's website.