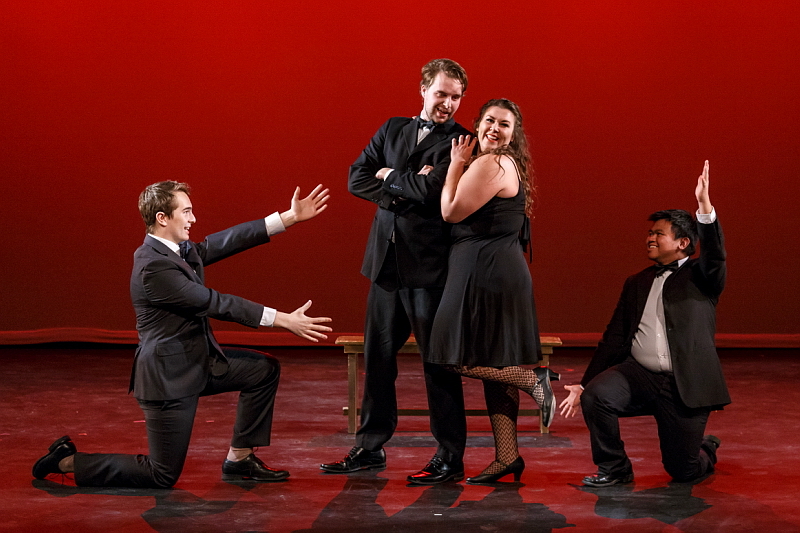 Explore the University of Manitoba's upcoming community events
March 9, 2017 —
The University of Manitoba invites you to a variety of public events on campus and in the community from March to May, 2017.
---
Bison Men's Volleyball – Canada West Final Four
The University of Manitoba Bison Men's Volleyball hosts the Canada West Final Four championships. Come cheer on the Bisons as they prepare for the 2017 U Sports Men's Volleyball National Championship.
March 10, Manitoba vs. UBC 6:30 p.m. | Trinity Western vs. Alberta 8 p.m.
March 11, Bronze medal match 6 p.m. | Gold medal match 8 p.m.
Investors Group Athletic Centre, 75 Sidney Smith St.
Tickets: free for U of M students and children 12 and under
Adults $12; youth and seniors $7
Learn more: Gobisons.ca
---
2017 Stu Clark Investment Competition
Come out to see 15 teams of student entrepreneurs vie for over $50,000 in prizes at the 13th Annual Stu Clark Investment Competition, hosted by the Stu Clark Centre for Entrepreneurship at the Asper School of Business.
March 10, Idea Pitch and Logo Competition – 6:30 p.m. to 8 p.m.
March 11, Championship Round – 2 p.m. to 5 p.m.
The Fairmont Winnipeg Hotel
For more information contact: amy [dot] briscoe [at] umanitoba [dot] ca
Learn more: http://umanitoba.ca/faculties/management/academic_depts_centres/centres_institutes/entrepreneurship/competitions/stu-clark-investment-competition.html
---
Lidwien Van De Ven: Living On
In conjunction with the 50th Anniversary Symposium of the Mosaic journal, the School of Art Gallery presents the photographic work of Lidwien van de Ven, a Dutch photographer whose work focuses on aesthetics, politics and religion.
March 10 – April 28
Reception: March 10, 12 p.m., Talk and Tour: March 10, 1:30 p.m. to 2:45 p.m
School of Art Gallery, ARTlab, 180 Dafoe Road
Learn more: http://umanitoba.ca/schools/art/Gallery_van_de_Ven.html
---
Helen Glass Lecture: What's Your Heart Telling You?
It's Time to Talk about Cardiovascular Health.
The College of Nursing, Rady Faculty of Health Sciences hosts Dr. Alexander M. Clark, PhD, RN, FCAHS from the University of Alberta. Dr. Clark's work on chronic disease management, heart disease and self-care has directed the development of international policies, practices and guidelines.
March 13, Reception: 5 p.m. Lecture: 6:30 p.m. to 7:30 p.m.
Canadian Museum for Human Rights
RSVP to mcnhr [at] umanitoba [dot] ca or 204-474-9080
Learn more: http://umanitoba.ca/faculties/nursing/895.html
---
Mini U Summer Registration Opens
Kids have loved our unique programs–from architecture to robotics, business to sports–for almost four decades. Your children will learn leadership skills and new ways to be active and have fun.
Registration opens March 13, 8 a.m. through fax, in person or online.
Visit miniu.ca for details: Miniu.ca
---
Black Hole Theatre Company Presents The Rover
Written by Aphra Behn, directed by Margaret Groome. Widely recognized for being witty, bawdy, and one of the most exuberant of all Restoration comedies. The plot revolves around the adventures of two Spanish sisters and their experiences at a carnival in Naples.
March 15 – 25
John J. Conklin Theatre at the Gail Asper Performing Arts Hall
Adults $18; students and seniors $12
Tickets at the door or in advance in 360 University College
Visit bhtc.ca for details: bhtc.ca
---
Life is Pandemonium
The University of Manitoba Musical Theatre Ensemble, directed by Donna Fletcher, presents Life is Pandemonium, an annual production of excerpts from popular musicals.
March 17 and 18, 8 p.m.
Matinee performance: March 18, 2 p.m.
Gas Station Arts Centre, 445 River Avenue
Adults $20; students $12
Tickets at the door or from the Music General Office in Taché Arts Complex
Learn more: http://umanitoba.ca/faculties/music/ensembles/MusicalTheatre.htm
---
Café Scientifique: The Battle Against Brain Tumours
Developing new treatments through innovative research.
U of M scientists are using stem cells and molecular biology to develop new tools and treatments to ­ fight brain tumours. Please join us to hear about their groundbreaking research.
March 15, 7 p.m. to 8:30 p.m.
McNally Robinson Booksellers, 1120 Grant Avenue
umanitoba.ca/cafescientifique
RSVP to: research_communications [at] umanitoba [dot] ca
Learn more: http://umanitoba.ca/research/cafescientifique/brain_tumours.html
---
Indigenous Awareness Week 2017
Join us for a weeklong series of free panel discussions and presentations exploring the theme of Indigenous Identity, including the 14th Annual Elders and Traditional Peoples Gathering and talks by Dr. Martin Brokenleg, Dr. Adam Gaudry and Dr. Raven Sinclair.
March 20 – 24
Fort Garry Campus
Events are free and everyone is welcome.
Learn more: http://umanitoba.ca/admin/indigenous_connect/Indigenous-Awareness-Week-2017.html
---