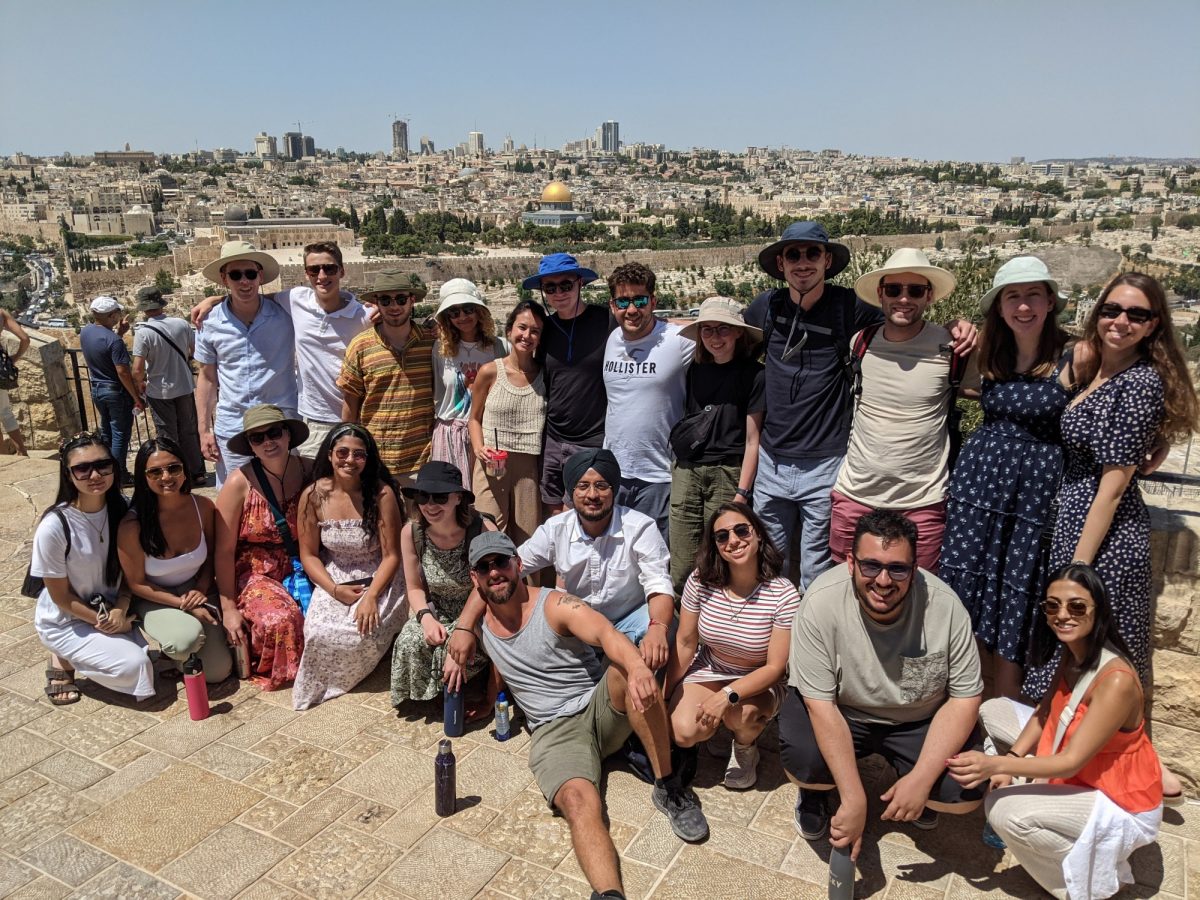 Experiential education across the globe
Arni Thorsteinson Study Exchange Program returns after pandemic break
October 7, 2022 —
This August, students from the Asper School of Business in Winnipeg, Canada and Guilford Glazer Faculty of Business and Management in Negev, Israel united to share in the life-changing opportunity to participate in the Arni Thorsteinson Study Exchange Program (ATSEP). The exchange was a much-anticipated opportunity for the participating students, professors and staff after a two-year program pause due to the COVID-19 pandemic.
Launched in 2008, ATSEP provides an annual academic and cultural exchange between the Asper School of Business at the University of Manitoba and the Guilford Glazer Faculty of Business and Management at the Ben-Gurion University (BGU) of the Negev in Israel. This year, 22 students from both universities participated in the exchange.
While studying in Canada and Israel, Asper student participants receive financial support to cover a component of their travel, accommodations and meals – thanks to the support of The Gerald Schwartz & Heather Reisman Foundation. Amber Pohl, Asper School of Business ATSEP Lead attributes the program's longevity to the ongoing generosity of The Gerald Schwartz & Heather Reisman Foundation.
"We are so thrilled that we were able to provide this life-changing opportunity for our students again this August," said Pohl. "ATSEP allows students from both schools to learn together, make valuable professional connections, and make friends that will truly last a lifetime."
Over a four-week period, with time split between Canada and Israel, students participated in a variety of academic and cultural experiences. This included a customized course titled Leadership and Cross-Cultural Management taught by Dr. Suzanne Gagnon, Asper Associate Dean and James W. Burns Leadership Institute Director. The students also visited a range of different companies across Canada and Israel including New Flyer Industries, Treaty One Development Corporation, Price Industries, ONEX, and SpacePharma.
Tourism opportunities also play a significant role in the ATSEP experience. While in Israel, the students visited the Dead Sea, Old City of Jerusalem, Yad Vashem and Israel's national Holocaust museum. They also explored Tel Aviv and its beaches, swam in the Sea of Galilee, and spent time visiting BGU's campus in Beersheva.
Pohl noted that the multi-pronged experiences within this unique 24/7 immersive program builds student relationships and fosters close friendships.
Avleen Kaur, Asper student and ATSEP 2022 participant, commented on the unique interpersonal benefits of the program.
"The relationships that you build while on exchange will stick with you for a long time and give you a reason to visit Israel again. This program was the perfect opportunity to meet people and build long lasting connections," said Kaur. "As I look back on this trip, I'm extremely grateful that I took the leap and tried something new that's out of my comfort zone. "
After completing the program, students automatically become members of the SRF Alumni Association, which allows them to attend professional events with past cohorts, including those from other participating universities across Canada and Israel. This enhanced career opportunity broadens participants' international network, a benefit that last long after the program ends.
Apply below by November 4, 2022, to participate in ATSEP 2023.
Asper Exchange Program | Asper School of Business | University of Manitoba (umanitoba.ca)