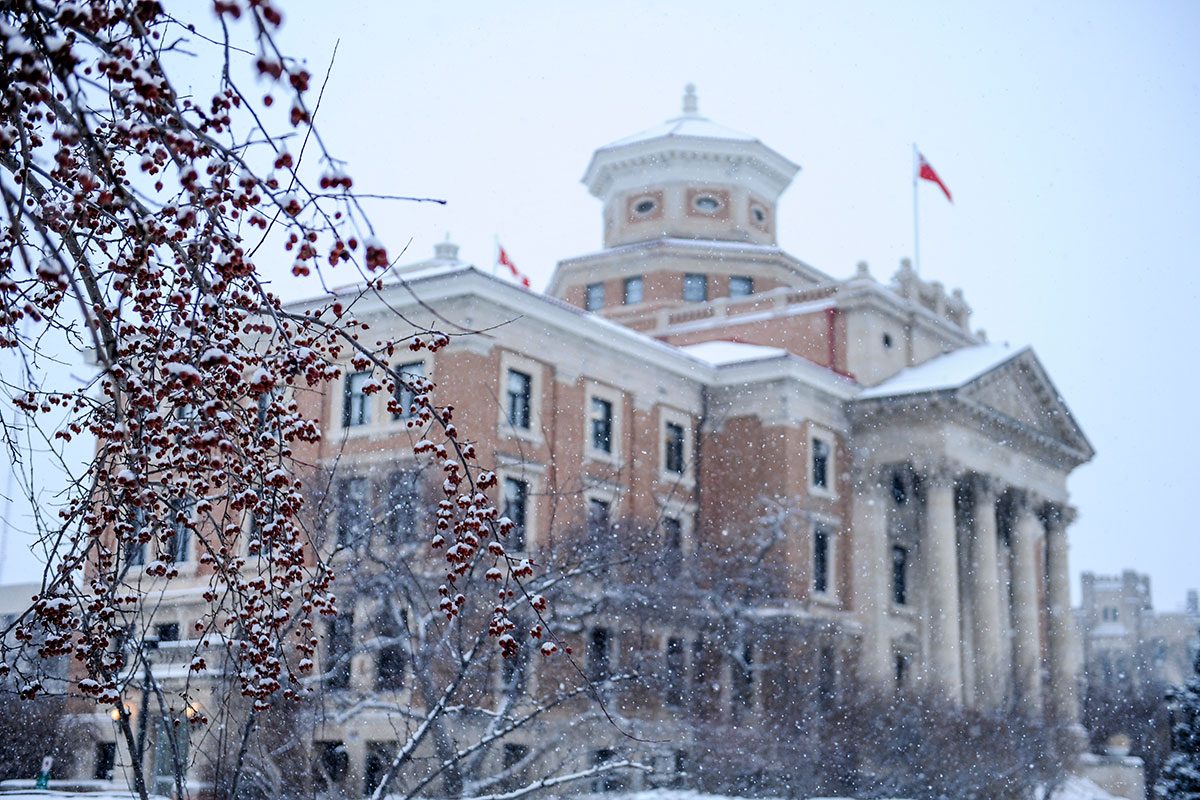 Experiencing alternative holidays: awareness at its best
December 11, 2017 —
Edgar French, spiritual care coordinator at the University of Manitoba, explains why the best way to learn about other faith traditions is to experience them first-hand:
Nothing informs better than engagement.
Several years ago, I attended a Shabbat gathering at a local synagogue in Kitchener, Ont. I was a college student at the time and had been given an assignment to attend a religious worship gathering distinct from my faith tradition.
The purpose of the assignment was to raise students' awareness and understanding of a new faith, discover its particularities, and most importantly, to find the similarities with our own faith traditions.
Sitting among the congregants was an unnerving experience. I felt not only obtrusive as a spectating student, but also that I stood out like a sore thumb – the kippah I wore was not helping me blend in.
The religious customs at the service were foreign to me; the hymnal melodies were unfamiliar and my Hebrew was non-existent. Surely, I thought to myself, there must be a better way to learn other people's religious and spiritual customs.
Following the service, a breakthrough came at last. My plan was to covertly slip out, but just as I was walking out of the sanctuary, a number of congregants graciously invited me to lunch prepared at the synagogue.
I fumbled to come up with some reasonable excuse. Timidly I remarked, "I'm not Jewish." They responded, "We know and that's quite all right."
Sitting around the table, a wonderful change occurred. Not only did my inhibitions vanish, I no longer felt like an outsider. One little boy sitting beside me exclaimed to his father, the rabbi, "Dad, doesn't he remind you of uncle Pete? Looks like him too!" Maybe it was traces of my Spanish blood, reflecting a remote Jewish and Arabic ancestry.
Whatever it was, while sharing food and engaging in good conversation, I felt a strong kinship; a bond that surpassed our religious distinctions.
I could identify with this type of learning: face-to-face engagement made all the difference.
While the winter break is reflective of how Christian tradition unwittingly still influences institutions of higher learning, students, faculty and staff partake and identify with a wide range of festival traditions.
How could those unfamiliar with such festivities gain an understanding of them? I would argue through engagement and direct participation. While perhaps disorienting and uncomfortable at first, experience has taught me there is no better way of learning than face-to-face interaction with the faithful.
Here are some major festivities, beyond Christmas, to consider this month.
Eid al-Fitr is perhaps the Muslim holiday that most resembles other winter festivities such as Christmas. It marks the end of the month-long fast of Ramadan. Special food is prepared and friends and relatives are invited to share in the feast. Gifts are exchanged and children receive presents. Because Muslim festivities follow the lunar calendar, Eid is celebrated at varying times annually and does not fall in December this year.
In Buddhist tradition, particularly among Mahayan Buddhists, Bodhi Day (or Rohatsu as it is known in Japan) was celebrated on Dec. 8. On this day, Buddhists commemorate the day in which Siddartha Gautama sat underneath the Bodhi tree, or sacred fig tree, and attained enlightenment. It is a day to recommit oneself to the practices of enlightenment, compassion and kindness for all living creatures.
This year Hanukkah falls on Dec. 12 to 20. Known also as the Festival of Lights, Hanukkah is a wintertime Jewish holiday celebrating the rededication of the Holy Temple after the expulsion of the invading Seleucid Greeks in second century BCE. The eight-day festival is celebrated with a nightly menorah lighting, special prayers and fried foods.
Yule is celebrated by Wiccans and Neo-pagans at the time of the Winter Solstice, around Dec. 21. It is the shortest day of the year and its celebration honours the winter-born king, symbolized by the rebirth of the sun. Many of the customs and practices around Yule are identified with Christmas today.
Dec. 26 is marked by adherents of Zoroastrianism as Zarathosht Diso, or the death of the prophet Zoroaster. It is a day of mourning and praying in which people visit the fire temples and offer prayers in remembrance of the holy prophet.
If you have ever wanted to grow in awareness and understanding of differing faith traditions, why not take part in an alternative festivity this year? Faith communities, I have discovered, are eager to inform others of their significant values. In the process, you will discover the most precious value: hospitality.
Spiritual Care provides personal counselling at the Fort Garry campus and the Bannatyne campus to current University of Manitoba students. For more information, or to set up an appointment, send an email to Edgar [dot] French [at] umanitoba [dot] ca or call 204-474-7005.