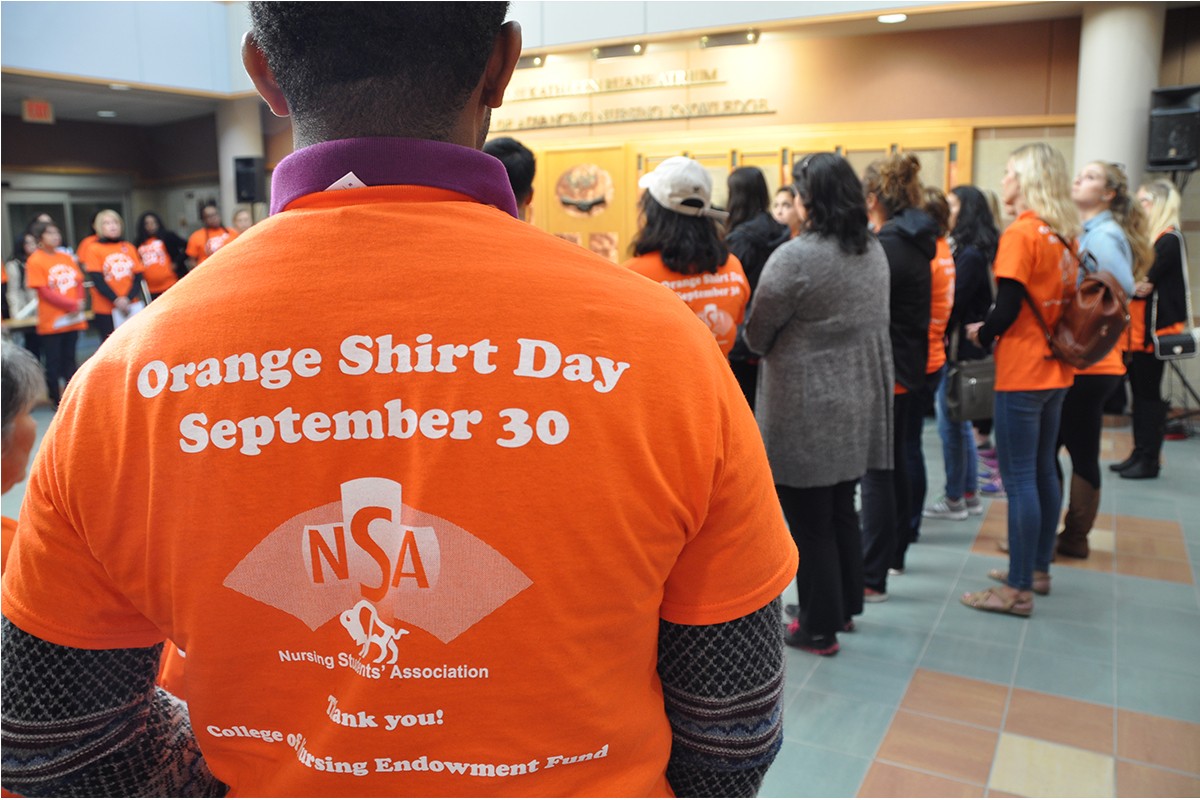 Every Child Matters – Orange Shirt Day
College of Nursing students pledge culturally safe nursing care, honour Residential School Survivors
September 27, 2016 —
When Phyllis Webstad was six years old, she picked out a shiny orange shirt for her first day of school. "It had string laced up in front, and was so bright and exciting—just like I felt to be going to school!" she said. "We never had very much money, and there was no welfare, but somehow my granny managed to buy me a new outfit to go to the Mission school," she remembers.
But when she got there, they stripped her and took away her shirt. She never saw it again.
That was how a little girl from the Dog Creek reserve was introduced to education on her first day in the residential school system. It was a moment she would never forget.
Students in the College of Nursing, Rady Faculty of Health Sciences, say it's a moment we shouldn't forget, either. That's why on September 30, students, staff and faculty from the college put on orange shirts and walked across the campus—to raise awareness and to share their belief that no one should ever be made to feel like Phyllis did that day.
Every Child Matters – Orange Shirt Day, is an event conceptualized by the Truth and Reconciliation Commission (TRC). More than 200 people walked from the Helen Glass Centre for Nursing, finishing at the National Centre for Truth and Reconciliation (NCTR). At the end of the walk, nursing students delivered a pledge to the NCTR.
Written by the University of Manitoba Nursing Students' Association and the Canadian Nursing Students' Association, the pledge states that students will practice culturally safe nursing care and will ally "with Indigenous children, youth, and their families to create an environment that supports, affirms, and celebrates all peoples."
Haylea Clyne and Rhaeanne Hibi, both granddaughters of residential school survivors, are fourth year nursing students and Indigenous student nursing representatives. "We recognize how this has had an intergenerational effect on our parents and even us," said Clyne. "As leaders in our communities, it is important for us to teach others about Canada's history of residential schools and its impact on the health of Indigenous peoples."
By offering the pledge and wearing orange shirts, Every Child Matters – Orange Shirt Day provides an opportunity for nursing students to honour the survivors of residential schools and recognize the multi-generational impact of residential schools on the current and future health status and health services of Indigenous peoples.