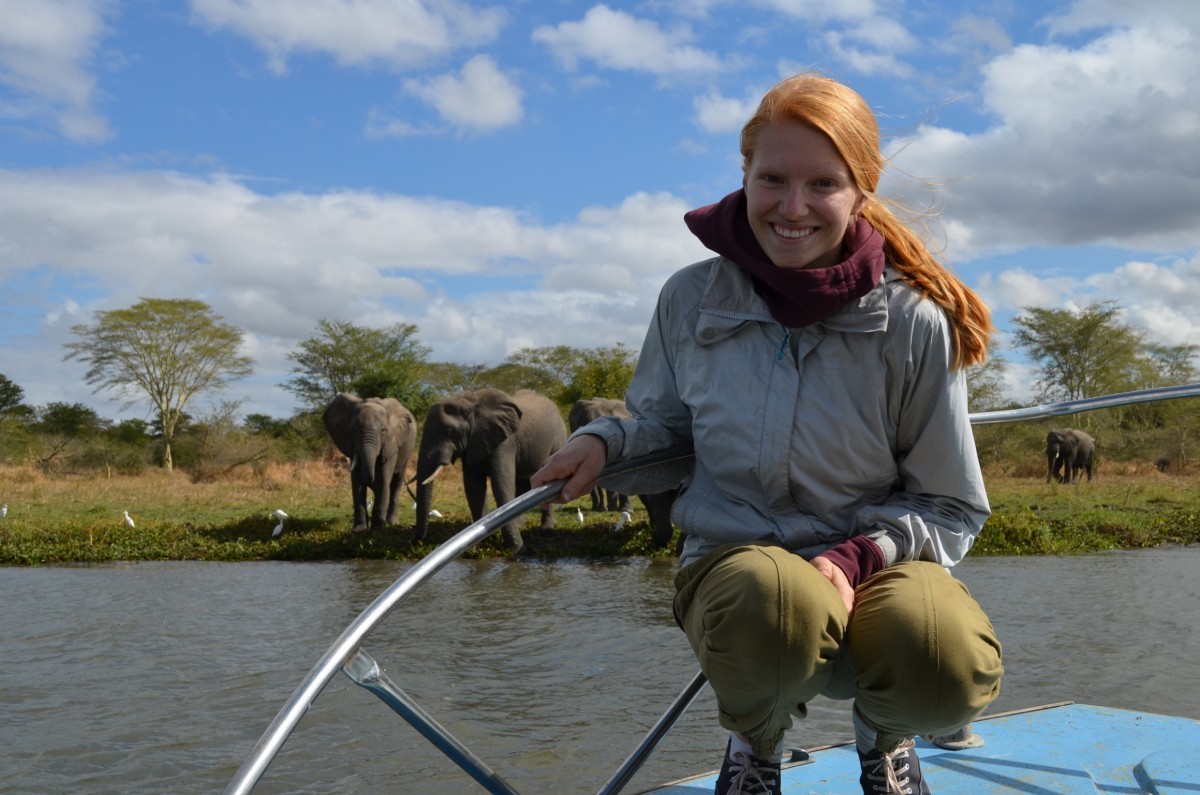 Ethics and Tourism: World Opportunities Week
October 28, 2015 —
From mock refugee camps to a lively panel discussion on voluntourism and Cecil the Lion, World Opportunities Week gives would-be travelers the opportunity to explore the ethics and impact of tourism. Hosted by the World W.I.S.E.(Work Internship Study & Exchange) Resource Centre, W.O.W. encourages students to think beyond their immediate perceptions.
"World Opportunities Week is designed to help students identify unique learning opportunities, either at home or abroad, that can enhance problem solving skills, promote self-reliance, develop a tolerance for ambiguity and uncertainty, and improve one's intercultural effectiveness. These are important traits and attributes in today's interconnected world," said Tony Rogge, Director of the International Centre for Students (ICS).
This year's theme — Ethics & Tourism — was chosen for its relevancy in our increasingly interconnected world. W.O.W runs from Tuesday, November 3rd until Friday, November 6th with an information booth set up in University Centre and free lectures and info sessions around campus.
Student Exchange Fair
Tuesday, November 3rd – Campo Area (1st floor University Centre)
10:00 am – 3:00 pm
Did you know that the U of M has over 100 international exchange programs in over 30 countries? Check out the Exchange Fair to learn about our partner universities from around the world. Incoming and returned exchange students will be available to answer your questions and speak about their experiences abroad.
Teaching English in Japan: JET Programme Information Session
Wednesday, November 4th – GSA Lounge (217 University Centre)
11:30 am – 12:45 pm
For more than 25 years the Japan Exchange and Teaching (JET) Programme has invited university graduates from around the world to work in Japanese schools and cultural organizations. The Programme aims to enhance foreign language education and promote international exchange through the development of relations between Japanese and foreign youth . Participants gain valuable work and life experience while fully immersed in an intriguing and dynamic country. Come learn about this excellent opportunity.
International Opportunities Fair
Wednesday, November 4th – Campo Area (1st floor University Centre)
10:00 am – 3:00 pm
Looking to expand your horizons? Don't know where to start? Take this opportunity to network with internationally-focused non-governmental organizations and student groups. Whether you want to work, travel, or volunteer, come to University Centre to find out what program is best for you.
Between the State and the Polar Bear: Tourism & Economic Change in the North
Wednesday, November 4th – 307 Tier Bldg
12:30 – 1:45 pm
Hosted by: Global Political Economy Student Association
Unpack the rise of Arctic tourism with a cup of coffee and a critical conversation as Bruce Erickson, Associate Professor in the Department of Environment and Geography, examines the significant economic change in northern Canada over the past 50 years. Erickson will argue that the recent surge in attention to Northern development is facilitated in part by a set of tourist sensibilities to Northern Canada Tourism functions as a way of smoothing out some of the rough patches of economic development, but in reality, this might be more of a smokescreen than an actual solution.
WUSC Mock Refugee Camp(us)
Thursday, November 5th – Campo Area (1st floor University Centre)
10:00 am – 3:00 pm
According to the United Nations High Commissioner for Refugees (UNHCR), over 60 million refugees and displaced people have fled their homeland because of armed conflict, violence, and human rights violations. For over 35 years, University of Manitoba students have supported the sponsorship of refugee youth to resettle in Winnipeg and study at the U of M. The Mock Refugee Camp(us) is a space for students to learn about issues connected to refugees and resettlement in Canada. Stop by the Mock Refugee Camp(us) and learn about the Student Refugee Program and how you can contribute to support refugees at the university.
English Language Centre Information Session
Thursday, November 5th – 217 University Centre (GSA Lounge)
11:30 am – 12:30 pm
Did you know that the English Language Centre (ELC) at the U of M coordinates the Language Partner Volunteer Program, the Homestay Program, and IELTS Testing?
The Language Partner Volunteer Program gives international students of the ELC and domestic students at the U of M the opportunity to practice communicating cross-culturally.
The Homestay Program is a rich and rewarding cross-cultural experience for both homestay hosts and international students.
IELTS is useful for international students who need to meet the language proficiency requirements for entrance into Universities in Canada and around the world. It can also be used for immigration to Canada, as well as many other English-speaking countries.
Voluntourism, Sex Tourism, and Cecil the Lion (Panel Discussion)
Thursday, November 5th – 217 University Centre (GSA Lounge)
1:00 pm – 2:15 pm
Tourism is usually perceived as a harmless activity in which the traveler pays for the enjoyment they receive; a win-win transaction that also contributes to the local economy. However, this seemingly innocent endeavor can have a greater impact on the host society than we might anticipate. Join us for a dynamic multi-disciplinary panel discussion that will dive into the ethical challenges of travel.
Panelists:
Dr. Michael Campbell, Director and Professor at the Natural Resource Institute at the University of Manitoba
Dr. Neil McArthur, Associate Professor in the University of Manitoba's Department of Philosophy
David Arenas, facilitator of local and international service-learning programs at the University of Manitoba
eXchanging Perspectives – Powered by Pecha Kucha
Thursday, November 5th – The Hub (3rd floor, University Centre)
6:30 pm – 8:30 pm
Come hear about the incredible adventures of former University of Manitoba exchange students! See the world through their eyes as they share their stories and newly-gained perspectives from their experiences abroad. PechaKucha, meaning "chit chat" or "chatter" in Japanese, is a fast-paced and visual form of storytelling where presenters show 20 images lasting 20 seconds each. Join us at The Hub for an informal evening of entertainment!
The Experiential Kitchen: A Taste of Central America Outside the Classroom
Friday, November 6th – 417 Human Ecology Bldg
12:30 – 1:30 pm
Go beyond the books and get a taste of Latin American cuisine in this exciting cooking workshop! Discover the delicious pupusa, an El Salvadorian treat. Made from corn flour and shaped by hand, pupusas can be adapted to delight vegan, gluten-free, vegetarian, and meat-eaters alike. The chef of Mercadito Latino will lead participants through the basic techniques to make a pupusa, which you will eat while learning about the various International Service-Learning opportunities offered by Student Life.
Step Outside: Tips for Travel and Research Abroad
Friday, November 6th – GSA Lounge (217 University Centre)
2:30 – 3:30 pm
Traveling is exciting, but it can also be stressful and overwhelming. Come learn and share tips for traveling, whether you are going abroad for research, education, volunteering, or vacation. Learn how to make the most of your travel budget, what to pack, and how to be a "good guest". This workshop will help you avoid some common and not so common pitfalls in order to make sure your own travel is a memorable and spectacular experience. Discover how you can become involved in international research through the Queen Elizabeth II Diamond Jubilee Scholarship Program. This program is designed to help undergraduate, graduate, and professional students to become part of a new generation of global leaders. Through enhanced collaborative capacity and relationship building, it aims to enable scholars to pursue and amplify community development in Indigenous and Global Health research.
World Opportunities Week is sponsored by:
English Language Centre       Arts Student Body Council
Government of Manitoba       University of Manitoba Students' Union (UMSU)