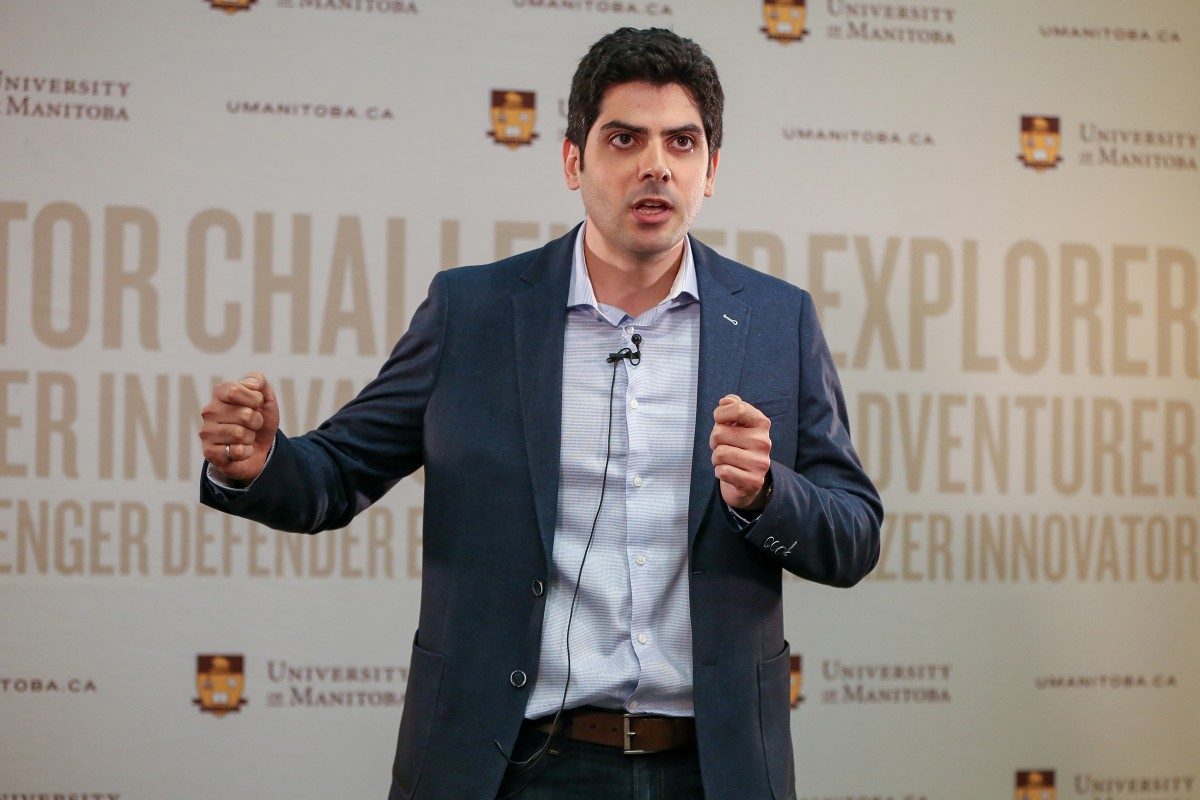 Engineering a successful 3MT® competition
International student Shervin Ghomi competes in 3MT® regionals on April 27 and needs your votes
April 26, 2018 —
Inspiration can come from anywhere.
In the case of Shervin Khalili Ghomi, an international student from Iran, it was witnessing the aftermath and destruction of earthquakes in his home country.
Ghomi is now pursuing a PhD in civil engineering at the University of Manitoba and is enthusiastic about his research – designing earthquake-resistant buildings – and it shows. This spring he battled it out with other graduate students in the U of M's 3MT® competition, eventually named the winner on March 21.
Three Minute Thesis (3MT®) is an annual competition where challengers have three minutes to explain their research and its importance or relevance, using only a single static image or slide to illustrate their topic. The event not only shows the breadth and depth of research happening at the U of M, but also highlights the real-world impact and value of the research being done by our graduate students.
Ghomi, who was one of 13 local finalists, is heading to the 3MT® regional competition in Regina on Friday, April 27. The winner from that competition will join students from across Canada for the finals.
"I hope my enthusiasm in talking about my research will help to share the joy that I had during the journey that I have taken since the beginning of my project," says Ghomi. "Giving my presentation at the U of M's 3MT® final, in front of such a large audience was a great practice for me. Thinking about that presentation and telling myself that I did it once already, makes me feel a little better when I get nervous for the regional competition."
U of M students, staff, faculty, alumni and friends are encouraged to watch the regional competition via a live stream at 2:00 p.m. (CDT) and vote for Ghomi.
"The 3MT® competition is a great showcase for some of the outstanding research being conducted by our graduate students here at the U of M," says Todd Mondor, Vice-Provost (Graduate Education) and Dean of the Faculty of Graduate Studies. "We wish Shervin the best of luck in the regional competition – all of us in the Faculty of Graduate Studies office will be cheering him on."