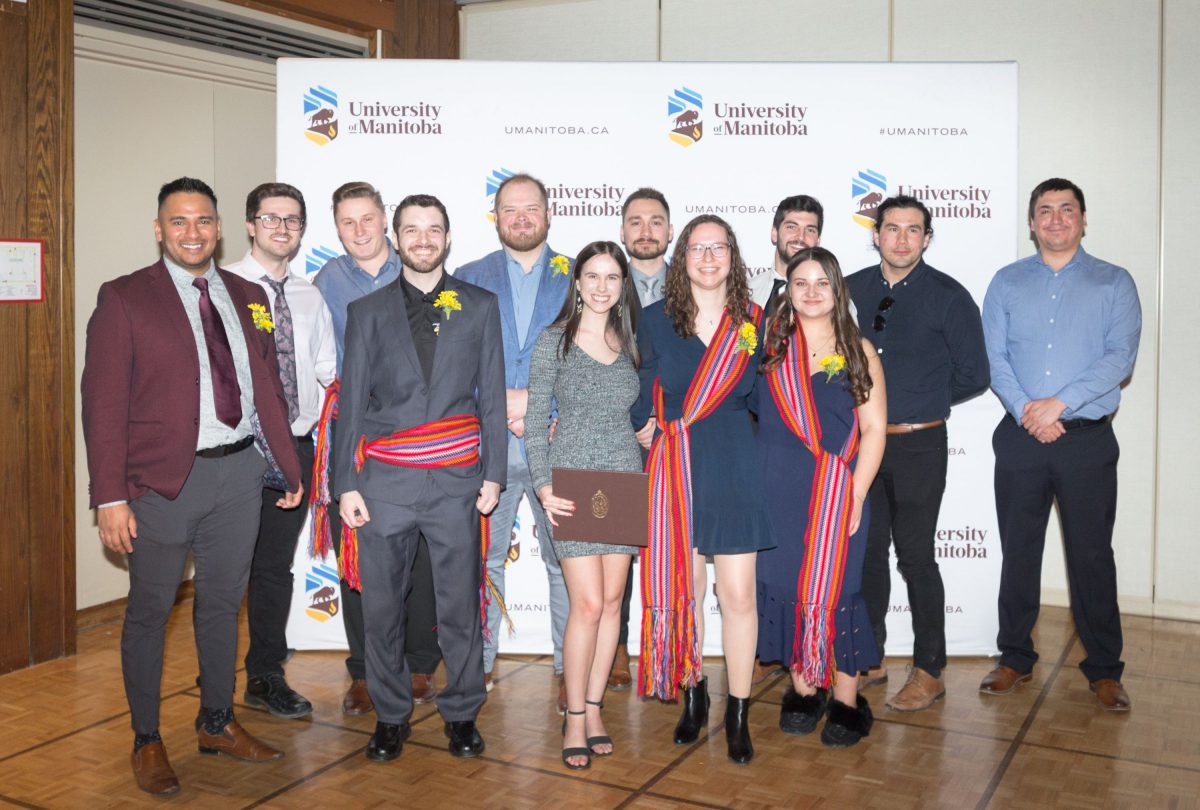 ENGAP celebrates Indigenous engineering graduates
April 17, 2023 —
On March 29th, 2023 the Engineering Access Program gathered to celebrate the 2023 Indigenous engineering graduates.
The evening began with a traditional Blessing of the Feast spoken by Elder Norman Meade. Randy Herrmann, director of ENGAP, welcomed guests to the sold-out event which included the graduates, faculty, and many supportive sponsors such as Engineers Geoscientists Manitoba, Hatch Ltd, Hudbay, MB Aerospace, MB Hydro, PCL, Price Industries and Tetra Tech to name a few.
The pandemic had interfered with several years of being able to congratulate graduating students in person. However, in November of 2022, ENGAP celebrated seven graduates informally at Maxime's Restaurant: Robin Armstrong (Mechanical), Reed Forrest (Biosystems), Emma Gillespie (Electrical), Sean Pigeau (Mechanical), Connor Tompkins (Mechanical), Nolan Mizeracki (Civil) and Caden Wallace – Booth (Electrical).
This year's 2023 formal celebration honoured: Megan Carriere (Biosystems), Jarell Crampton (Electrical), Nicholas Hince (Electrical), Dylan Labiuk (Computer), Jordan Mitchell (Mechanical), Tianna Philippot (Biosystems), Reid Piper (Mechanical), Ashoka Subedar (Mechanical), Dawson Switzer (Civil), and Lynden Travers (Civil).
"Since my first day at the University of Manitoba, I have always felt welcome in ENGAP," says Switzer. "Their support through the years made my university experience unforgettable."
During the delicious dinner of stuffed chicken with brie, was the enchanting sound of ENGAP student Ryan Ketchum, guitarist extraordinaire and his talented girlfriend, Erica Rothschild on the flute.
The dinner was followed by speeches beginning with Greg Smith, vice-provost (academic planning and programs), who said a few words on behalf of the president of the University of Manitoba. He was followed by Marcia Friesen, dean of the Price Faculty of Engineering who congratulated the ENGAP graduates. Dean Friesen had also generously purchased two tables for many of the faculty's staff to attend the celebration.
Next in line was ENGAP's undergraduate coordinator, Diana Klassen, to offer a tribute gift of little moccasins to the two First Nation graduates. David Beaudin, the Manitoba Métis Federation's minister of agriculture and associate minister of education, presented Métis sashes to eight of the graduates. Lastly, Brendan Kropla, ENGAP student and president of the Engineering Access Student Association (EASA) brought a warm and inspiring congratulations from the ENGAP student body.
Each graduate was presented with a gorgeous soapstone carving designed by Keith Proulx at Cree-Ations & Artist Showcase.
This wonderful event closed with a very successful silent auction with Elder Norman Meade winning one of the Grand Prizes–a 50" UHD-4K TV!