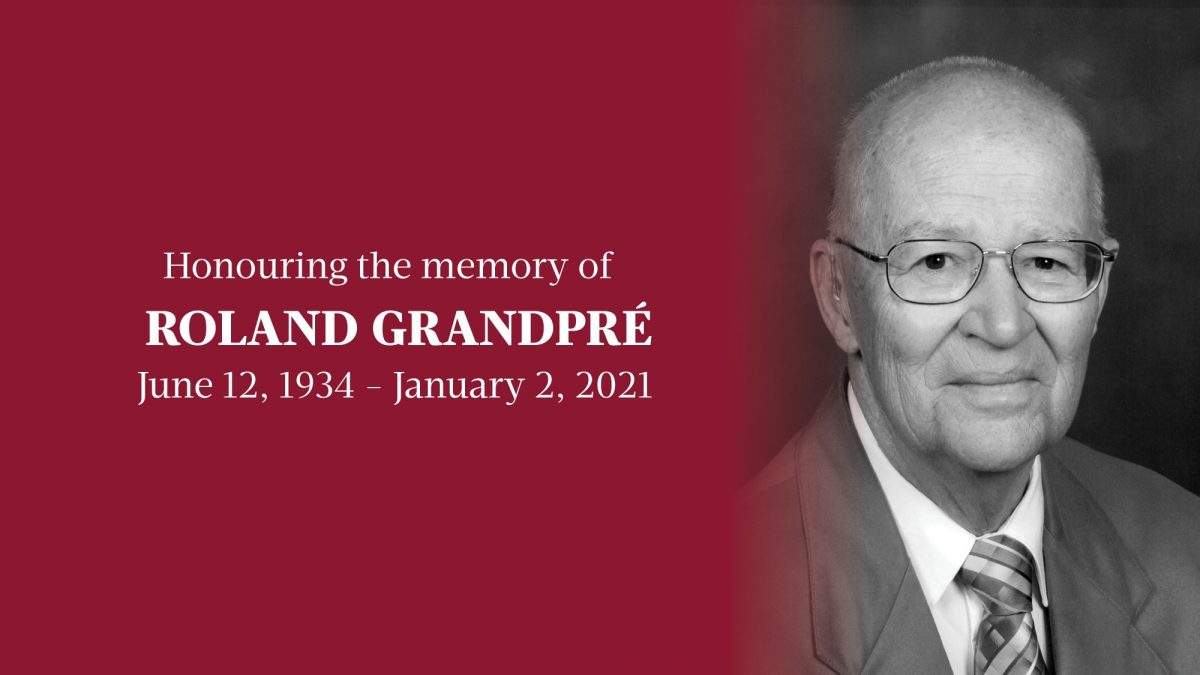 Endowment supported by the Associates announced in honour of Dean Emeritus, Roland Grandpré
Asper School of Business Dean Emeritus celebrated by community at memorial on January 22, 2021
January 28, 2021 —
Dean Emeritus, Roland Gerard Grandpré passed away on January 2, 2021 at the age of 86. Grandpré served as Dean of the Faculty of Management from 1981 to 1987. During this time, he had a strong vision for the School, with a focus on cultivating relationships with the business community.
Grandpré played a leading role in establishing The Associates, one of the most effective business support groups in Canada. Supporting students is a key piece of the group's role within the school community. The Associates are proud to now have yet another avenue to support students in financial need and have made an initial contribution of $50,000 to the endowment fund in Grandpré's name. Dr. Arni Thorsteinson [B.Comm. (Hons.)/71, LL.D./09], founding member of the Associates and the President of the University of Manitoba Business School Foundation made the formal announcement at Grandpré's memorial.
Dr. Arni Thorsteinson and Dr. Susan Glass [B.Comm./67, LL.D./15] also announced their own $25,000 contribution to the Associates Grandpré Endowment Fund. In closing his remarks he stated,
"Rolly's legacy and spirit will live on with the Endowment and his name. This is a fitting tribute to our founding father and his vision to connect the students and faculty of the business school to the business community at large."

-Dr. Arni Thorsteinson [B.Comm. (Hons.)/71, LL.D./09]
Roland Grandpré played a central role in making the Asper School of Business what it is today and we will continue to enjoy his legacy for years to come. If you'd like to make a gift in Dean Grandpré's memory, please donate here.