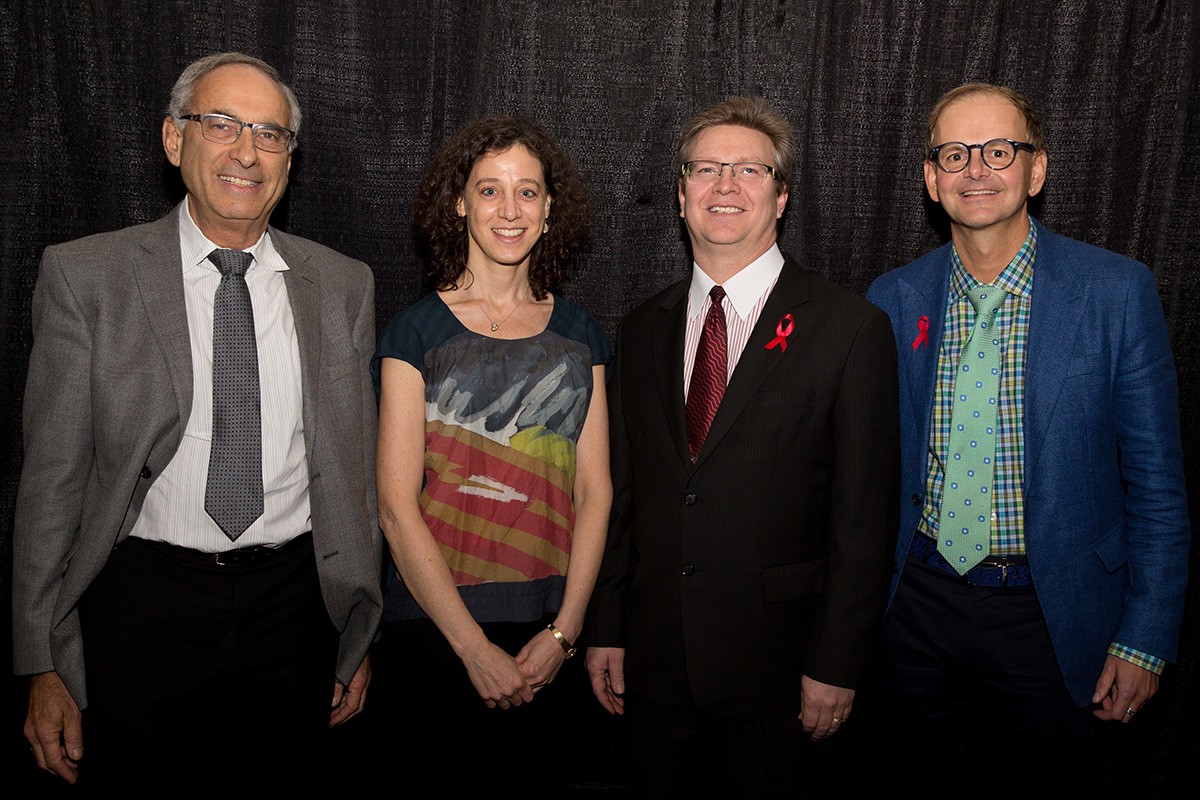 Ending HIV focus of Visionary Conversations dialogue
May 2, 2016 —
Some of the University of Manitoba's top scientists delved into a discussion on whether an end to HIV is on the horizon.
An audience of 150 came out to hear the talk inside the Robert B. Schultz Theatre on April 27 at the Visionary Conversations event titled: Is the end of HIV in sight?
Dr. Stephen Moses, professor and head of community health sciences in the College of Medicine, moderated the discussion, opening with comments on the "devastating impact" of HIV, calling it "unprecedented in health and medical history."
While he cautioned against being overly optimistic, and emphasized the need for much more work, he suggested that research and new treatments have had positive impacts, including global areas where new instances of HIV have now levelled off or started to decline.
"I think finally after 30—35 years of this epidemic, there is light at the end of the tunnel," said Moses.
He touched on pioneering work started by U of M faculty from the likes of doctors Allan Ronald and Frank Plummer, among others, and said Manitoba has a wide reputation for taking a leadership role in confronting HIV.
"I think we've really punched above our weight, globally," said Moses.
One of the areas examined by the panel at Wednesday's talk dealt with the progress made.
"There have been tremendous advances in HIV prevention, in HIV prevention research and in the interventions that we have in our prevention tool box," said Dr. Marissa Becker.
Becker [MD/99] is an HIV physician and researcher and the associate director of the Manitoba HIV Program. She is also the co-scientific lead of the National Collaborating Centre for Infectious Diseases at the University of Manitoba.
She spoke on how more than 78 million people have become infected with HIV since the 1980s, leading to 39 million deaths.
Becker addressed new prevention interventions that have shown "exciting promise." Among them, she referenced large clinical trials, some of them led by Dr. Moses, on medical male circumcisions, with the trials suggesting the practice reduced HIV infection by more than 60 per cent.
Moses explained HIV latches on to certain cells, which are found in abundance in the foreskin and clinical studies have suggested circumcision helps lower risk of transmission.
"It's very important to (also) continue safe sex practices, including condom use," said Moses.
Another thread running through the talk dealt with the need to curb the stigma surrounding HIV, along with the need to see regular testing for the infection as normal.
"Public education needs to be strengthened to help with testing," said Dr. Ken Kasper.
Kasper [BSc(Hons)/89, MD/93] is director of the Manitoba HIV Program and infectious disease specialist, Faculty of Health Sciences and Nine Circles Community Clinic.
In many cases, people are diagnosed late because they hadn't been tested earlier, he said.
Kasper addressed the overrepresentation of HIV in Indigenous populations and obstacles for health care that people in remote and rural communities can face in Manitoba. He said barriers to seeking care, including stigma, need to be removed to have a meaningful, positive effect.
Along with presentations from the panel members, the audience also posed several questions to the panel, including to what extent do researchers collaborate across the globe.
"More and more science is moving to a large-team format and I think that's a good thing," said Dr. Keith Fowke. "There's sharing but I think there could always be more."
Fowke [BSc(Hons)/88, MD/95] is professor and head, medical microbiology, infectious diseases, Faculty of Health Sciences.
Fowke talked about his experiences doing lab work.
"My yard scale that I use to measure success is measured in decades," said Fowke.
"So is the end of HIV in sight? I would say more than ever – it is in sight. But you have to remember that I'm looking (at it) in measure of decades."
He spoke on the difficulties in trying to find a vaccine for HIV.
"Why is getting a vaccine so hard? One of the reasons is because HIV mutates more than any other virus you can think of," said Fowke.
The presenters encouraged students interested in HIV research to pursue the area.
"Let's rush towards extinction of HIV and not take our foot off the pedal now," said Fowke.

– Watch the discussion below