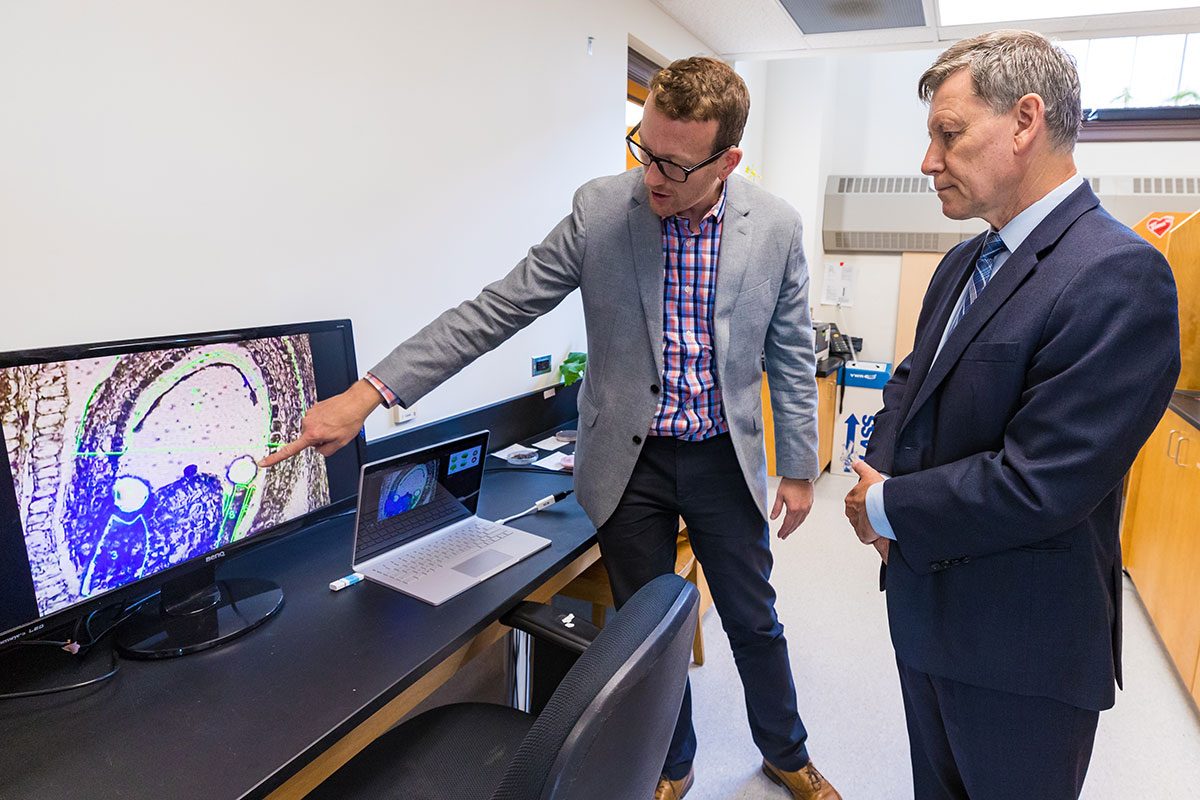 Empowering thousands of Canadian researchers and students to push the boundaries of knowledge
Half a billion in funding for scientists and engineers means more opportunities for discovery, skills training and job creation
September 12, 2017 —
When Canada's scientists and engineers have the opportunity to succeed, they're able to make the discoveries that lead to groundbreaking innovations, sustainable economic growth and a stronger middle class. The hard work of these researchers also helps new generations of students master the advanced skills they need for the jobs of tomorrow.
That is why on Sept. 12, Terry Duguid, Member of Parliament for Winnipeg South, on behalf of the Minister of Science, Kirsty Duncan, announced $10,921,917 in support for fundamental research through the Natural Sciences and Engineering Research Council of Canada's (NSERC) 2017 competition for the Discovery Grants program, scholarships and fellowships at the University of Manitoba. (See a full list of recipients here.)
"The science of today is the economy of tomorrow. It is imperative that we invest in fundamental research in order to remain a prosperous and progressive nation. I am so proud of the scientists, engineers and students who are at the very heart of Canadian discovery and innovation right here at the University of Manitoba," says Terry Duguid, Member of Parliament for Winnipeg South.
This is NSERC's largest annual investment, and assists researchers by offering financial support through scholarships, fellowships, research supplements, and equipment grants.
"I am honoured to be a recipient of a Canada Graduate Scholarship, and grateful for the support and opportunity to carry out my research in canola seed improvement. I aim to use this privilege to inspire and support other young scientists interested in research," says Deirdre Khan, a PhD student at University of Manitoba.
A broad range of research will be supported by this funding, including: the development of new and improved techniques for online condition monitoring of high voltage power systems, enhancing the understanding and assessment of soil erosion and sedimentation, comparative studies of avian cognition, bioengineering polymers and quantum chemistry to address materials, energy and environmental challenges.
"The Government of Canada is committed to investing in fundamental research and engineering that will improve and enrich our country's knowledge economy," says The Honourable Kirsty Duncan, Minister of Science. "We believe in encouraging scientists' cutting-edge ideas that will lead Canada to greater social and economic growth. I am particularly proud of the support offered to postgraduate students and postdoctoral fellows, who, thanks to today's investment, will be exposed to advanced training experiences that will prepare them for the jobs and opportunities of tomorrow."
This funding reflects the Government of Canada's commitment to strengthen science by supporting the very people – our country's remarkable scientists and engineers – who are working to build a better future for all.
"I congratulate the researchers, students and fellows on their success in receiving these highly competitive grants and scholarships. These funds will ensure that their research excellence continues to grow and that their investigations lead to discoveries that benefit all," says Digvir Jayas, Vice-President (Research and International) and Distinguished Professor at the U of M.
Quick Facts
An investment of $515 million in NSERC Discovery Grants, graduate and postgraduate scholarships and postdoctoral fellowships across Canada.
The $368 million support for NSERC's flagship Discovery Grants Program will foster research excellence in the full range of science and engineering disciplines, from biology and chemistry to advanced materials engineering and astrophysics. These grants, which are subject to rigorous quality assurance, support ongoing research programs with long-term goals and build the foundation for innovation.
The investment of close to $86 million in Scholarship and Fellowships will launch a new generation of scientists and engineers who are at the early stages of their research careers, with support at levels of study from graduate to postdoctoral.
Researchers will share an additional $36 million in Research Tools and Instruments Grants, to purchase new research equipment needed for world-leading discovery, innovation and training.
In addition, NSERC is providing $15 million for resources to selected researchers to accelerate progress and maximize the impact of their promising research proposals through the Discovery Accelerator Supplements Program. At small universities, 54 researchers will receive Discovery Development Grants, totaling $1,080,000, to support their research.
Research at the University of Manitoba is partially supported by funding from the Government of Canada Research Support Fund.