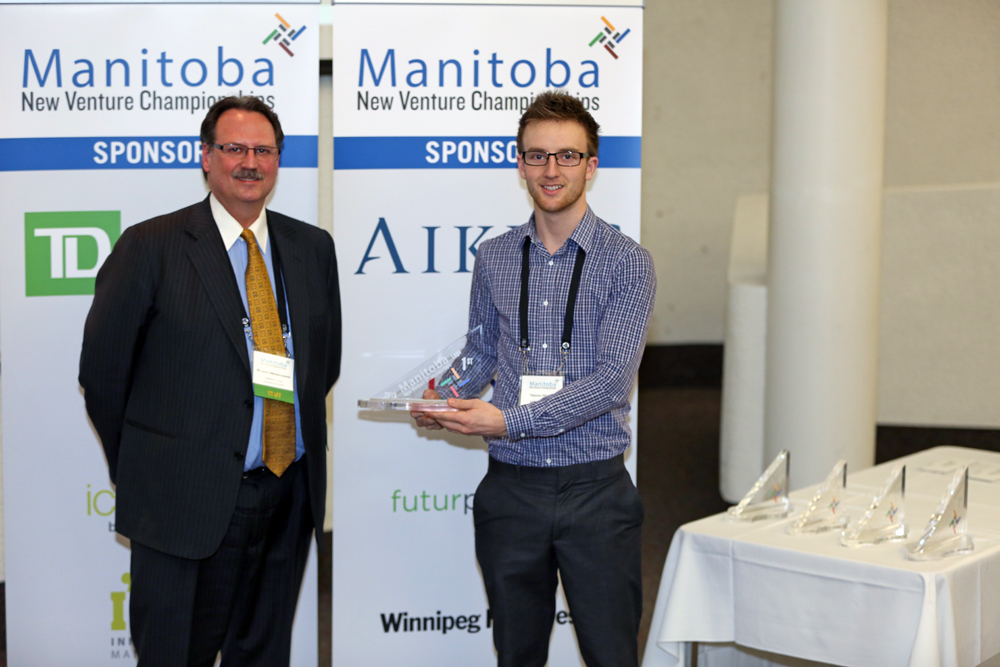 Emerging Entrepreneurs
July 15, 2015 —
The Stu Clark Centre for Entrepreneurship at the Asper School of Business honoured four University of Manitoba students last week with Emerging Entrepreneur Awards. Each year the Stu Clark Centre recognizes four deserving entrepreneurs who exhibit passion, leadership, and entrepreneurial spirit in the community.
Travis Dreger (Asper) started two businesses while working on his Bachelor of Commerce (Honours). Quality Concepts provides screened-in areas and structures to keep bugs out of homes, and Passages.life is an online platform that celebrates loved ones who have passed away.
Raffaele Richichi (Asper) started a clothing company called United Nova Christian Apparel.
Andriy Rudnyk (Asper) is an active member of the Asper School's entrepreneurship community and on the leadership team of the CEO Manitoba student group.
Brady Musey (U of M – graduated 2015 Faculty of Arts) is co-founder of Qwotes, a video messaging app that lets users share favourite quotes from TV shows and movies.
Each winner receives a 12-month membership at Ramp Up Manitoba/Assent Works, as well as a $500 honorarium.
Ramp Up Manitoba is a grassroots, entrepreneur-led organization that connects entrepreneurs with resources to build new ventures into successful businesses. AssentWorks is a non-profit workshop dedicated to providing hands-on access to fabrication and prototyping equipment, knowledge, and a community of support for entrepreneurs, inventors, artists, and innovators.
The Stu Clark Centre for Entrepreneurship provides mentorship, business planning guidance, and courses in new venture development, and acts as a gateway to resources in Winnipeg's startup community.