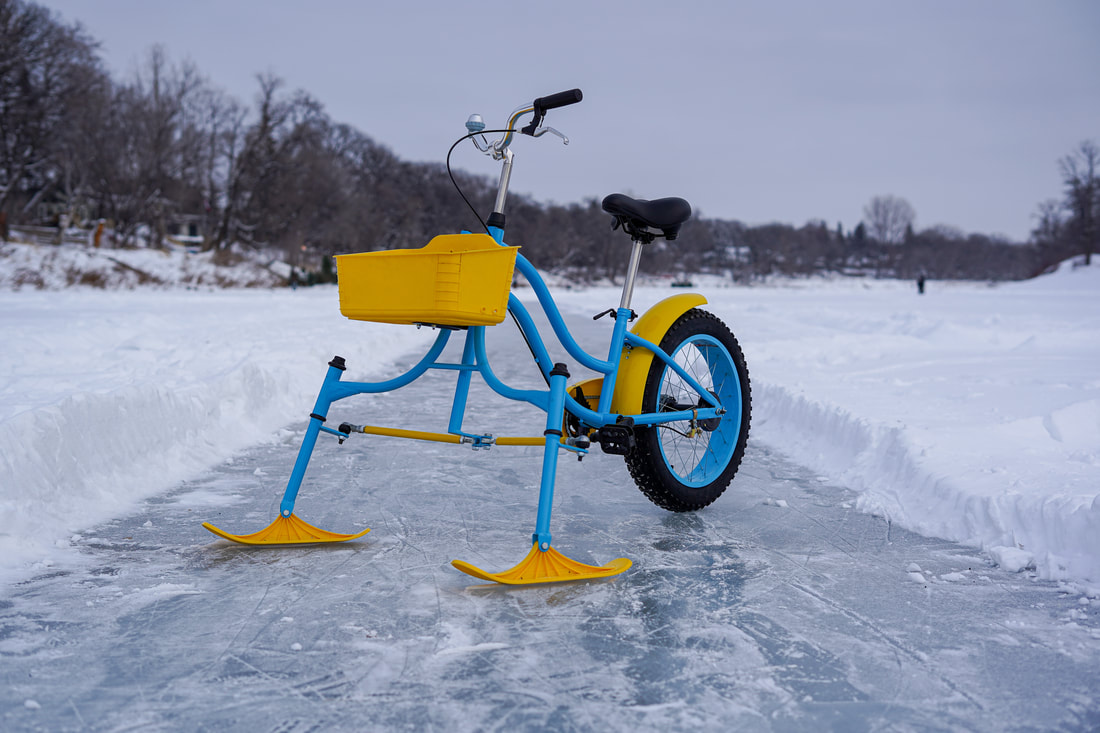 Embracing winter, one pedal at a time
Asper alum launches Canada's first ice bike company
January 28, 2022 —
Outdoor activities have always been the best way to embrace Winnipeg winters. From walking on our frozen rivers, to skating in backyard rinks, to snowshoeing in the park. Asper alum Sinan Leylek [BComm(Hons)/14] hopes to add winter biking to that list. Leylek is the President & CEO of Spark Rentals Inc., Canada's first ice bike company that rents bikes designed to ride on frozen water.
Leylek has always had an entrepreneurial spirit, as a student he ran an informal side business called Party Pyrotechnics that rented fog machines, lasers and DJ lights out of his parents' house. After graduation in 2014, Leylek decided to travel abroad and had his first experience riding an ice bike. His curiosity led to him making connections with manufacturers in China. After he completed his eight-month trip, Leylek found himself motivated and excited to come back and work on growing his company. Spark Rentals—formerly Party Pyrotechnics—was officially launched as Leylek signed the Articles of Incorporation and formally owned his business. With a full shipping container coming from China, the product started to grow.
In 2020, the pandemic had a major impact on his thriving business. It did not make sense anymore for people to have DJ lights for a virtual party, leaving his company with little room to grow.
"Back in January 2021, on a cold, dark night during the height of the pandemic, the brilliant pivot finally hit me. I was struggling to think of activities that I could do safely in a time when gathering indoors was prohibited," said Leylek.
"Having previously loved my experience riding an ice bike in China six years ago, the thought of my ice bike experience became an epiphany. With the pandemic in full swing, this became the perfect opportunity to pivot to not only bring these ice bikes to Winnipeg, but North America over."
Leylek crossed paths again with the Asper School of Business that same January when he pitched the ice bike concept to an Asper entrepreneurship team he was coaching as part of the undergraduate business competition, JDC West. It turned out that not only did they want to get involved, but they wanted to partner on the idea.
"This is where Nick Meyer [BComm(Hons)/21] and Lucien Stratton became co-founders of Ice Cycles, Canada's first ice bike company, and a third team member, Sarah Remple, who couldn't commit as much time, is now our social media manager. This team has been instrumental in making our 2022 launch a great success and further proof of the talent that comes out of the Asper School of Business."
The company has three models of ice bikes: A single blade set 'Classic Ice Bike', a twin sled/blade 'Fat Tire Trike' and a dual wheel and blade set 'Tandem Ice Bike' that are available for rent at the Bourkevale Community Centre Assiniboine River trail on the weekends for the remainder of the winter. After a successful pop-up rental at The Forks, the company is looking to bring the bikes to the Bourkevale location permanently.