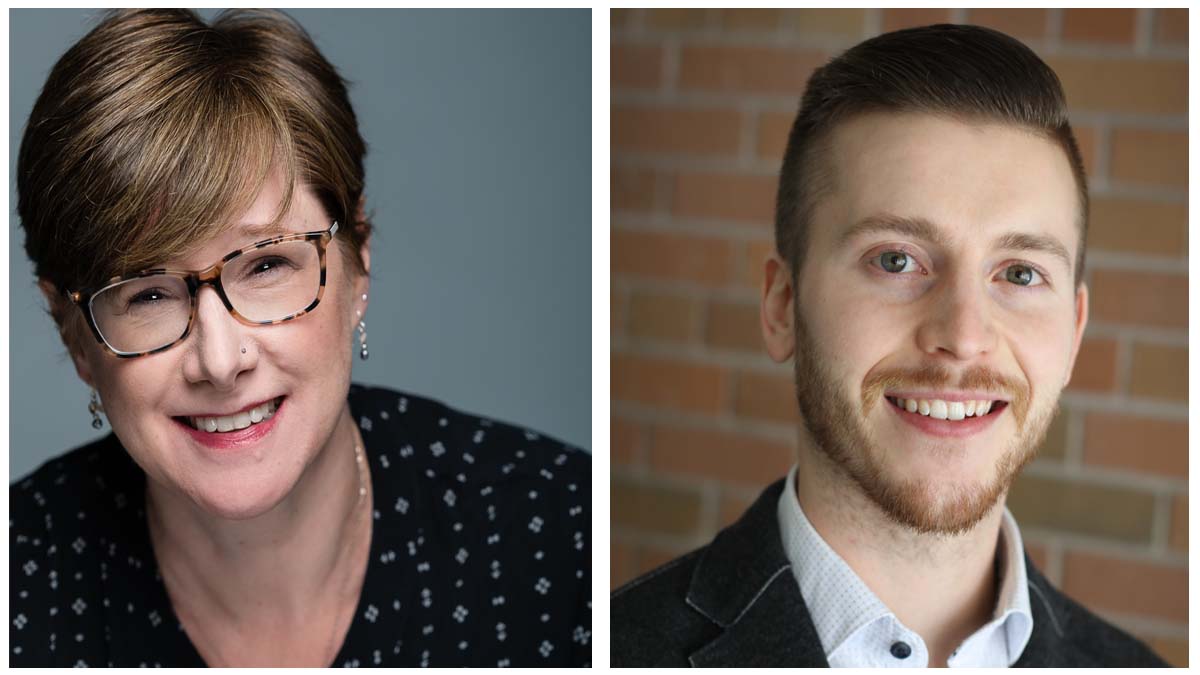 Effects of pandemic on health care discussed at virtual conference
October 5, 2020 —
The effects of COVID-19 on health services was a running theme at the Collaborating for Health and Wellness Virtual Research Conference, hosted last week by the College of Rehabilitation Sciences, Rady Faculty of Health Sciences with the Faculty of Kinesiology and Recreation Management, the Applied Health Sciences doctoral program and School of Rehabilitation Science, University of Saskatchewan (USask).
On Oct 1-2, the conference had 124 registered attendees from across Canada and featured 11 PhD students and 15 master's students from UM and USask on a variety of topics in the fields of rehabilitation sciences and kinesiology, along with virtual podium presentations by researchers from both universities.
"In our conference evaluation survey, most said they really enjoyed the virtual experience, with the only downside being fewer opportunities for informal networking with colleagues during breaks," said conference chair Dr. Jacquie Ripat, Associate Dean of Research at the College of Rehabilitation Sciences.
The closing panel discussion, moderated by Dr. Scotty Butcher from USask, featured four speakers discussing different ways technology can be used in rehabilitation care, education and research, and how COVID-19 has brought in a "new normal": Kregg Ochitwa, owner of North 49 Physical Therapy in Saskatoon; Dr. Stacey Lovo, associate professor, School of Rehabilitation Science, USask; Dr. Scott Lear, professor of health sciences at Simon Fraser University; and Dr. Brian MacNeil, associate professor of physical therapy, College of Rehabilitation Sciences.
"I've described this as forced discovery of new processes and it's been overwhelmingly positive," said MacNeil, whose presentation focused on using video as a way to virtually teach clinical skills. He pointed to how the college used an online format for the objective structured clinical examination (OSCE) exams in March, days after COVID-19 restrictions forced the closure of UM's campuses.
"Essentially we had students view clinical scenarios and evaluate what they saw happening, and I think that has some untapped potential to it," he said. "When they do move into clinics as practicing clinicians, we're going to be quickly asking them to supervise students and this is an excellent preparation for that."
Lear, who spoke about virtual cardiac rehabilitation, said virtual models of care can be cost effective and can also reduce wait times.
"My concern is that once things return to some kind of pre-pandemic normal, some programs will just go back to their old ways," he said.
Lear added there are many reasons that virtual care can be used alongside in-person care. "It's not just for people geographically distanced, but also people who are working and can't come during the nine-to-five hours that the hospital programs are open."
The event also featured a keynote address by Dr. Catherine Donnelly, associate professor at the School of Rehabilitation Therapy, Queen's University, who talked about her work with Oasis Senior Supportive Living in Kingston, Ont., a "naturally occurring retirement community" designed by seniors for seniors.
"We know that approximately 25 per cent of older adults report feeling social isolation – and this was before COVID," she said, noting that a survey her team conducted with older adults from primary care and Oasis settings have pointed to increased feelings of isolation and loneliness since the start of the pandemic. "Reports of isolation have tripled, feelings of loneliness have almost doubled and 50 per cent of people feel that they lack companionship."
Jacqui Ladwig of the Applied Health Sciences program took top prize in the PhD category for her presentation based on ExplorAbility, a dance program for adults with cognitive and/or physical disabilities that she created at the Royal Winnipeg Ballet School in 2009 and continues to teach today.
"We concluded that to fully represent the voices and experiences of those who live with disability, it is imperative that we consider ways to evolve and adapt traditional research tools to be inclusive of a range of abilities," she said.
Kevin Boreskie, one of the other PhD award winners, was part of the organizing committee for the conference. He said one of the aims of the conference was to find ways to still be dynamic in the age of virtual conferences.
"Prior virtual conferences I had been to during the pandemic were very static and there was minimal interaction, especially for students," he said. "We tried to fix this by having live poster presentations in concurrent rooms with live questions, hosting a panel discussion, and hosting discussion rooms in the evening."
Full list of award winners:
Master's presentations
First place: Chelsea Scheller, College of Rehabilitation Sciences, Rady Faculty of Health Sciences – Users of Private Physiotherapy Services do not Reflect the Overall Population in an Urban Centre
Second place: Ganesh Tailor, Faculty of Kinesiology and Recreation Management, UM – How Does Susceptibility to the Müller-Lyer Illusion Vary with Autistic Trait Expression?
Third place: Eman Abdulhadi, College of Medicine, USask – The Role of Practitioners in Indigenous Wellness – Health Provider Learning with Cultural Responsiveness Training
PhD presentations
First place: Jacqui Ladwig, Applied Health Sciences, UM – Adapting our Perspective of Known Research Methodologies: Reflecting on the Methodological Challenges of the ExplorAbility Pilot Study
Second place: Kevin Boreskie, Applied Health Sciences, UM – Age is Just a Number – and so is Frailty: Strategies to Inform Resource Allocation During the COVID-19 Pandemic
Third place: Liz Harvey, department of physical therapy, College of Rehabilitation Sciences, Rady Faculty of Health Sciences – Stories, Data, and Images: Using an Arts-Informed Approach as a Public Engagement Strategy