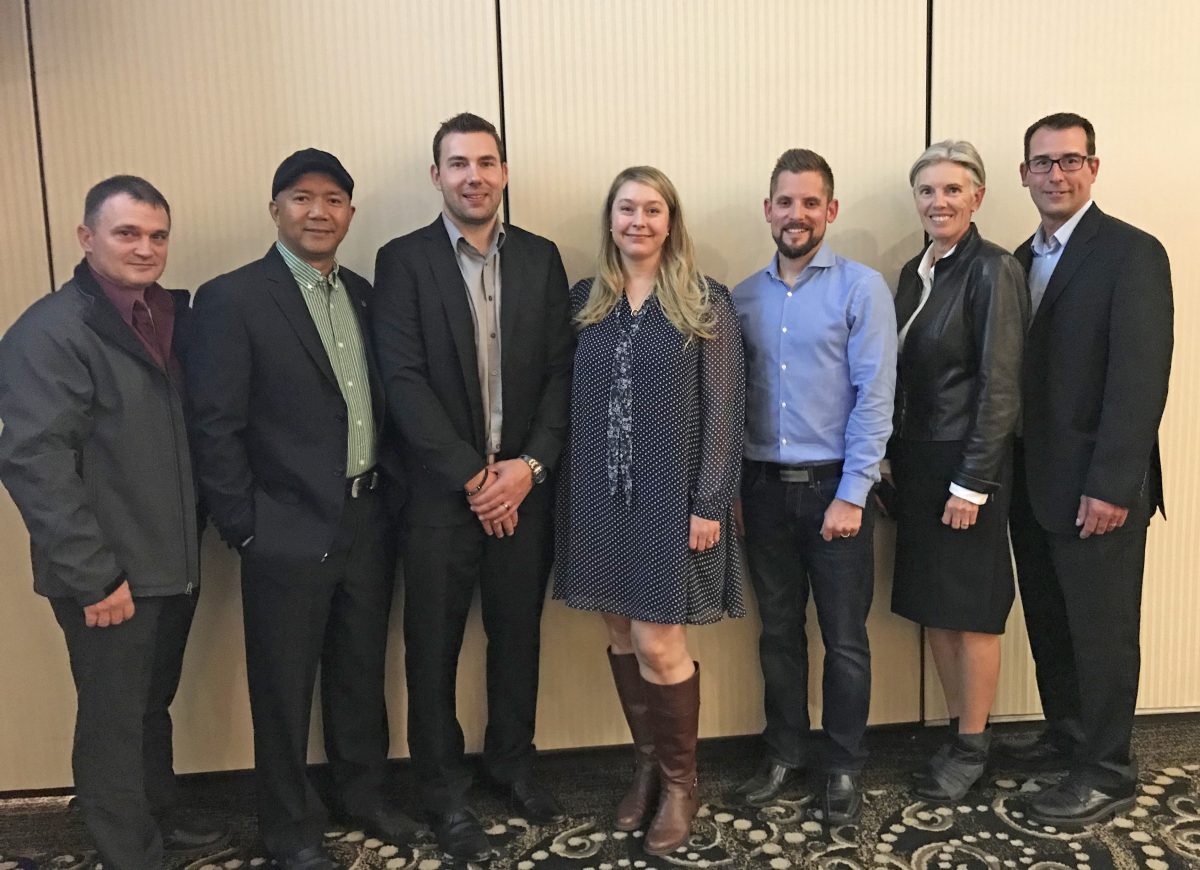 Educator recognized for work on farm safety
Thea Green received the Manitoba Agri-Safety Award for a positive effort toward implementing safety
October 4, 2018 —
Thea Green, instructor in the School of Agriculture, was honoured last week at The Safetys, a fall gala event where Manitoba safety organizations present awards to individuals and organizations for their achievements in occupational health and safety.
She received the Manitoba Agri-Safety Award, presented by the Manitoba Farm Safety Program (MFSP) to a farm or agri-business that has made a positive effort toward implementing safety. Morag Marjerison, Farm Safety Consultant with the MFSP, nominated Thea for her efforts to create safer agricultural workplaces by working with the next generation of Manitoba farmers.
Thea is being recognized for her work in developing and delivering two learning opportunities focused on farm safety for the School of Agriculture's diploma students. She has created a practical farm safety course where students learn how to identify and manage health and safety risks on Manitoba farm workplaces, and has taught this annually since 2015. Her former students have communicated their success in creating safer family farms and agricultural workplaces after learning about worker rights, employer responsibilities, and the provincial Workplace Health and Safety Act & Regulations.
Thea also developed a full day of hands-on learning about tractor safety. Delivered in January 2017 at the Glenlea Research Station, the day featured four stations: power take-off (PTO) safety, safe extraction of stuck equipment, and prevention of tractor rollovers and run-overs. Students learned from industry experts and local farmers about how to stay safe while working with and around farm equipment. The day was very well received by the 80 diploma students in attendance who commented that the learning was useful and practical. Thea designed the stations to address the injury and fatality statistics for Manitoba farms. She hopes that arming students with information and strategies for reducing their risk will help them stay safe in their farming careers.
In addition, Thea has worked to develop and implement safe work procedures for Glenlea Research Station, the Faculty's working livestock farm located south of Winnipeg.
"While the nomination focused on my education and outreach contributions to farm safety, I want to acknowledge the huge impact working with the staff at the Glenlea Research Station has had on my practical knowledge of implementing farm safety. I was happy to celebrate this award with so many of the people that contributed to my own learning in this field, and honoured to be recognized for my work in creating positive change in the farming industry," she said.
Her current work includes preparing the diploma course DAGR 0520 Managing Agricultural Safety for on-line distribution to allow students and farmers from across the province to access this valuable learning from their own farms and homes.