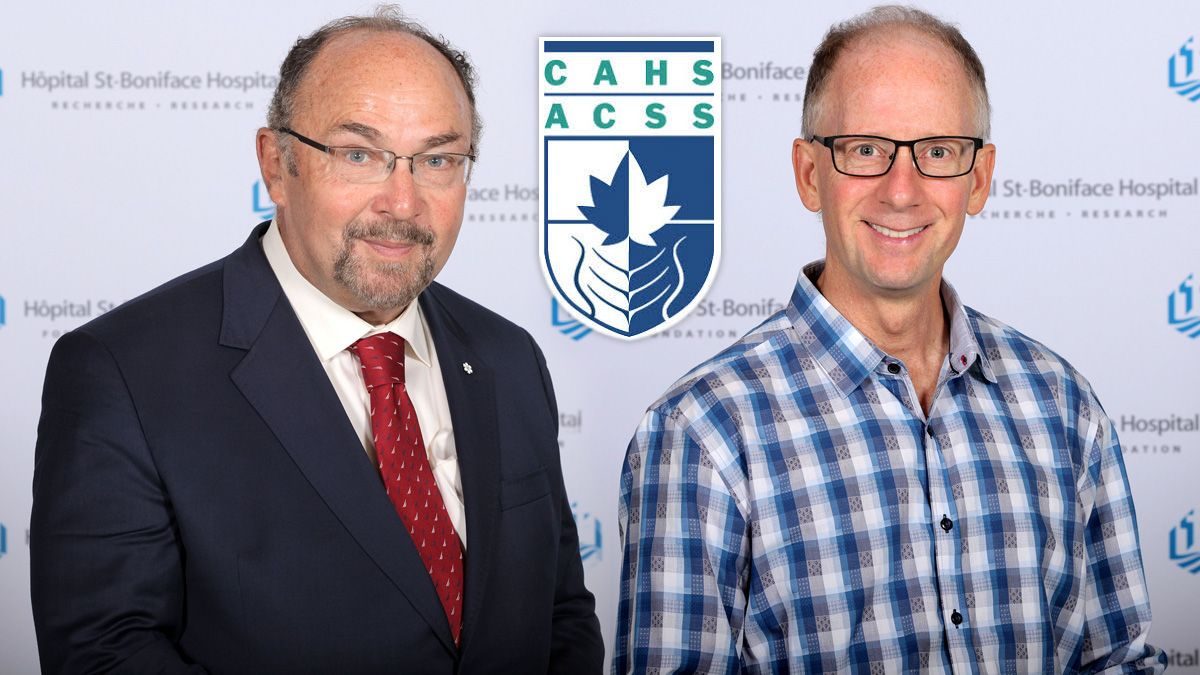 Duo inducted into Canadian Academy of Health Sciences
September 20, 2019 —
Drs. Ross Feldman and Thomas Hack were inducted as Fellows into the Canadian Academy of Health Sciences (CAHS) at an induction ceremony held in Ottawa last night.
"It is humbling to be bestowed a Fellow in the CAHS," says Dr. Hack. "My research mission has all always been that of improving the health experience of individuals coping with cancer. It is heart-warming to know that, because of my research, cancer centres and health agencies around the globe are now providing patients with opportunities to record pivotal conversations with their health providers for playback later. Advances in technology allow us to, finally and easily, bring the doctor home to the kitchen table."
Induction into the CAHS as a Fellow is considered one of the highest honours within Canada's academic community. Fellows are chosen by their peers based on their demonstrated leadership, creativity, distinctive competencies and commitment to advancing academic health sciences.
"The CAHS is a community that includes so many Canadian biomedical scholars whom I respect and emulate. I am so very grateful to now be included in that community and especially the opportunity to be there alongside of those scientists and academics I so much appreciate working beside at the U of M and the St. Boniface Hospital Albrechtsen Research Centre", said Dr. Feldman.
The University of Manitoba now has 29 Fellows in the CAHS.
"These outstanding clinician-scientists deserve this prestigious honour for their decades of research concerned with improving the lives and outcomes for countless patients," says Dr. Digvir Jayas, vice-president (research and international) and Distinguished Professor at the U of M.
"It is no surprise to me that two individuals from our institution were selected for this distinction. The exceptional achievements of both Feldman and Hack are a source of great pride here at St. Boniface," said Dr. Grant Pierce, Executive Director of Research, St. Boniface Hospital and Distinguished Professor at the U of M.
About the researchers
Ross Feldman

As a research scientist in the Rady Faculty of Health Sciences and at St. Boniface Hospital Albrechtsen Research Centre, Dr. Feldman's research has provided major contributions to our understanding of how to prevent and control of hypertension, particularly in women. Heart disease in women remains underappreciated, underdiagnosed and undertreated and Dr. Feldman has dedicated his career to rectifying these shortcomings.
Dr. Feldman was the first Chair of the Canadian Hypertension Education Program. As well, he served as the founding President of Hypertension Canada, now the second largest cardiovascular disease not-for-profit agency in Canada. He is the author of more than 200 original manuscripts, reviews and book chapters. His clinical research focuses on development of innovative strategies to improve blood pressure control. His fundamental research focuses on elucidation of novel cell signalling mechanisms of vascular regulation/dysregulation linked to the development of hypertension and atherosclerosis.
Thomas Hack
Dr. Thomas Hack has made significant progress in our understanding of the psychological issues facing cancer patients and the end-of-life challenges that some will encounter. The professor of nursing in the Rady Faculty of Health Sciences who is also a clinical psychologist with CancerCare Manitoba, and a research scientist at St. Boniface Hospital Albrechtsen Research Centre, has published impactful research that has delved into difficult topics of compassion, distress, depression and dignity, as well as therapeutic strategies to aid cancer patients. He is only the second College of Nursing faculty member to be inducted as a Fellow of the CAHS.
He was the principal investigator of an international research team that explored communication between patients and health professionals in the context of cancer, paying particular attention to the effectiveness of using consultation recordings of primary treatment consultations to enhance the well-being of persons diagnosed with cancer. He also studies aspects of coping and adjustment to cancer. His work has earned him numerous awards, including being named, in 2000, the first recipient of the Dorothy J. Lamont Research Scientist award from the National Cancer Institute of Canada and the Canadian Institutes of Health Research. In 2002, he received the Queen's Golden Jubilee Medal in recognition of his contributions to those affected by cancer, and in 2006 and 2014 he received the University of Manitoba Merit Award for research accomplishment. This month, Dr. Hack also received the Lifetime Achievement Award from the Canadian Association of Psychosocial Oncology.
Research at the University of Manitoba is partially supported by funding from the Government of Canada Research Support Fund.