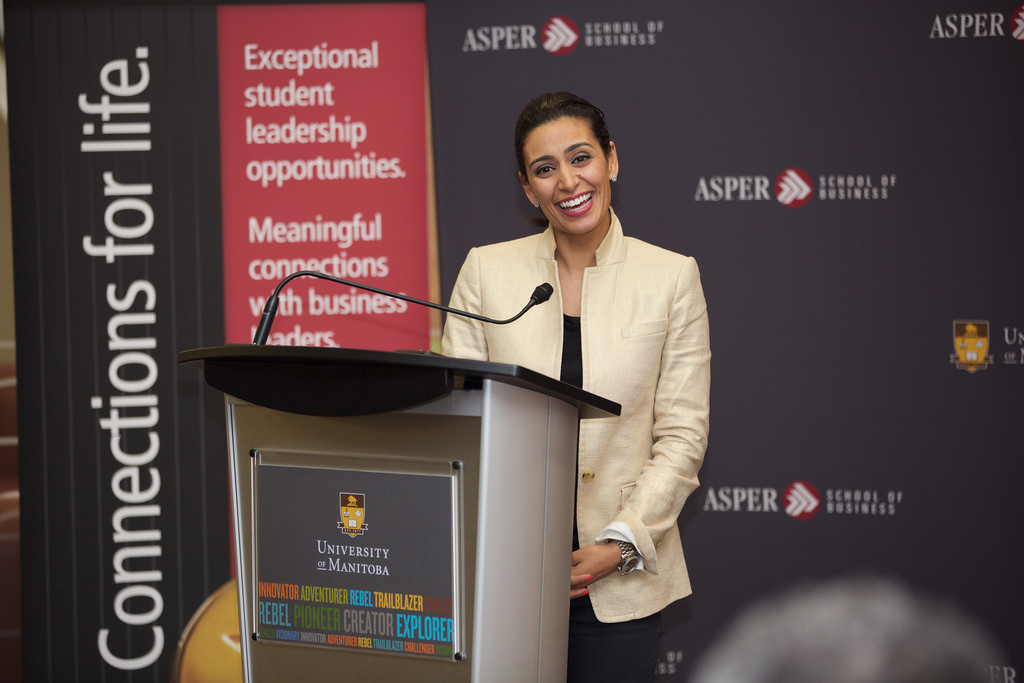 Dragons' Den star inspires students
November 18, 2015 —
One of the stars of the CBC television program Dragons' Den swooped into the Asper School of Business on Thursday, November 12 to share insights about her career as an entrepreneur and TV star.
Manjit Minhas is co-founder and CEO of Minhas Breweries and Distillery. In 2006, Minhas and her brother became the youngest brewery owners in the world when they purchased the second-oldest American brewery and renamed it the Minhas Craft Brewery. Since then, Minhas has stirred up the Manitoba and Saskatchewan beer industries. Her aggressive marketing techniques and pricing strategies have gained her company huge market share. She joined the CBC television show Dragons' Den for its tenth season in 2015.
During Thursday's hour-long Q & A, Minhas answered questions about her professional career as well as her experience on Dragons' Den. Here are some of her answers:
What's it like behind the scenes of Dragons' Den?
You see way more proposals than appear on TV. You're listening to pitches for 15 hours a day over six weeks. After each day's shooting, I go for dinner with the other Dragons and we compare notes, about why we decided to invest in this idea, or didn't invest in that. We learn a lot from each other that way. My approach is to invest in businesses I really know something about.
How do you balance the demands of running a large company and appearing on a national television program?
It's about being as organized as I can be, having every day planned out, and having a great team around me at the office and at home. It's also matter of not regretting what I didn't get to, because I can't physically do it all. I also delegate, and ask for help when I need to.
Somebody once told me: Work/life balance is not something you achieve over a month, a year, even a decade. It's something you achieve over a lifetime. So in your younger years, you have fun and you play. In the middle of your life, you work your ass off. And at the end of your life, you enjoy the fruits of your labour. I'm in the middle of my life right now, working my ass off, and I'm enjoying it.
What strategies do you recommend for entrepreneurs starting their own business?
Most importantly, do something you know something about. Never jump into a business you don't have any background in, or don't have any passion for. Being an entrepreneur is not a 9 to 5 job, and success doesn't happen overnight, so you better enjoy what you're doing, and you better know something about what you're getting into.
One thing I hate about the media is how they make it sound like entrepreneurial success happens very fast. I like to talk more about all the failures that happened to us [Minhas Breweries and Distillery] along the way, and how long we've been at it, working hard to build our business. A lot has changed along the way. Our current business is so different from the plan we drew up years ago. You have to be prepared for that.
What are the three best thing you've learned from being on Dragons' Den?
I've learned a lot from our diverse backgrounds. I learned about franchising from Jim Treliving. I learned about the online tech world from Michele [Romanow]. I learned more about investment strategies from Michael Wekerle, who takes a very different approach from what I'm used to!
What advice do you have for entrepreneurs approaching investors?
Have your pitch down to just a couple minutes. Understand what the heck you're selling, and what you want the investor to invest in. Know your numbers. If you're asking for money, you have to be able to be able to tell them exactly how you're going to spend their money.
Entrepreneurship can be a frightening undertaking. How do you conquer your fears?
Fear is something that can drive you two ways. It can make you work harder, because you're trying to prove something to yourself or someone else. But it can also be stifling and stop your growth. Listening to the opinions of others can make you more fearful than is necessary, because they're not in your shoes.