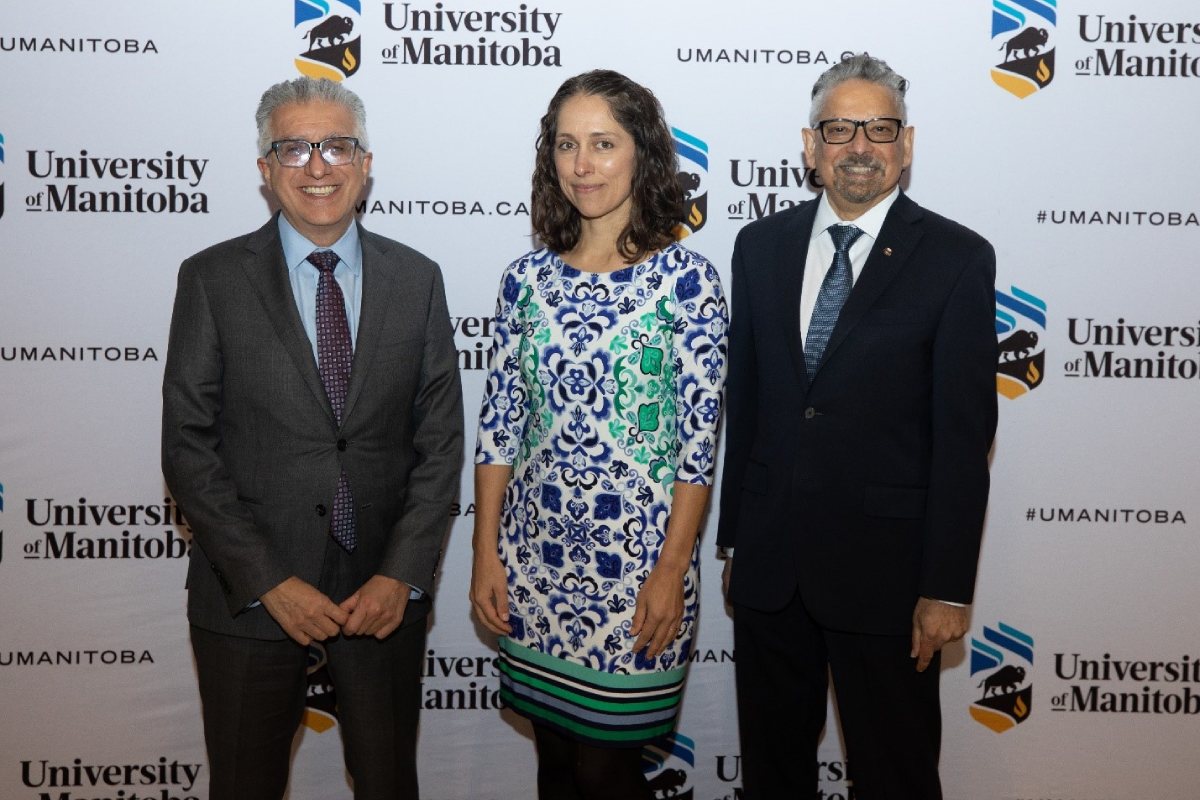 Dr. Meghan Azad presented with 2022 Steacie Prize
April 3, 2023 —
Dr. Meghan Azad of the department of pediatrics and child health in the Max Rady College of Medicine is the 2022 recipient of the prestigious Steacie Prize – one of Canada's most coveted awards for researchers 40 years or younger.
The Steacie Prize is awarded by the trustees of the E.W.R. Steacie Memorial Fund, a private foundation dedicated to the advancement of science and engineering in Canada. The prize is awarded annually to a young scientist or engineer who has made notable contributions to research in Canada.
Azad is the third UM recipient of the Steacie Prize and the first since 1971, 52 years ago. She is the first woman from UM to ever be selected for this esteemed award since it was created in 1964.
"I am honoured to receive this award and highlight the importance of research about early nutrition and the developmental origins of health and disease," said Meghan Azad. "Although these types of awards are given to an individual, I believe they are the result of a team science approach. I would like to thank the many colleagues, mentors, and trainees I have had the honour of working with for their support and contributions to our research."
Azad is a globally recognized leader in the Developmental Origins of Health and Disease, a concept that emphasizes the long-term impact of early life experiences. She is uniquely investigating how breast milk and breastfeeding influences later health and disease in children. Her groundbreaking work continues to uncover the role of breast milk in the infant microbiome, with the goal of preventing chronic disease and promoting healthy growth in early development.
Azad is a research scientist with the Children's Hospital Research Institute of Manitoba and holds a Tier 2 Canada Research Chair in Developmental Origins of Chronic Disease. Her innovative research has earned funding nationally and internationally from the Canadian Institutes of Health Research, the Canada Foundation for Innovation, and the Bill & Melinda Gates Foundation. She has published 144 peer-reviewed articles, which have been cited more than 11,000 times.
Azad's work has already been recognized with several awards to date. In 2020, Azad was selected for the Ken Hughes Young Investigator Award in Medical Research, the Canadian Society for Clinical Investigation Joe Doupe Young Investigator Award, and the International Milk Genomics Consortium Outstanding Mid-Career Investigator Award. She has also named among Canada's Top 100 Most Powerful Women (2020), and Canada's Top 40 Under 40 (2021).
On March 28, colleagues from across the university community gathered to celebrate her accomplishment at an award ceremony presented by Steacie Prize selection panel representative Dr. Digvir Jayas.
"This Steacie Prize is an important recognition of the successes of Dr. Azad and her world-leading research in the developmental origins of health and disease and a testament to the extraordinary research talent here at UM," said Dr. Mario Pinto, UM Vice-President (Research and International). "We are deeply honoured that she has chosen the University of Manitoba as her home and welcome the opportunity to celebrate her incredible achievements together. Her work serves as a wonderful example of discovery research, as well as knowledge mobilization and translation for societal and economic impact, which will continue to be felt both at home and around the world for generations to come."
Azad's goal is to prevent chronic disease and promote healthy growth during critical periods of early development. To achieve this, she co-founded the Manitoba Interdisciplinary Lactation Centre (MILC) with Dr. Nathan Nickel. MILC is the first facility dedicated to the interdisciplinary research of breast milk and breastfeeding in the world.
Leveraging the success of MILC, Azad has extended the scope of the organization globally, establishing the International Milk Composition Consortium (IMiC). IMiC facilitates collaboration between four research groups studying maternal nutrition and infant growth in Tanzania, Pakistan, Burkina Faso and Canada.
"I'm fueled by the excitement of doing cutting-edge science, and the drive to translate discoveries to make a meaningful impact on child and maternal health globally," said Meghan Azad. "It's gratifying to see our research and advocacy around breastfeeding and breast milk recognized as an important field on the national stage. This work involves many colleagues, trainees and research participants. I am grateful to them all and excited about the new projects we have in the pipeline together."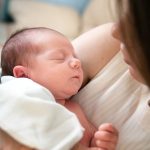 Azad and collaborators recently launched the International Perinatal Outcomes in the Pandemic (iPOP) Study, to study the impact of pandemic lockdowns on preterm birth rates. iPOP represents the work of more than 100 researchers spanning 42 countries; the results were recently published in Nature Human Behaviour. She is also the co-director of the multidisciplinary THRiVE Discovery Lab, together with Natalie Rodriguez, and is deputy director of the CHILD Cohort Study which follows 10,000 participants across some 3,500 households to learn how early experiences shape lifelong health.
In addition to her many active research projects, Azad serves on the joint US/Canada Human Milk Composition Initiative. She is also a member of the Executive Council of the International Society for Research in Human Milk and Lactation, where she co-developed the Trainee Expansion Program, a global exchange initiative for research trainees.
Research at the University of Manitoba is partially supported by funding from the Government of Canada Research Support Fund.